All That's Lit To Print, an online literary magazine started just last year by Sequoia High junior Rio Popper, won a national Best of Show award this year from the National Scholastic Press Association.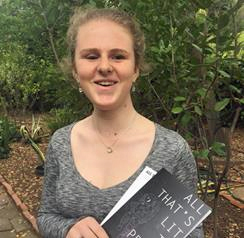 Open up All That's Lit, and you'll find poems, stories, essays, artwork, interviews – in a range of styles, from young writers locally, and around the country.  (Before she got all that going, Popper learned how to code, so that she could build the magazine's website – with a little help from her friends.)
Popper, who is Editor-in-Chief, talked to the County Office of Education about the experience so far:  "Being editor has taught me how to lead people, but not in a traditional way.  I don't tell them what to do but trust them and support them using their strengths … At first this magazine was just a daydream.  But now I've learned that daydreams can become more and obsessions can get you places you never thought possible."
You can see some of those places for yourself:  All That's Lit To Print.
You can also find Rio Popper's work in the Sequoia High School paper, The Raven Report (and her touch on more of the stories, since she is the Copy Editor for the paper).
This wasn't her first honor either.  Back in second grade, she took home a Second-Place award, in the Braille Institute of America's national Braille Challenge.  And yes, Popper reads Braille, because she is blind.