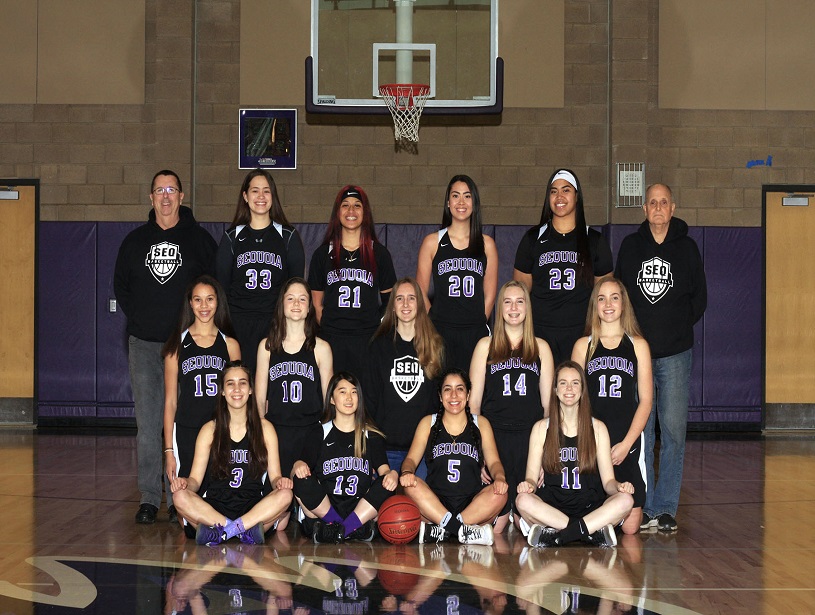 The Sequoia High School girls basketball team is still savoring the satisfaction of what is being hailed on campus as the first Central Coast Section championship won by a Cherokee girls team in any sport.
With three freshmen in the starting five last year, the team won 20 games and made it to the CCS semifinals. This year's 25-5 squad knocked off top-seeded Palo Alto for the CCS Division 1 (large school) title, then lost in the first round of the state tournament to Cosumnes Oaks in Elk Grove on Feb. 26.
"We turned things around last year, took it to the next level this year, and it's nice we'll have most of them back next year," head coach Steve Picchi said. "They're all great kids."
Their secret of success? "Good mix of skills and great team chemistry," Picchi said. "We were hard to scout because of our balance." The only starting senior, Soana Afu, was the team's leading scorer and was named to the all-league team.
Picchi has coached the team for 12 years with Mike Ciardella, his Peninsula youth basketball coaching partner for 42 years.
Jacqueline Kurland, one of the three starting sophomores this year, put it this way in a report in the school newspaper Raven Report: "We all love each other a lot, and it's sad that our season is over. We had a great season, and we are proud of what we accomplished."
The team: Seniors: Soana Afu, Pafuti Lealamanua, Danielle Huber. Juniors: Sharon Sandoval Rodriguez, Maya Hirano, Sarah Bobich, Jessica Martin, Talita Falepapalangi. Sophomores: Jacqueline Kurland, Caitlin Dulsky, Alexis Jackson. Freshmen: Mary Jane Hartman, Violet Buruaivalu. Manager: Ella Blaney.
A program to install rotating, temporary art in the kiosks at Courthouse Square has brought an intriguing new work that looks like outsized paper DNA molecules wrapped around towering, teetering books.  Called "Incubator," the installation by artist Kate Dodd was inspired by her multiple trips to the Redwood City Library and is comprised of 2,000 volumes, about 1,500 of which form the towers. The several hundred books on the floor, which are about women or by women authors, created the "foundation" for the book towers. Dodd says books by women authors such as Laura Ingalls Wilder had a big impact on her growing up. She hand-cut a paper network of words and images from books to connect the towers. "Incubator" is on exhibit through April 6 courtesy of Redwood City Downtown Improvement Association funding and with support from the library and the Friends of the Library.
The Redwood City Library Foundation will be presenting STEAM ON THE SQUARE, the largest one-day outdoor STEAM (Science, Technology, Engineering, Arts and Math) event in the Bay Area Saturday, April 27. It will be the fourth annual event and has grown to include more than 80 exhibits, plus experiments, speakers, and demonstrations – the object being to spark kids' imaginations and help them pursue a career in STEAM disciplines. Hours of the free event are 11 a.m. to 3 p.m. Entertainment will be provided all day and the San Mateo County History Museum will offer hands-on activities for Maritime Day, which is the same day.
Team photo: Back Row – left to right: Steve Picchi, Soana Afu, Pafuti Lealamanua, Jessica Martin, Talita Falepapalangi, Mike Ciardella.    Middle row – left to right: Alexis Jackson, Mary Jane Hartman, Ella Blaney, Sarah Bobich, Caitlin Dulsky.   Front Row – left to right: Jacqueline Kurland, Maya Hirano, Sharon Sandoval Rodriguez, Danielle Huber.
This story was published in the April print edition of Climate Magazine.