Community members are invited to a gift wrapping party on Monday, Dec. 16 from 5 p.m. to 8 p.m. to benefit the Redwood City/San Mateo County Toy and Book Drive.
Volunteers are encouraged to head to the Red Morton Community Center at 1120 Roosevelt Ave. for "holiday cheer and a few paper cuts" as they wrap gifts that will go to local kids and families in need, organizers said.
A lot of volunteers are needed: last year, more than 75 local businesses filled 100 donation barrels with over 12,000 toys and books. About 500 families in Redwood City and San Mateo County benefited, organizers say.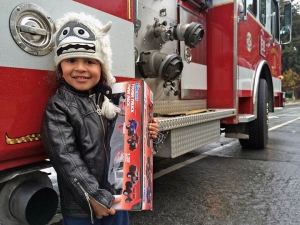 "Each child served receives two gifts, a book, a stuffed animal, and several stocking stuffers, all of which bring that holiday sparkle to their eyes," organizers said.
The gift wrapping party is just one way to assist in this annual holiday tradition. Local businesses are encouraged to place donation barrels at their location and/or make a financial donation.
Individuals and families can donate new, unwrapped toys or books or donate money.
The toy and book drive is a collaboration involving multiple law enforcement and fire departments in San Mateo County, Redwood City Parks Recreation and Community Services, a fleet of community volunteers and the CARON.
Those toys are either delivered to the families' homes by Santa Claus in a police car or fire engine, or they're provided at a holiday party attended by Santa in Redwood City, San Carlos, Half Moon Bay and Pescadero.