The Sequoia Awards, a non-profit organization dedicated to honoring volunteerism in Redwood City, awarded $215,000 in scholarships to 29 students bound for college. These high school seniors were recognized purely on their uncompensated community service.
Student scholarships ranged from $5,000 to $7,500 and the top recipient, Clara MacAvoy, won $25,000. Also honored as Outstanding Individuals were Barbara Pierce and Dee Eva for her efforts organizing the Redwood City 150th Anniversary. The Outstanding Business Award went to Tim and Stephanie Harrison of Canyon Inn.  Student recipients were:
Clara MacAvoy, Lizbeth Aguilar, Risako Nozaki, Alejandra Sanchez-Castro, Yareli Solis, Violeta Evans, Giovanni Mendieta-Chisco, Karolyn Paz Rubio, Magali Pineda-Arzate, Yohana Ramirez, Alix Richardson, Evelyn Velasquez, Emma Williams, Mona Bandov, Luis Espino Cervantes, Giselle Fajardo Hernandez, Ashley Gonzalez Contreras, Julie Huynh, Yareli Jimenez, Noah Masur, Jared Mejia, Leslie Ortega, Melissa Paulino-Romero, Nohelya Revuelta Contreras, Ivana Rodriguez, Maria Rodriguez, Kriti Shukla, Kelsey Takaha, Dana Yang.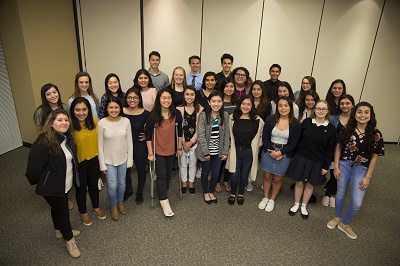 Students bound for college received scholarships