In one of the largest Families Belong Together rallies between San Francisco and Los Angeles on Saturday, an estimated 3,000 people crowded Courthouse Square in Redwood City as part of a national call to end President Donald Trump's 'zero tolerance' immigration policies that have separated families.
The grassroots local effort, which began in an online messenger thread between Redwood City Education Foundation board members Whitney Black and Giselle Hale, swiftly swelled into a large rally featuring prominent guest speakers and attendees, with elected officials from Mountain View to Millbrae attending, including Redwood City Mayor Ian Bain, Redwood City Councilmember Shelly Masur, Millbrae Vice Mayor Wayne Lee and Belmont Vice Mayor Davina Hurt.
Among the speakers were Charlotte Willner, who along with her husband, Dave, launched a viral fundraiser that raised over $20 million to support separated migrant families at the U.S.-Mexico border, as well as Congresswoman Anna Eshoo, who shared her experience from touring detention facilities in Texas and also revealed actions being taken by Congress.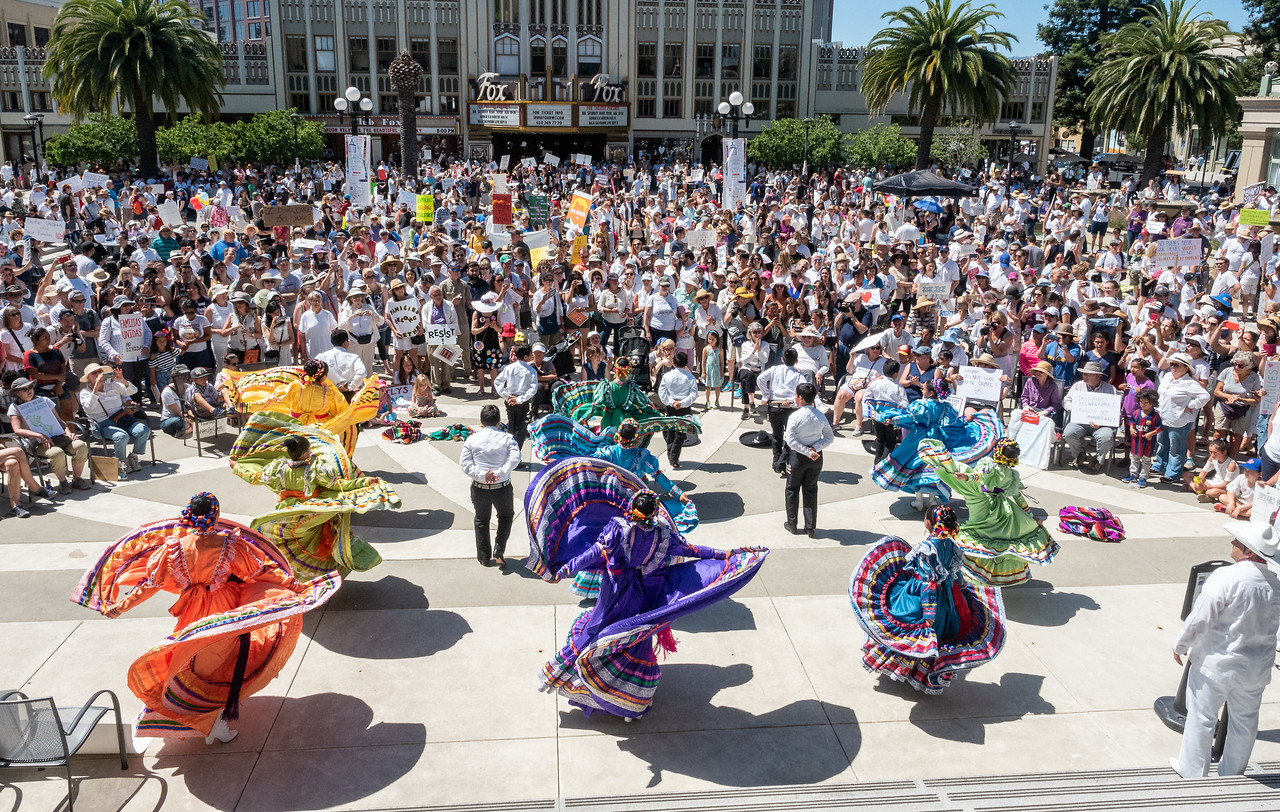 During the rally, the large crowd chanted demands for immigrant rights, clutched signs denouncing the policy of separating children from families, and collectively sang to Woody Guthrie's "This Land is Your Land."
"I'm a mother, I'm here today with my family and two young daughters. My youngest is just two years old," Hale told the crowd. "That is the life she will know. Because we will not rest until every one of those children are reuinited with their families."
Hale encouraged community members to take "meaningful action right here in our community," first by registering to vote, and also by supporting local organizations that work to protect families in local neighborhoods, such as Faith in Action. One small action, such as the online messenger discussion that led to Saturday's large rally, can have a significant impact, Hale said.
The Families Belong Together rally was one of many held throughout the nation as part of a national movement organized by MoveOn.
Redwood City's version was the latest large gathering at Redwood City's Courthouse Square, which is increasingly emerging an important and central place of distinction and community gatherings on the Peninsula.