Redwood City is moving forward with a project to build a large, linear park that extends from the city's downtown to the Bay.
On Monday, City Council approved recommendations by city staff to move to the design phase of the ambitious project, which aims to transition existing city sites, including parking lots, into a variety of park spaces and to create an urban recreational corridor stretching from the Downtown Library to the U.S. Highway 101 undercrossing.
SERA Urban Design provided conceptual designs of the plans, drawing from community input garnered through a city outreach campaign. The continuous pathway through downtown would feature varied park resources, such as a play space, courtyard and plaza, at the Downtown Library, where Parking Lot A would transform into lawn and garden space. At City Hall and Main Street, parking would also be reduced to make way for a scenic plaza, lawn and garden. Beginning at Bradford Street, the plans also envision a scenic bike and pedestrian pathway along a greatly restored Redwood Creek connecting to U.S. Highway 101.
The cost of the plans are uncertain given the project might not get started for several years. Estimates for park changes to the Library and City Hall Main Street Lot could reach $5.9 million, and given the necessary environmental process for changes proposed for Redwood Creek, costs for the plans involving it remain uncertain. Ongoing maintenance costs for all proposed park areas must be factored in. Currently, the city has $2 million allocated in its Capital Improvement Program for planning and a portion of construction.
Some residents have expressed concern over the project's impact on parking and noise, while others believe the plans don't go far enough. Even so, City Council members expressed excitement over viewing possible designs of a potentially game-changing downtown park.
LIBRARY SITE CONCEPTUAL DESIGN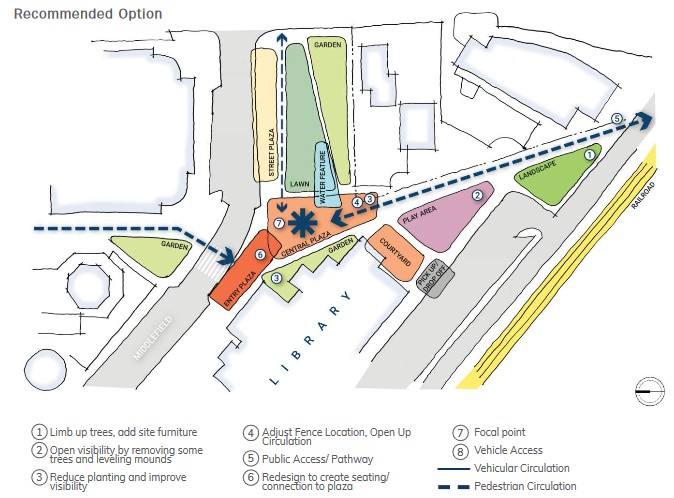 CITY HALL SITE CONCEPTUAL DESIGN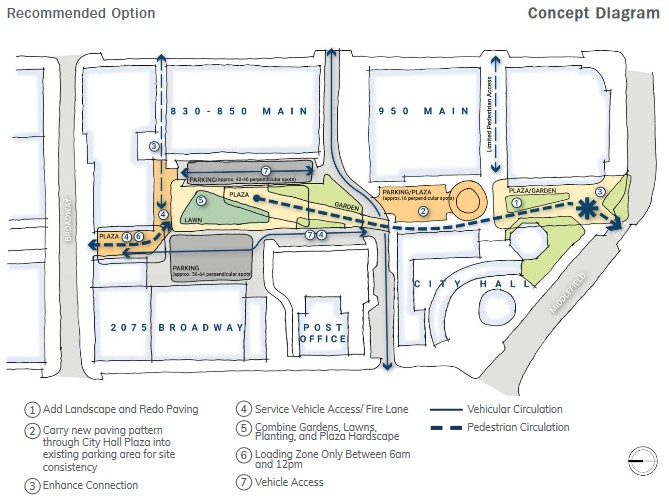 REDWOOD CREEK SITE CONCEPTUAL DESIGN