Riders' satisfaction with Caltrain has steadily grown in recent years, with the latest annual Customer Satisfaction Survey finding 82-percent of passengers were somewhat or very satisfied with their experience, while 3-percent were somewhat or very dissatisfied, the transit agency announced today.
The recent survey of 3,313 passengers revealed the highest rating for station and onboard experience since 2005, at 4.07 on a scale of 1 to 5. Significant gains have been since 2014, when the rating was 3.93, the transit agency said.

Contractor Corey, Canapary & Galanis has conducted the survey since 2013, but Caltrain has been doing customer satisfaction surveys since 1998.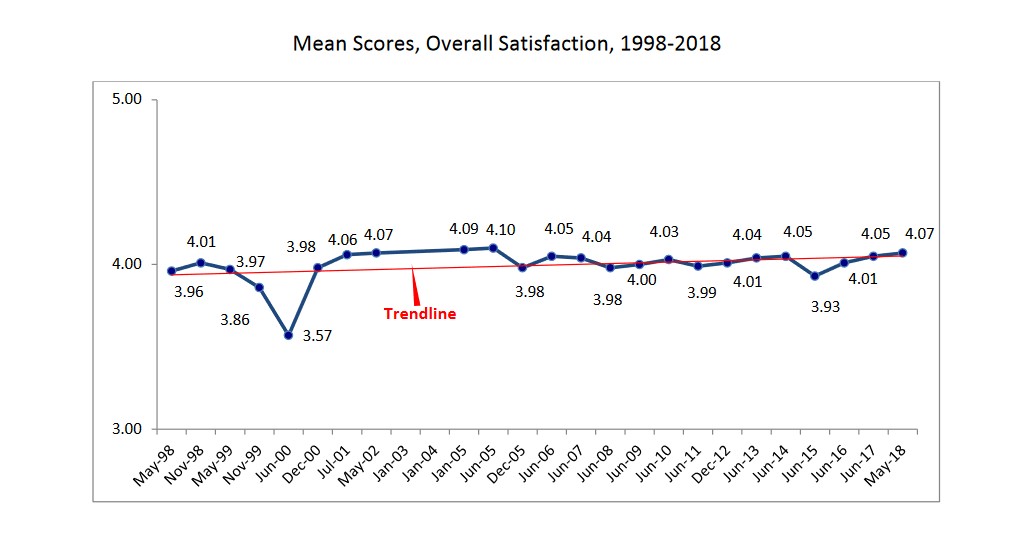 The rider experience at stations showed a "statistically significant decrease" in cleanliness of stations and parking lots, which dropped from 3.99 last year to 3.90 this year.

Onboard trains, riders reported cleanliness of train interiors at 3.85, only slightly better than 3.82 last year and it was 3.88 in 2016.

Riders reported increasing courtesy among conductors (from 4.37 in 2017 to 4.42 in 2018), increasing on-time arrivals at a rider's destination (4.07 in 2017 to 4.16 in 2018) and adequacy and clarity of routine onboard announcements (from 3.72 in 2017 to 3.81 in 2018).
These survey results may or may not reflect recent changes by Caltrain since the previous survey, which include reduced weekend service (headways increasing from 60 minutes to 90 minutes to accommodate electrification construction), fare increases to the zone fare, the Go Pass, the Monthly Pass, the Monthly Parking Permit and the elimination of the 8-ride Ticket. Also different this year is the pilot program allowing bikes to board first at Mountain View, Palo Alto and Redwood City stations and a new Caltrain mobile ticketing app, among others.

"The biggest gains in the survey were in the categories of on-time arrival, being informed of delays and the adequacy of onboard announcements," according to the report. "The survey showed a decrease in station dwell times, which could be attributed to the pilot Bikes Board First program launched earlier this year."