University leaders celebrated Redwood City becoming "Stanford's second home" at a festive ribbon-cutting this morning showcasing new buildings where employees are already coming to work.
President Marc Tessier-Lavigne and other Stanford officials heralded the "bold new vision" that led to the decision more than a decade ago to purchase 35 acres along Broadway and Bay Road which were in recent years the site of the Mid-Point Technology Park — and decades before that, the home of Ampex Corporation.
Members of the board of trustees and others long ago recognized that additional land beyond the original campus eventually would be needed to support the core academic mission, and Stanford Redwood City is the result of that vision, Tessier-Lavigne said.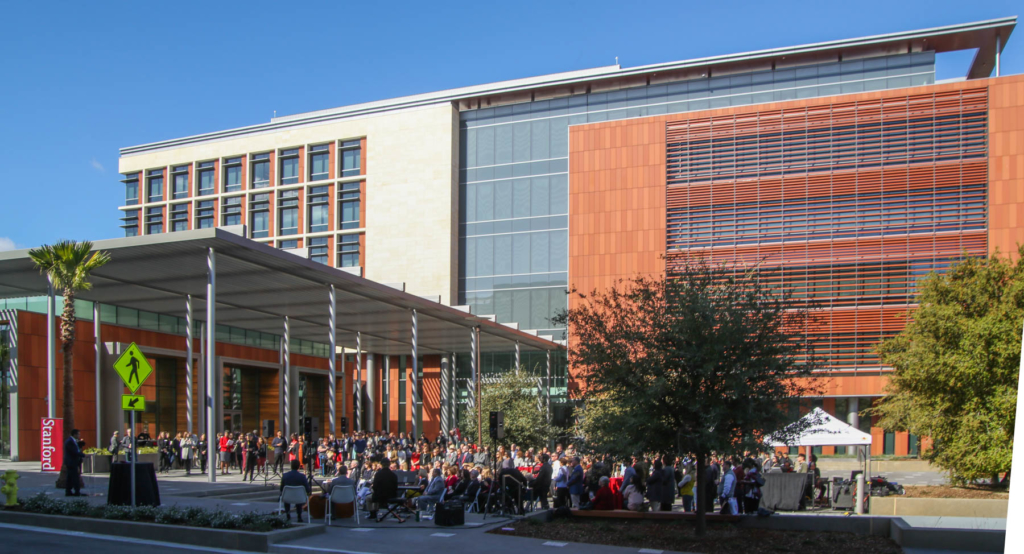 "This represents Stanford's first significant footprint outside the main campus," he told the audience, "and it's one of the largest financial investments our board of trustees has ever approved in the entire history of the university. This campus is a strategic investment in Stanford's future.  It's central to our plan for how Stanford will tackle the challenges, not just of the next decade, but of the next century."
Tessier-Lavigne and other Stanford speakers said they appreciated the welcome from Redwood City and San Mateo County. "At every step," Tessier-Lavigne said, "the city officials and county officials have been true partners." At the suggestion of the Redwood City Council, he added, Stanford is providing "educational enrichment" including speaker programs, courses for entrepreneurs taught by the Graduate School of Business, and leadership training.
Altogether, Stanford's project will provide more than $15 million in public benefits, according to the university, including neighborhood and street enhancements, a water tank expansion, and storm water, bus shelter and bike lane improvements.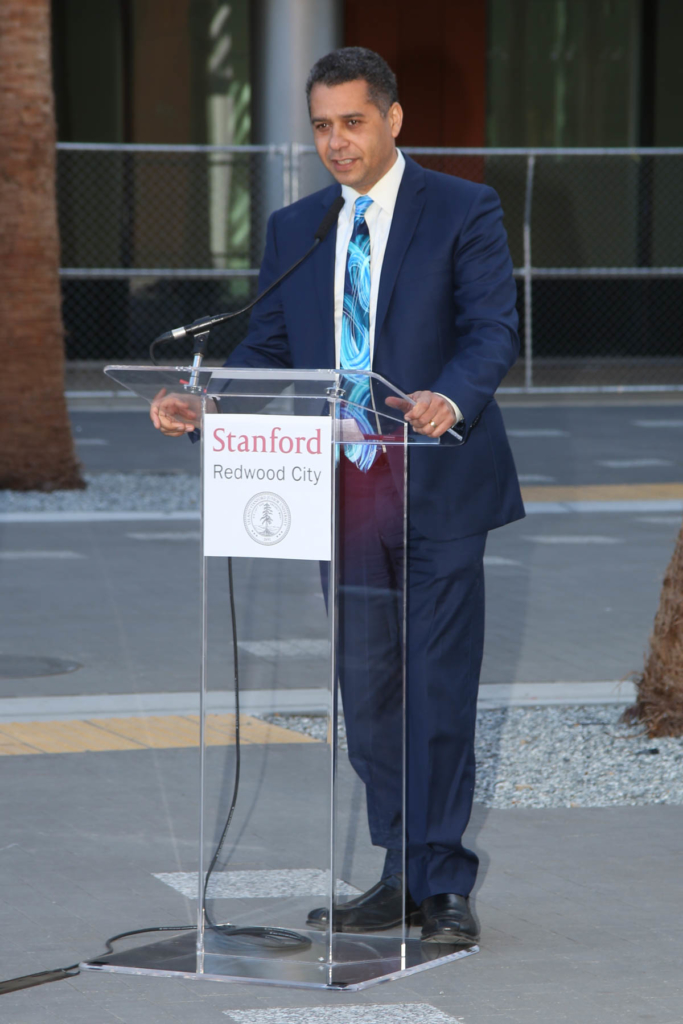 Mayor Ian Bain delivered a welcome on behalf of Redwood City and said he hoped Stanford employees would sample the city's restaurants, parks, culture and night life. "I hope over time you love Redwood City as much as I do," he said.
About 175 people were on hand for the ceremony, held in a palm-tree-lined plaza in between an office building called "University Hall" and "Cardinal Hall," which houses a light-filled café and coffee shop looking out over a grassy landscape. This morning's audience included the first wave of the 2,700 employees who will be settling into offices five miles north of Palo Alto.  The others will move in over the spring and summer, working in support departments such as business affairs, human resources, development and libraries and archives.
Echoing other Stanford speakers, Provost Persis Drell thanked the "trailblazer" employees who are embarking on something quite new for the university.  "This is a big change for Stanford and it will require everyone – and I mean everyone – to work in new ways," she said.
Drell added, "I just want to say how excited and how proud we are to be joining the Redwood City community. Thank you for the warm welcome.  We're looking forward to a long and productive relationship."
The campus is being developed in phases, based on the university's ongoing needs. The first, which will be completed this fall, includes four office building complexes, a landscaped greenway, a child care center and over two acres of open space.
Among the happy employees on hand for the celebration was Redwood City resident Tricia Hall, who is a member of the city's Parks and Arts Foundation. She joined Stanford recently and works at the new recreation and wellness center. Stanford Redwood City, Hall believes, brings "a new opportunity for growth in downtown Redwood City" and will add to the character of the community.