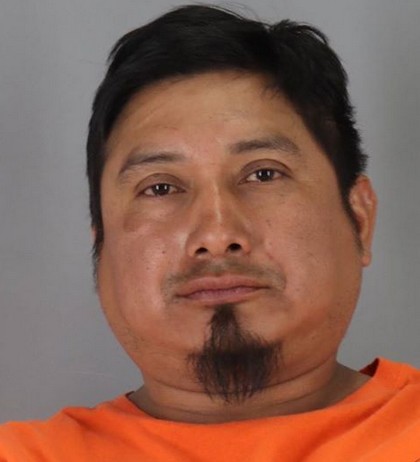 A machete-wielding San Mateo man was arrested on suspicion of threatening a couple who were with a  7-year-old child at an apartment complex in the Fair Oaks neighborhood on Monday.
San Mateo County sheriff's deputies responded to the 300 block of 4th Avenue at about 6:45 p.m. on a report of a disturbance and blood located in the lobby of the apartment complex.
Marco Antonio Avapanjocop, 40, allegedly approached the victims, threatened them and swung the machete multiple times in their direction.
The male victim managed to grab the machete and take it away from Ayapanjocop. No one was struck by the machete, but the male victim suffered an arm injury while disarming Avapanjocop.
Avapanjocop fled the scene but was later located and arrested on suspicion of assault with a deadly weapon and cruelty to a child, both felonies, according to the sheriff's office.
"We would like to remind everyone to please report all suspicious behavior and people to law enforcement immediately," the sheriff's office said, adding, "If you or someone you know is in need of mental health assistance, there is help available: https://www.smchealth.org/mentalhealth."
Anyone with information regarding this crime is encouraged to call the Detective Bureau at 650-599-1536 or call the anonymous tip line at 1-800-547-2700.