Over a century ago, President Woodrow Wilson signed a proclamation designating the second Sunday in May as a national holiday to honor mothers. It's May 12 this year, and Climate turned to four local moms to offer some perspectives on motherhood.
Debbi Jones-Thomas: Single Mom and Her PALs
Debbi Jones-Thomas — the youngest of 13 children – quips that she's "one-thirteenth the woman my mother was.  She had 13 babies and I had one. But I'm not complaining," the Menlo Park resident added laughing.  "I take my blessings in stride."
Jones-Thomas grew up in rural Kentucky but came to California in 1978 planning to go to Hastings Law School. She realized that the law was not her calling and ended up going to work for the City of Redwood City for 30 years. As a housing coordinator, among other duties she helped people get into housing or to rehab their homes.  "I wanted to be in service," she said.  "I wanted to change one life at a time."
The most important one, of course, was son DeBraun Thomas, who she raised as a single parent from the time he was 10 years old. His father's company moved, she says simply, and "he went with the company." The upheaval happened just as her son was entering the difficult middle school years and he had a very rough patch.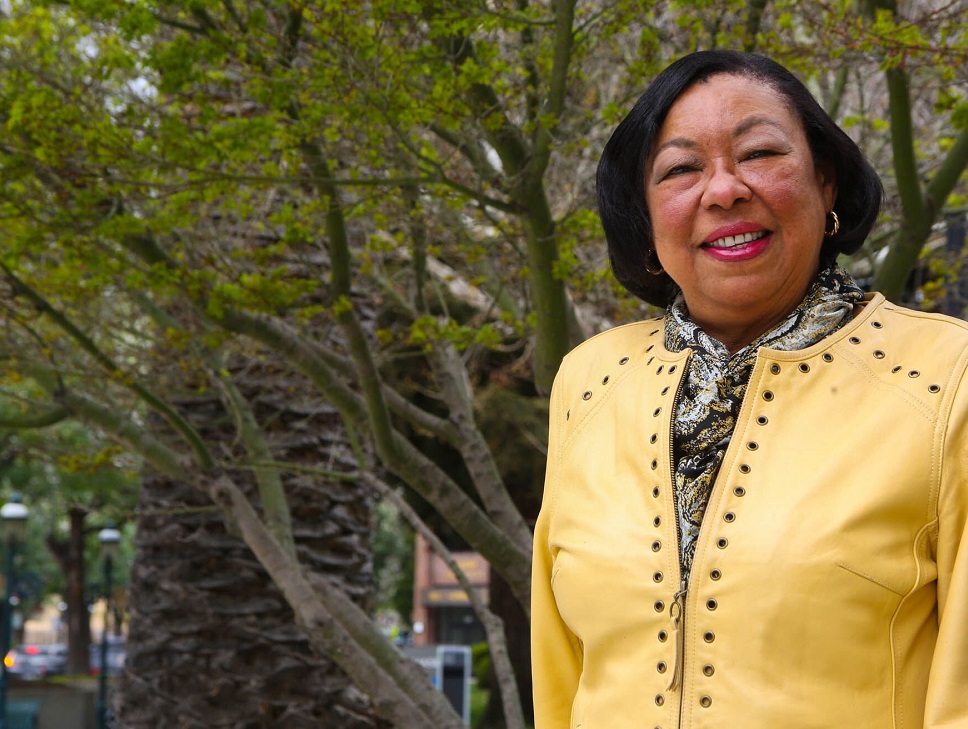 She got him into the Police Activities League, or PAL, — initially to go to summer school.  But adult mentors who knew the challenges he was experiencing – engineers, attorneys, police officers, a firefighter, teachers and coaches — took DeBraun under their wing. "It was such a positive experience that when he got his little heart broken, those were the people who helped him see that there was a tomorrow," she recalled.
Eventually, "he came through it," Jones-Thomas said.  "It was just those three hard years." Throughout, she worried about her son constantly. "I didn't know how I was going to get through but thankfully there were strong men in my life."
As a single parent, funds were limited and, rather than hire a babysitter, Jones-Thomas would bring him to evening meetings with her. Wearing a little suit and tie, DeBraun would often accompany his mom to groundbreakings and open houses for new developments. In retrospect, she reflected, he learned about social justice because of the time he spent listening to City Council meetings.  DeBraun, now 30, lives in Lexington, Kentucky, where he is a musician and works for the local NPR affiliate, WUKY, and is active in his community.
Jones-Thomas, who retired in 2010, serves on the boards of PAL, as well as the library foundation and Kainos Home and Training Center in Redwood City. Occasionally, she encounters the children of people who she had helped when she worked for the city, finding them housing or getting their home fixed up. "One gal told me I changed the life of the whole family," Jones-Thomas said.
But her most important role is the one she learned about from her role model mother:  "'Mother'  is the most precious title I've ever held," Jones-Thomas said. "It's been the greatest accomplishment of my life."
Giselle Hale: Working Mom in the Kitchen
Redwood City Council member. Check. Worked on President Obama's campaign. Check. Has a successful career at Facebook. Check. Felt guilty for missing her daughter's puppet show due to a meeting at work and was called out for it by said daughter. Check that too. Bakes often to relieve stress. Check that one as well.
Giselle Hale deals not just with the work/home balance issues all working moms face but with additional demands as a result of her election in November. She got involved with family and women's workplace issues after she became a parent and is a leadership advisor with the Washington D.C.-based National Partnership with Women and Families.
Hale has advocated for the Family Medical Care Leave Act, an initiative that would offer financial support for employees when taking leave to care for themselves or family members. "It would allow for when a loved one is dying or being able to care for a veteran in your family as well as when you've had a baby," Hale explained. "It seems like a core value to be able to take care of the old and the young while also being able to pay our bills."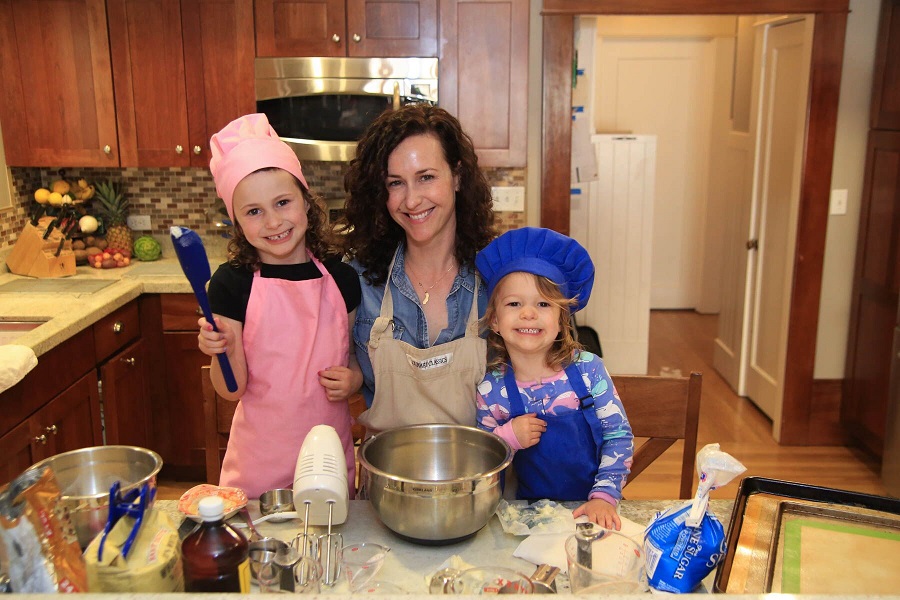 Growing up in Wisconsin, Hale said her family didn't have much money – not even enough to decorate for the holidays. Her mother worked long hours at her own ad agency, so Hale was dropped off at the nearby home of her Sicilian grandmother, who loved to bake cookies and cakes with her.
Living in California, Hale misses that immensely as a mom of girls ages 3 and 5. "Personally it's been one of the biggest challenges of being a mother—raising my children so far away from relatives," Hale said. "I wish I could have what I had growing up."
So Hale follows her "Nana's" example and bakes with her daughters. Often. Baking is not only a way to bond: It's a great way to introduce math, chemistry and art to children in an organic way. Her girls especially like to frost sugar cookies and Hale always has a batch of frozen dough at the ready. They have baked so much that even her 3-year-old is wise to measuring and can run the hand mixer. "She is legit good," Hale said with a laugh.
There are two optimal times to be in Hale's neighborhood—when she has had a hectic day and any holiday. Both induce baked goods. "There's something about making something with your hands which is so satisfying," she noted adding that her family loves sharing their holiday cookies with neighbors.
"Every woman in my family has won some sort of baking contest," Hale said.  How about her?  Check.
Shana Hackworth: Businessmom
Shana Hackworth, who has children 7 and 8, found it a lonely transition from full-time corporate work to being a stay-at-home mom six years ago, after the birth of her second son. "Mothering splinters you in a way that I didn't anticipate," she said. She missed having conversations with other adults. "You're growing in caring for someone else, but at the same time you are losing part of you. There is a struggle with your identity."
Out of that experience, albeit indirectly, Hackworth and Lauren Kelly, another Redwood City mother, formed a nonprofit called Moms in Business Collective. It all began about five years ago with casual conversations among friends and has morphed into a robust networking group that provides connections and support for women trying to balance careers and motherhood.
"I always wanted to be a mom, but I didn't dream about being only a mom," Hackworth said. "I needed a separate pursuit to maintain my sanity."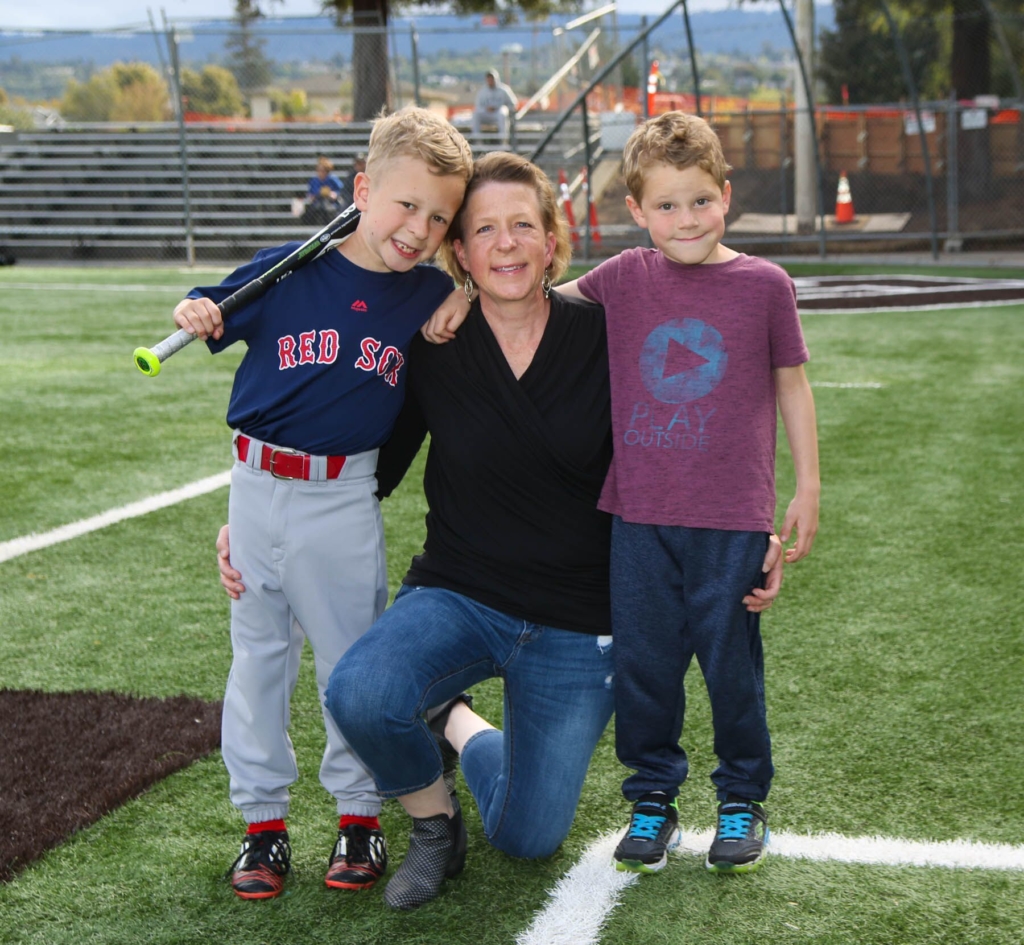 She's in her first year as a pre-school teacher but it was her work with a manufacturer of "safer" household products that sparked her desire to interact with other women who had small businesses they wanted to expand. They might be motivated by a desire to augment family income or have a pursuit that is different from mothering. Or both. The women began to meet more regularly and could give each other encouragement and advice on topics like how to squeeze work in between school drop-offs and pick-ups or the kids' naps.
Recognizing that it is a privilege to own a business and to have a supportive community around them, Hackworth and Kelly proposed the formal creation of a grant-making nonprofit. Response was enthusiastic and Moms in Business Collective got its status confirmed in November 2016. Since then, they've provided $8,000 in grants. This year's round of $8,000 worth of grants opens this month.
Another non-profit, Renaissance Entrepreneur Center in East Palo Alto, helped screen candidates and set up interviews. "The interviewees had taken business classes through their center so we knew they were already on their way to being successful," Hackworth added.
Recipients included two Redwood City moms. One wanted to expand the neighborhood daycare she owns for a higher enrollment. She was able to purchase extra classroom supplies, a new snack table, and a large carpet, as well as pay for permits required to increase the capacity of childcare. "She wanted to offer those additional spots to the lower-income community and that was important to us," Hackworth said.
The second mom runs a storefront restaurant business in San Jose who didn't have a commercial kitchen on her premises. She used the grant to buy a stove and an ice machine and complete the rest of the kitchen.
Moms in Business gets together quarterly for mixers and has about 60 members and attendees, ranging from young moms to grandmothers – and people whose businesses cater to moms. "This group is really a check and balance for me," Hackworth said. "There's a relatability. It just feels like home."  Find them at www.mibcollective.org.
Ali Nuckles: Multi-tasking Maternity Ward Mom
If the lines between the work and home ever seem blurry, that would be understandable for Ali Nuckles, a labor and delivery nurse at Sequoia Hospital with young twins at home. She puts in 12-hour shifts at the hospital among expectant parents, new parents — and newborns — and then comes home to 2 ½-year-old sons eager to see mom.
"I don't really get a break from changing diapers or parenthood," Nuckles said. "It's part of my job to help parents know how to change a diaper without getting peed on," she added with a laugh. "Then I have to go home and get my own babies ready for night."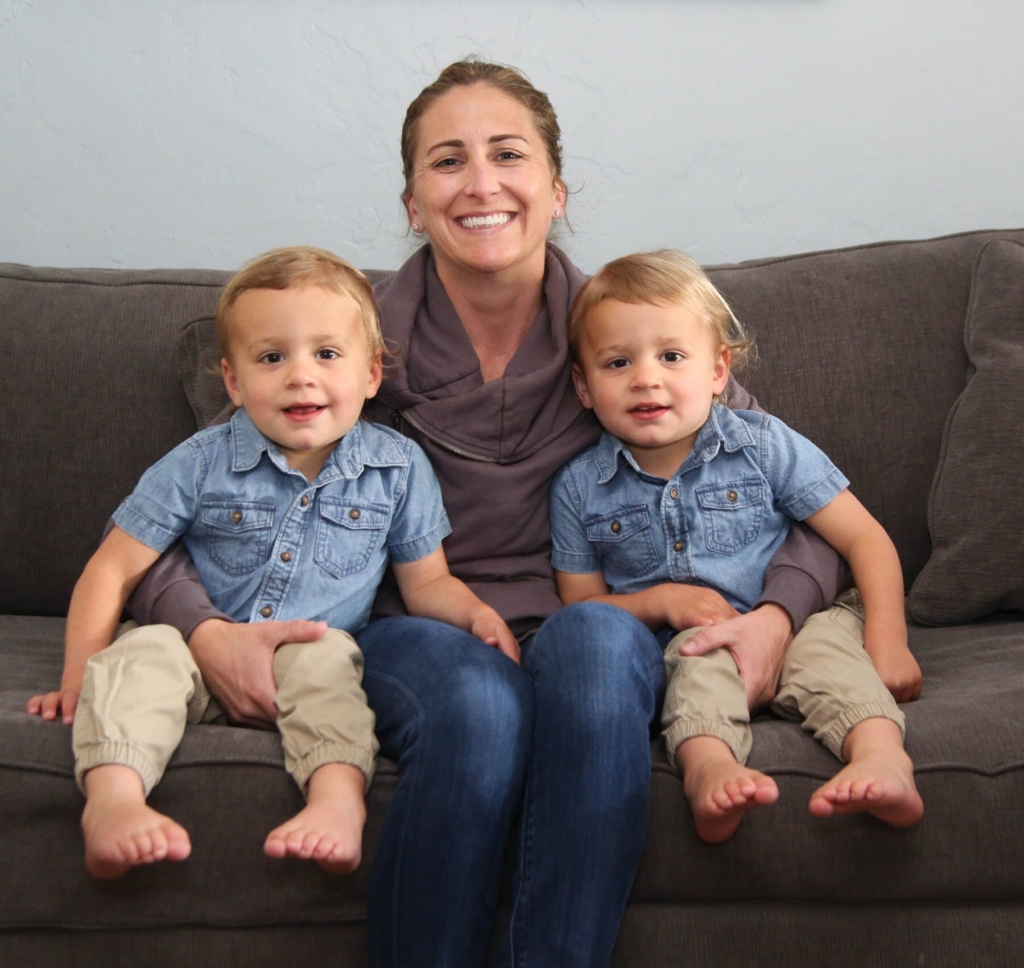 As it happens, the abilities and lessons learned at each place informs the other. "I've had to learn to be patient," said Nuckles, applying skills honed during nearly eight years of intense work situations. A baby's heart rate suddenly plummets. Or a regularly planned delivery becomes an emergency C-section. "Remaining calm and keeping more even keel is less stressful for everyone," allowing her to focus when things get crazy. "If I'm stressed out or worried, I might not respond as quickly or forget something critical. It comes with experience."
The only constant that Nuckles can expect at work is the inconstant. "Every day is different because you don't know what kind of patients you're going to get. They come in at all stages of delivery and dilation," she explained. Even if no babies are born during her shift, babies cry and need diaper changes and heart rate monitoring. Pain meds may need to be administered or a nervous new mom needs breastfeeding advice. And then there's paperwork. "Lots of it, at admission and discharge," Nuckles added. "It's never really quiet. The job constantly keeps you on your toes."
But she isn't complaining and is grateful that her current schedule gives her two or three long days at the hospital and every other weekend off. "It was really hard when I first went back to work because I would get home and my sons would already be asleep. I wouldn't see them the entire day. At least now I get to do their night time routine with them when I get home from work." A part-time nanny watches them on weekdays at Nuckles' Woodside Road-area home and husband Mike on weekends. Sequoia, she added, is a flexible place to work and she was able to take a nine-month leave after giving birth.
Be assured that between motherhood and working with mothers, there's no question which comes first. "I love being a mom," Nuckles said. "That's my most favorite job. But I also worked hard at becoming a nurse and I didn't want to give it up… "I love being a nurse at Sequoia. It's kind of a nice break from being a mom, which is the hardest job ever. You have more of a team at work. As a mom, you do more multitasking."
This story was published in the May print edition of Climate Magazine.