That afternoon the script was flipped on JM Appleby. Only nights before, the exuberant actor had been on stage making memories for the people who had paid to sit where he was sitting, taking in the stunning announcement: "Steve Silver's Beach Blanket Babylon," the longest-running musical revue on the planet, the high point of his performing career, was coming to an end. News crews were waiting outside Club Fugazi April 17 after the cast and crew got the word that the New Year's Eve show would be the last. That night's performance, Appleby, 33, says, was "the hardest show I've ever done. The hardest show."
Weeks later, the Redwood City resident was still coming to terms with how this unexpected plot twist will play out in his life as an actor. On the one hand, accepting the end of the popular show is hard.  He'll sorely miss working with cast and crew members who have become like family. "People are in their feelings right now," he says. "Understandably."
On the other hand, "Beach Blanket Babylon" has provided that four-leaf clover in show business: steady work. By the time the quavering Snow White's perpetual quest for Prince Charming comes to an end Dec. 31, Appleby will have 5½ years' experience on the Green Street stage, executing seven non-stop, 90-minute performances a week, before celebrities and politicians, tourists and the hometown crowd.
"I signed on (to the show) like a week after their 40th anniversary," he recalls, "and we're about to celebrate 45. And so for me, I'm like, cool, this is a really good opportunity to have the consistency of experience before such large audiences. That's definitely in my toolbox. Not only that, but being able to do things a lot quicker, pick up new lines, be open to having to change a line from show to show."
In 2014, Appleby had just relocated back to the Bay Area from a second time living in New York when his friend Dan Demers recommended him to the "Beach Blanket Babylon" producers, who were looking for "a funny black dude." Appleby hadn't had time to prepare for the audition, but says he'd been doing stand-up in Brooklyn and Manhattan, and when it came time to show what he could do, "I was not scared." He pauses for emphasis. "At. All."
He sang and danced.  And 11 minutes out the theater door, his cellphone rang.
"I'm back behind the (Green Street) mortuary and I'm seeing my life change before my eyes," Appleby retells the career-altering story. He immediately called his mother, Nina Sakelarios, who had been a solo parent from about the time when he was four years old. Appleby grew up in a large extended family and particularly credits his hard-working grandparents – first generation Greek immigrants who were like a second mom and dad – with giving him the "same standards and expectations that they had." Though not related to him, Appleby considers family friend "Uncle" Kenny Ortega, the famed choreographer, a role model who led by example in pursuing a theatrical career.
Nina put her son through the Church of the Nativity School, where he was the loudest kid singing in church. But the fork in the road that would ultimately lead him into acting emerged when he enrolled at Belmont's Charles Armstrong School, for students with dyslexia and other learning disabilities. Teacher Scott Douthit heard the fourth-grader vocalizing down the hall and sat him in front of a piano with an accompanist to join in singing a tune they'd written.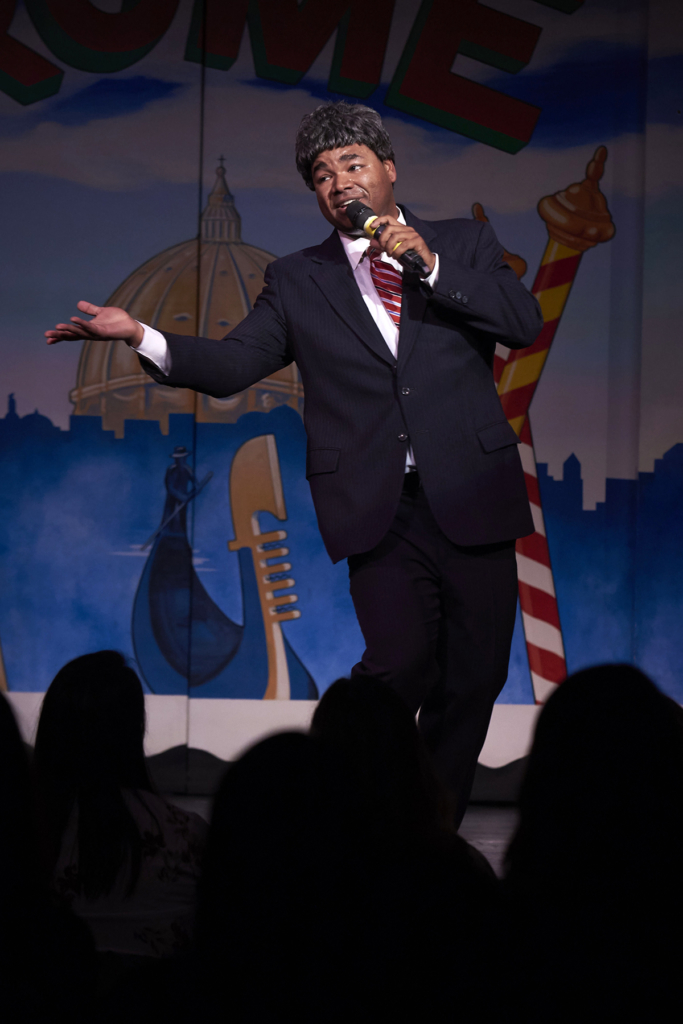 "I fell in love with the song and they made me feel like they fell in love with me," he says. "And it was a moment I'll never forget. That was when the spark began to really flicker." Appleby credits Douthit for intervening in his life and helping him find his direction. The young boy appeared first in "Oliver with a Twist" and then in every musical he could. At Serra High School, he sang in the choir and also did musicals. He went on to San Francisco State and then Foothill College before launching off to Los Angeles, to "kind of just jump into the career of auditioning and getting up early and waiting in line. And then doing it all over again."
He went to New York in 2006, where he studied acting, auditioned for parts and wrote and performed stand-up comedy routines. Later, he came back and taught at Charles Armstrong School. Over the years, he has appeared with Broadway by the Bay, and the Hillbarn and Pear Street Theaters, among other venues. His longest run prior to "Beach Blanket Babylon" was five months in Great America's Main Theater. His credits include "Ragtime" and "Chicago" but it was at "Beach Blanket Babylon," he says "where I got my rocks. That's where I started getting it going."
After about six weeks of rehearsals, he went through a final "test" of sorts, singing and dancing in full make-up and costume while the rest of the cast was in their regular clothes. The purpose was be make sure Appleby could get acclimated to other actors rapidly moving on and off stage, that he had the drill down cold without leaning on them for support.
He plays an average of 17 to 18 characters per show, both male and female ("I'm the black guy," he explains matter-of-factly). He has appeared on stage as President Obama, Kanye West, Bill Cosby, Willie Brown and Serena Williams. (And less famously as a poodle and a garbage can.) Two current roles are particular favorites: James Brown and Oil of Olé, who wears a sombrero topped with a bottle of lotion. The show runs from Wednesday to Sunday nights, with two shows both weekend days. The 10 actors keep up a frenetic pace. "It's 90 minutes of nonstop action," Appleby says. "There's no intermission. … One of my fastest quick changes is less than 25 seconds. So I'm on stage, get off, and 23 seconds later I'm back on in another costume and dancing around."
The men's dressing room is up two flights of stairs; the women's right behind the curtain. It's a surprisingly small space, where sequined jackets, oversized hats and astonishing headdresses, signs, shoes and other accessories are ready for instant deployment. "It's a well-oiled machine," Appleby notes.
On weekdays, he drives up from Redwood City at about 4:30 p.m. and walks around North Beach, a tight-knit community full of bars and restaurants, where everybody knows each other. He must report for work for an 8 p.m. show by 7 p.m., when he does warm-ups and gets announcements "like cupcakes upstairs. Somebody's child has cookies for sale. It is really a family here."
The Redwood City native, who grew up in what he calls a "color-blind family," did not realize he was black until he was four or five years old. His mother knew how much he loved "The Wizard of Oz" and introduced him to "The Wiz," the 1978 fantasy film that reimagines the classic with an all-black cast. "I saw people on the screen and it was like I was looking in a mirror," he says.
He went with the family to Greek festivals and only realized in high school that being a black male "was going to be different." For the 5'10"-tall actor, an outgoing man who laughs easily, it's "kind of crushing" knowing that "walking down a dark street in San Francisco I can be intimidating somebody."
One night before a show, the ultra-casually-attired Appleby was hanging out in front of the theater when a woman who had come to see the show approached him and offered him, first some food, which he declined, and then $5, which is also declined. After the performance, Appleby happened to be in a neighborhood pub when the woman's husband gingerly approached him to apologize. They were from Texas, he tried to explain, and didn't realize someone dressed like Appleby could be an actor. "We're not where you're from," the man said sheepishly.
It was theatrical anagnorisis played out in real life, the sudden discovery that produces a change from ignorance to knowledge.
Appleby was not offended.  "I'm not a snowflake or politically correct," he says. "I think people are way too sensitive." In fact, Appleby believes, what "Beach Blanket Babylon's" late founder Steve Silver wanted to happen through the show was "to introduce different ideas of how to intercept life. … I thought it was a learning moment."
Though "Beach Blanket Babylon's" hourglass is running out, Appleby is committed to keeping his performances fresh, exciting and memorable for audiences. "It's pretty cool to see people enjoying a moment," he says elongating the word, "that's happening in front of them rather than reacting on a screen or a phone and not actually engaging in eye contact. I really enjoy the thrill and the rush. I get nervous every single show. Every single show to this day. I feel like throwing up. But I love it. I really do.  I enjoy it."
In the April 17 announcement that "Beach Blanket Babylon" was closing, producer Jo Schuman Silver noted that it was originally scheduled to run for only six weeks but became "an international phenomenon and the quintessential San Francisco experience." Upon its closing, the show will have played a record-breaking 17,216 performances, she added.
Post-Babylon, Appleby plans to take a break to de-stress, but he intends to incorporate what he's learned as he goes forward. "Where in the moment it sucks," he explains, "for the artist that I am, wow, you can't buy this type of education. It's bittersweet. It's up to me to come out on the brighter side of it and I think I will.  I believe in myself."
This story was published in the June print edition of Climate Magazine.