This is a masticator, and it's going to play a big role in ensuring San Mateo County residents are protected in the event of wildfires.
On Thursday, the San Mateo County Parks and Recreation Commission is set to hear a presentation on plans to mitigate fire risks in county parks.
The Parks Department, which maintains about 37.5 miles of fire roads within its system, has two main strategies for mitigating wildfire risks: managing vegetation, and maintaining all-weather fire roads that provide access for first responders and evacuation routes for the public. Over $1.3 million in the department's 2019-20 budget is dedicated for fire fuel reduction and preparedness efforts, the county said.
Soon, the masticator will help in this effort.
The Parks Department purchased the new tool that clears vegetation mechanically instead of by hand, reducing project timelines by half, the county said. The Department will begin training rangers on how to use the machine safely and effectively starting in fall this year.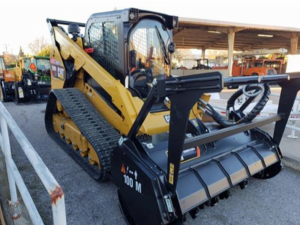 "The program will allow the Department to better manage fire fuels within the parks long-term and year-round," the county said.
Meanwhile, significant projects to clear highly combustible vegetation in order to prevent the spread of wildfires are set to begin next month.
Earlier this year, Gov. Newsom asked Cal Fire to assemble a list of California communities at greatest risk of catastrophic fires, and to dedicate state funding toward reducing risk through projects such as vegetation management. Two of the 35 projects deemed as high-priority exist in San Mateo County, with Kings Mountain Road being No. 2 no the list, and Quarry Park No. 16.
Both projects, which aim to clear highly combustible vegetation near park fire roads and roads, are anticipated to commence in mid-August.
On Kings Mountain Road, Cal Fire and the County of San Mateo Parks Department plan to create about "70 acres of shaded fuel breaks in Huddart Park," with contractors set to remove all trees under 10 inches in diameter, larger dead and dying trees and ground vegetation within 200 feet of each side of Kings Mountain Road, according to city documents.
Similarly at Quarry Park, about 100 acres of shaded fuel breaks will be created throughout the park, but within 100 feet of designated fire roads and roads.
Strategically removing highly combustible vegetation can prevent fires from starting and spreading, county officials said.