After an employee recently tested positive for the coronavirus, the Chan Zuckerberg Initiative asked its 400 Redwood City-based employees to work from home. Similarly, Google, Facebook, Microsoft and Twitter have asked employees to work remotely to prevent the illness' spread.
Now, local leaders are calling on governments and public agencies to revise procedures to allow for more flexibility with remote communication.
While local government and public agencies are some of the largest employers in their communities, existing laws are unclear on how technologies such as video-conferencing, tele-working and social media can be used in the context of public meetings, according to Dr. Aaron Nayfack, a member of the Sequoia Healthcare District Board of Directors, and Redwood City Councilman Giselle Hale.
In an opinion piece they co-authored in the San Mateo Daily Journal, Nayfack and Hale advocate for upgrades in technology and policies that enable remote communication in local government and public agencies.
"Local governments can and should play a role in slowing the spread of coronavirus," Hale stated in posts on Facebook and Twitter today, adding, "This may mean videoconferencing into City Hall meetings and canceling non-essential events."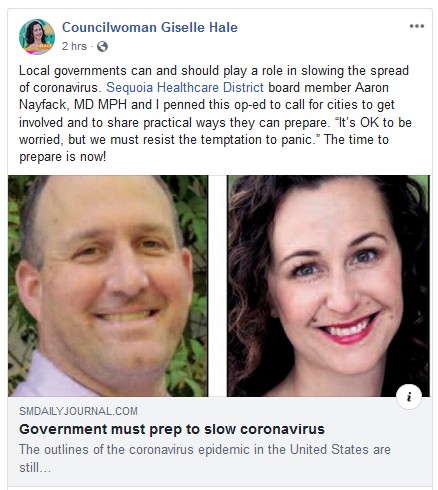 As one solution, Nayfack and Hale are advocating for the passage of Assembly Bill 992, "Modernizing the Brown Act," introduced by Assemblymember Kevin Mullin in collaboration with Hale. Approved by the Assembly in January, the legislation would clear a path for public officials to engage with the public on social media without violating the Brown Act, they said. The Brown Act is the 1953 law aiming to prevent legislative bodies from conducting the public's business in secret.
"This is a first step toward modernizing California's open government and transparency rules to leverage modern technology for remote governing in times like our brewing public health emergency," Nayfack and Hale state.
With coronavirus cases spreading rapidly in U.S. communities, local governments should begin canceling nonessential public events for the next several months to prevent avoidable community spread of the coronavirus, according to Nayfack and Hale.
In a statement Thursday, San Mateo County Health Officer Dr. Scott Morrow made a similar suggestion, recommending that "all non-essential gatherings" be canceled, postponed or done remotely. Morrow also advocated for increasing remote working teleworking "to the extent possible, especially for those who appear at higher risk for developing the disease, those over the age of 60 and those with co-morbid conditions."
For more on coronavirus and its impact on San Mateo County, visit the San Mateo County Health website here.