The San Mateo County Event Center is now a 250-bed Federal Medical Station that aims to take on patients in the event that the area's nine hospitals reach capacity due to the COVID-19 surge.
Beds are placed 6 feet apart, each with linens and pillows and supplies. The county hopes the "diligence of its residents" to follow guidelines on preventing the spread of the virus means this large pop-up medical facility will never have to used.
If it does, the medical resources from the National Strategic stockpile will provide "sub-acute, non-traumatic, non-surgical treatment when hospital bed capacity has been exceeded, as well as care for displaced persons with chronic diseases, limited mobility, or behavioral health requirements," according to County officials.
Patients accepted at the site will not be suffering from severe illness, as the intention will be to free up space for those with urgent conditions at local hospitals.
Members of the California Air National Guard Cots set up the cots and other equipment early this week.  Some of those resources could be moved to local hospitals if the need arises, officials said. Similar medical centers have also been set up in Santa Clara County, Los Angeles, Coachella and Richmond.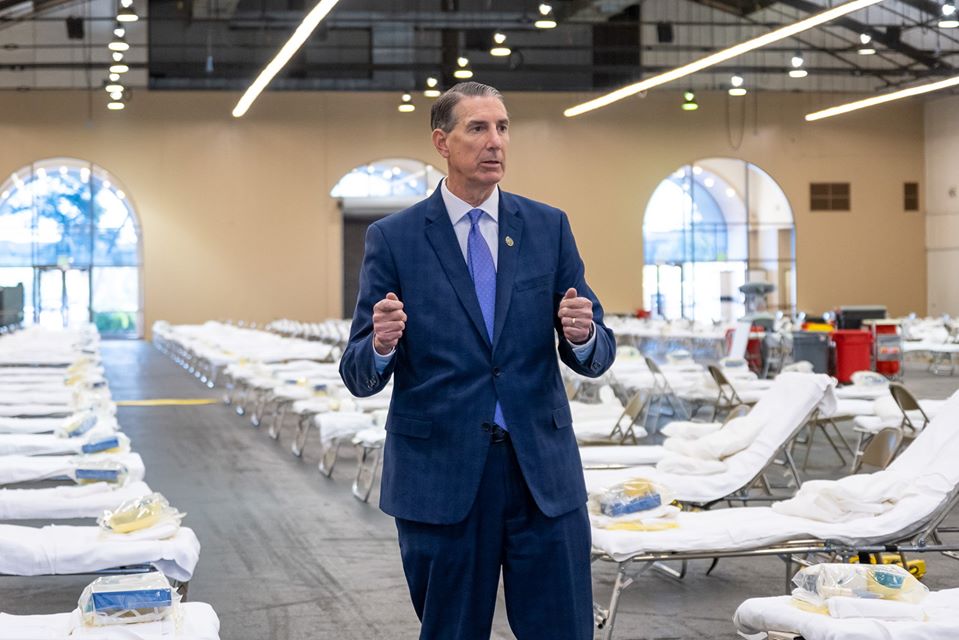 San Mateo County is now looking to staff the Event Center with retired medical professionals, nursing students and  paramedics and volunteers.
Anyone interested in volunteering or donating to the effort can do so at www.smcgov.org.
"This is the challenge of our generation," County Manager Mike Callagy said. "Every generation has a challenge in some way and this is ours. And this is a great example, this medical station here, of what we can do when we all work together."
San Mateo County health officials are asking the community for any unused N-95 respirators, surgical mask and unopened packages of disposable gloves, as well as unopened containers of hand sanitizer, any unopened containers of disinfectants or disinfecting wipes or any package to our unused protective goggles.
If you have these items, drop them off at the Maple Street Correction Facility at 1300 Maple Street in Redwood City.
Photos courtesy of the County of San Mateo