After over three decades in fire service, Redwood City/San Carlos Fire Chief Stan Maupin has retired, the City of Redwood City announced Wednesday.
Deputy Fire Chief Dave Pucci will serve as Acting Fire Chief, according to a city statement.
Maupin has served in Redwood City for 13 years, and as Fire Chief since January 2016. As a strike team leader for nearly 20 years, he helped fight over 15 California wildfires. Under his leadership, the Redwood City Fire Department received the Public Protection Classification, Class 1 rating from the Insurance Service Office. Fewer than 1 percent of fire departments have this classification, which "represents superior property fire protection," city officials said.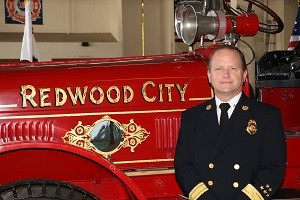 Maupin also guided a department that modernized technologies used for fire safety inspections, leading to streamlined processes and cost efficiencies. He was described as instrumental in successfully negotiating and implementing the San Carlos Fire Services contract and renewal, which the city called an " innovative approach to providing high-quality fire services while being financially beneficial to both San Carlos and Redwood City."
"Serving as Fire Chief for the cities of Redwood City and San Carlos has been the pinnacle of my career and I am grateful for the many opportunities and experiences over the past 30+ years," Maupin said in the statement. "Not many people can say they worked their dream job; I am definitely one of them."
Before beginning as a volunteer firefighter in Foster City in 1988, Maupin served for four years as a Corporal in the United States Marine Corps. He joined the Tracy Fire Department as a full-time Firefighter in 1990, moved back to the Foster City Fire Department in 1991, moving up to Battalion Chief before leaving for Redwood City's Fire Department in 2007.
"I am infinitely grateful to Chief Maupin for his dedicated service and, particularly for his leadership and professionalism," said Redwood City City Manager Melissa Stevenson Diaz. "He has led the department with skill and heart, and been a terrific colleague and member of our executive team. We will miss him very much, and we all wish him the best in his well-deserved retirement."