The long line of cars driven by local union members seeking food donations in Burlingame Thursday morning was difficult to watch, Menlo Park City Counclimember Ray Mueller said.
"The depth and impact of the crisis comes home and punches you in the gut very quickly," the councilmember said.
Just outside the Machinists Union Hall, Mueller volunteered alongside union members and other elected leaders including San Mateo Mayor Joe Goethals and Belmont Vice Mayor Charles Stone to distribute over 300 boxes of chicken and fresh produce to local laborers. The food was provided by Second Harvest Food Bank and United Way Bay Area.
While some union members are essential workers, such as those working in the medical fields or for grocers, many others have lost jobs or endured reduced hours.
"About 90 percent of our members are out of work," said James Ruigomez of the San Mateo County Building Trades Council, whose members work primarily in commercial and industrial construction jobs.
They are among a growing number of community members lining up for services amid the pandemic. The Samaritan House is seeing its client roster increase by about 250 people every week, CEO Bart Charlow said this week during a virtual town hall hosted by the City of San Mateo.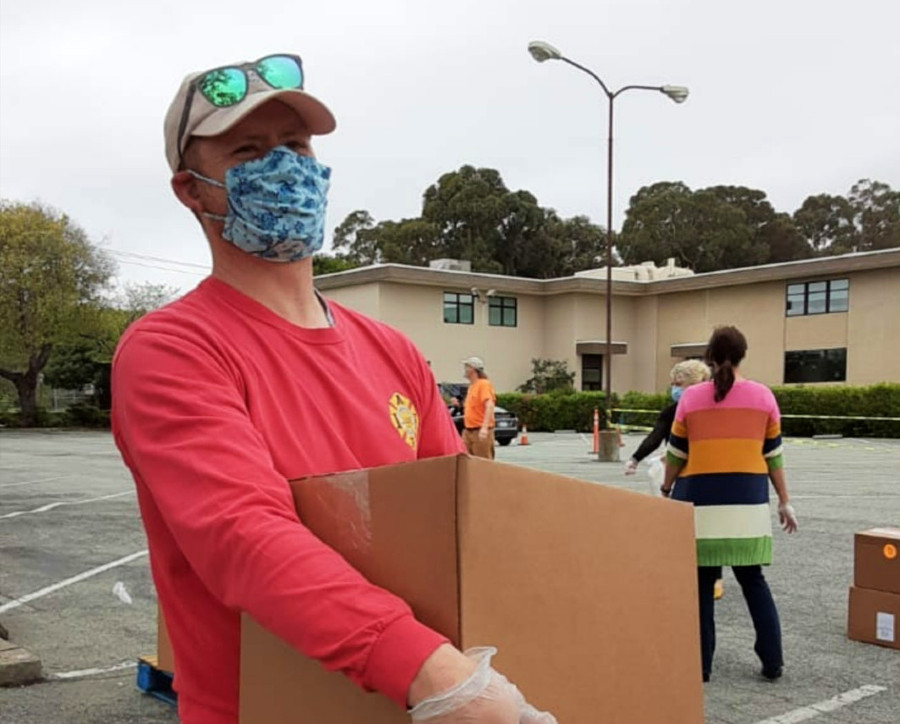 The shelter-in-place order has been credited with reducing the spread of COVID-19 and saving lives. Its economic impact, however, was evident on Rollins Boulevard Thursday. As a local electrician checked in at the event, he profusely thanked volunteers, "This food will help my family so much."
While devastated by the growing needs in the community, Councilmember Mueller, Mayor Goethals and Vice Mayor Stone were heartened to see fellow union and community members stepping up to help them. A sense of hope is restored, said Mueller, when "seeing volunteer after volunteer armed only with cloth masks run up to each car with supplies."
"It is humbling to spend time on what is most important," Mayor Goethals said. "Safely satisfying the most fundamental basic needs of working families is as important as anything else I do."
Vice Mayor Stone called it "uplifting" to see local labor organizations helping fellow members who are down on their luck.
"It is a reminder of the many reasons why unions are important," he said. "I was honored to play a small part."
For  members of a labor union who work/live in San Mateo County, additional food distribution events will take place in the coming months. Get in touch with your union for more information.
Top Photo: (from left to right), Belmont Vice Mayor Stone, Menlo Park City Counclimember Ray Mueller, and San Mateo Mayor Joe Goethals