While many downtown businesses boarded up in anticipation of Tuesday's protest in Redwood City, the owners of August Barbershop took a more hopeful direction.
Marissa Ramirez and Ruby Baez, who co-own their business at 704 Winslow St., decided, instead, to set up a station outside their shop serving water, pizza and some shade for protesters who might need a refresher.
"We decided not to board up our business because we wanted to show the community that we're here, we stand with you," Ramirez said.
The hopefulness was not misplaced. Hundreds of people packed Courthouse Square for a peaceful protest Tuesday organized by young people in Redwood City. The large protest remained impassioned and positive despite attempts by agitators on social media to inject chaos prior to the event.  As of Wednesday morning, no damages were reported, Councilmember Giselle Hale said. The protest is among the many being held across the U.S. in response to the killing of George Floyd, an unarmed African American man, by Minneapolis police on May 25. A protest is also scheduled to take place at San Mateo City Hall today at 5 p.m.
In Redwood City, even businesses that boarded up for added security found ways to connect with protesters in solidarity. The Fox Theatre in Redwood City invited artist Jose Castro, creative director of Anonymous Recipes (Recetas Anonimas), to paint messages supporting the movement on the bare board. The artwork became a visible symbol and highlight for the event.
"Our small businesses encouraged artwork and many of them joined in the protest," Councilmember Hale said. "Now let's start a conversation about what lasting change will look like on the Peninsula."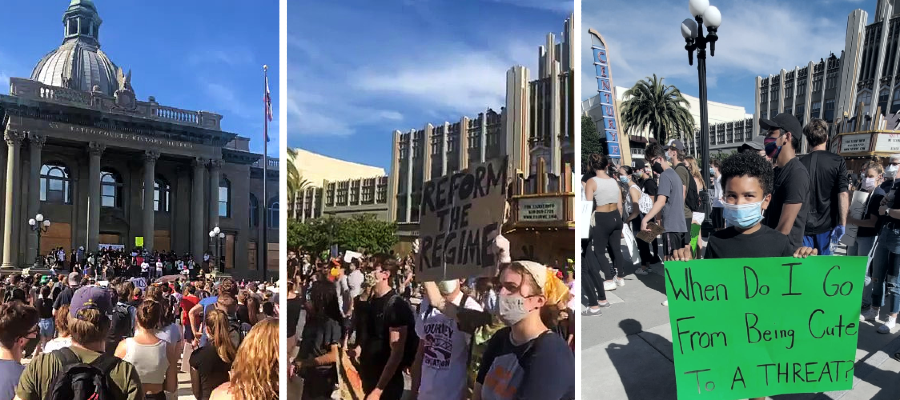 Added Councilmember Ian Bain, "I was extremely moved by what I witnessed downtown yesterday. I saw a diverse group of people, of all backgrounds coming together to peacefully express their desire for change. I saw young people, yearning for a better future where everyone is treated equally, and can feel safe, as well as a willingness to work for that. It felt like we had reached a turning point, where the awareness of systematic racism and the desire to change things are stronger than ever. For the first time in a long time, I felt hopeful about America's future."
Organizers of the Redwood City protest included local residents Josh Josue, 20, Gilbert Medrano, 21, Tiffany Medrano Martinez, 14 and Tyson Fraley, 21. Prior to the event, their flyers were altered by agitators attempting to incite violence. Anticipating that possibility, businesses boarded up. In a separate show of community spirit, merchants helped one another in the effort to protect businesses. The young protest organizers worked with the city to ensure a space where voices demanding justice and equality could be heard.
Redwood City police thanked the community "for doing their part to ensure a peaceful demonstration." The police also did their part. In one powerful report captured toward the end of the protest, after curfew, a San Jose Mercury news photographer snapped images of a police officer kneeling before protesters, and then hugging a protester, which led to cheers. NBC Bay Area reported the scene. Redwood City Library Director Derek Wolfgram expressed gratitude to organizers, attendees and the "thoughtful approach of our colleagues in the Redwood City Police Department, to keep everyone safe."
Both during and after the protest, community members swarmed social media with words and images of pride and a renewed hope for systemic change.
"I saw a movement in Redwood City," filmmaker Anthony Gapastione posted on Facebook, saying smaller rallies that began Friday swelled up to Tuesday's large protest.
"It was attended by all ages and ethnicities and it was led by so many diverse, young people with passionate voices who've seen so much pain in a short amount of time," Gapastione said. "I applaud all of you for your poetry, spoken word, expletives, demands, hopes, dreams and stories."
Adam Alberti, publisher of Climate Magazine, attended the demonstration with his teenage daughter and said he left feeling encouraged.
"It gave me hope that we may have finally reached the point where we will not tolerate this anymore," Alberti said.
Floyd was not just a victim of a few bad apples, but was a "victim of a system, like far too many before him," that system doesn't treat all Americans equally, Alberti said. Floyd's death, he added, is a grim reminder of how "little we have travelled down that long road since Rodney King." But in Redwood City and across America, there's hope today that the nation is at a tipping point. Alberti hopes the energy and commitment to change will make a difference at the polls in November.
"Without leadership changes in our body politics, we will not see the change in the systems that govern our lives," he said.
Photo credit for top photo: Adrian Andrade