A GoFundMe account has been set up to help Redwood City businesses—already struggling under the COVID-19 shutdown—recover the substantial cost of battening down the hatches before the recent protest downtown.
As if preparing for a hurricane, business owners scrambled to find contractors to board up windows in advance of the June 2 demonstration, which turned out to be largely peaceful. But the cost for individual owners, most of whom have seen revenues dry up because of the coronavirus, ranged from a few hundred dollars to five-figure sums.
Brett Weber, a long-time commercial real estate executive with many clients in and around downtown, was pained by the impact on stressed restaurants and other small businesses unprepared for yet another financial blow.
"When these people are getting ready to open up and have outdoor seating, were they really expecting to get another $2,000 or $3,000 or $4,000 bill?" Weber asked. "And setting them back two or three days and losing more business?"
Together with some business associates and friends, Weber hurriedly established a GoFundMe account with a goal of raising $250,000 to reimburse owners and tenants for the cost of boarding up. "Our goal is to help these people out," he said. "I love this town. I live downtown."
As of Saturday morning, the Redwood City Small Business Relief Fund had raised $8,500 toward the ambitious goal.
"We don't know how much we're going to raise," Weber said. "We just started and we have a long way to go. We need to scale up to help these people, and I'm telling you, these businesses really need it."
Word about the planned demonstration started to go out to businesses late Sunday, May 31, with the request that they take precautions such as removing outdoor furniture and boarding up windows.
Weber said when he went downtown the next day, as he saw businesses boarding up, he started contacting clients. Many hadn't gotten the word yet and had to quickly find a contractor.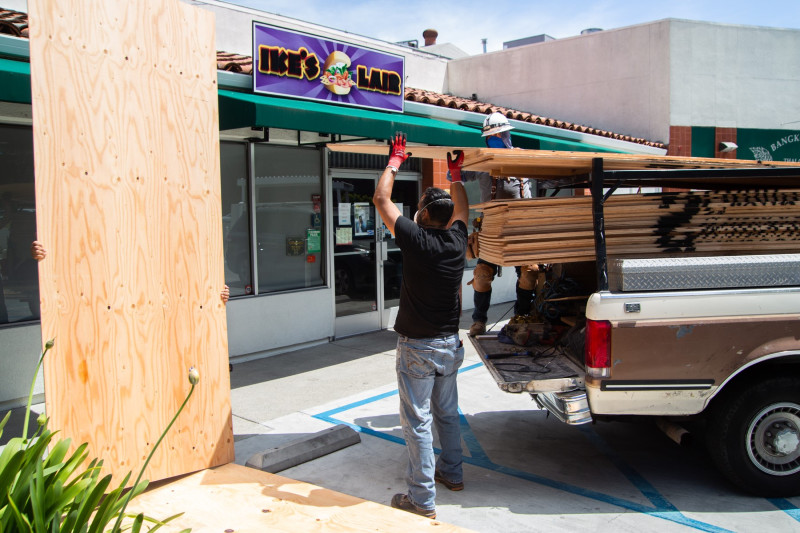 Szymon Dziadzia, the owner of Olive Construction in San Francisco, got called in to protect the Fox Theatre, the Little Fox and the Fox Forum. Three other owners hired his nine-member crew to cover their storefronts.
"We worked from the (Monday) morning till 1 a.m. and we got three hours' sleep and we were back at 6 a.m.," he said. "It was crazy." He had to turn down business. "We just handled what we could, and we finished 20 minutes before the demonstration started. I was just so happy to see the next day how peaceful it was and that there was no damages."
A Polish immigrant, Dziadzia says he got referrals from businesses looking for contractors through Polam Federal Credit Union CEO Mark Chrzanowski. (He is also helping Weber with the GoFundMe effort.) Dziadzia said lumber stores were sold out and he had to bring wood in from San Francisco and Brisbane.
The cost of covering the three Fox buildings was about $7,000, including $3,000 for lumber.
"It was a very difficult decision to board up," said Fox General Manager Ernie Schmidt. "Nobody wants to board up their business. … I don't have any revenue coming in, and I'm sure downtown businesses don't have revenue coming in either."
Though the windows could be replaced, he added, "if somebody breaks my windows and enters the Fox Theatre and damages all the beautiful history in there, I can't replace that."
Fearing possible vandalism, Anupam Bhatia also decided to board up his Broadway Masala restaurant after receiving the warning from the city. Boarding up and removal ran to $1,500, not counting loss of business.
Fera Hashemi, who with her husband owns Arya Steakhouse, said they were contacted by the owner of the center where the restaurant is located, asking individual tenants whether they wanted plywood protection. She hasn't received the bill yet.
"We didn't know. Do, not do it?" Hashemi said. "And it was better to be safe than sorry." She's grateful that the demonstration turned out to be peaceful.  "At this point, we're just trying to get our businesses to run. We just want to do whatever it takes to protect it and to be able to open and get back to normal."
The businesses also have to pay to get the plywood removed and decide what to do with it. Schmidt is undecided about the wall of wood in front of his theaters, which became a canvas for graphics and slogans and could even be preserved. But Schmidt put out the word on NextDoor that other establishments could use some help taking down the boards.
Weber says donations to the GoFundMe account in any amount are welcome. It was set up on the fly, with the idea that disbursements could be administered by the Downtown Business Group. Whatever mechanism emerges as the best, he just wants to make sure the money goes where it's intended.
"I don't do fundraisers," Weber said. "This is something from my heart." For information, visit gofundme.com.
Photos by Jim Kirkland