San Carlos Mayor Ron Collins is urging the public not to boycott a local restaurant after one of its diners was accused of using insulting and abusive language toward Black Lives Matter protesters.
"They have nothing to do with what is going on today, and are a valued and responsible business in San Carlos," the mayor said in a Facebook post.
On Saturday, local resident Danielle Meadows-Rios shared a photo and story about an incident during which a man dining outdoors at Stamp Bar and Grill reportedly made hateful comments and gestures toward protesters participating in a peaceful march on Laurel Street. In her post, which was widely shared online, Meadows-Rios claimed Stamps' management high-fived the diner rather than admonish him for his actions. Meadows-Rios said she told the owner "shame on you" for condoning the diner's actions.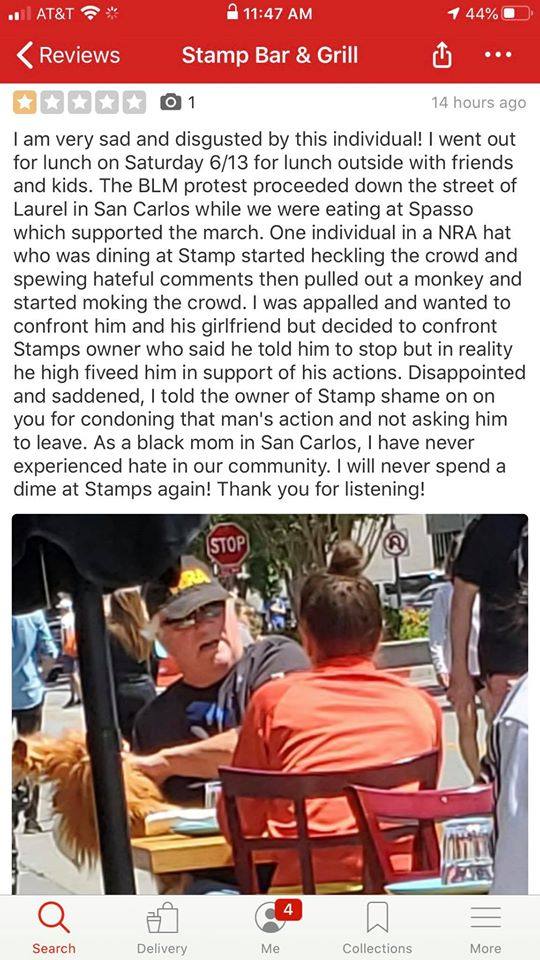 Stamp Bar & Grill owner Sema Tosun released a statement Sunday denying the claim that her eatery supported the diner's actions. Tosun says Meadows-Rios misunderstood the situation and that the diner was told "to leave and never come back to our restaurant."
"There was no high five or fist-bumping, my business partner put his hand up as a gesture to say please leave which is now being construed as him giving a high-five," Tosun said, adding, "Stamp restaurant is farthest from being a racist establishment."
Tosun, founder of Fund A Need, a nonprofit supporting low-income seniors, said, "Anyone who knows us knows that we have been very strong in our advocacy to support and better our communities and have been very proactive in the causes related to injustice and vulnerable people….We told the gentleman in this photo to leave and never come back to our restaurant and in no shape or form condone any type of ugly behavior like this."
Mayor Collins said he posted about the incident Saturday in order to call out racism, hate and bullying. In a Facebook post Sunday, he urged the community against targeting Stamps.
"The owners are good people, dedicated to racial justice and who support many worthy causes, and who in no way condoned their patron's irresponsible actions," the mayor said.
Photo: Facebook