A Millbrae man has been arrested on suspicion of being an accomplice in the shooting of two Federal Protective Service officers in Oakland on May 29, authorities announced Tuesday.
Robert Alvin Justus Jr., 30 has been charged with aiding and abetting in the murder of David Patrick Underwood, 53, and in the attempted murder of a second security officer who was critically injured in the shooting, which was carried out amid protesting in Oakland over the death of George Floyd while in Minneapolis police custody.
The security officers had been guarding the federal courthouse during the protests when a white van allegedly driven by Justus pulled up to the Ronald V. Dellums Federal Building in Oakland about 9:45 p.m. An occupant in the van, identified as Air Force Staff Sgt. Steven Carrillo, opened fire on the security officers using an AR-15-style rifle equipped with a silencer, U.S. Attorney David Anderson said.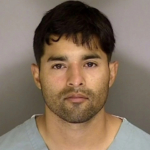 The white van fled, but was captured on surveillance cameras near the scene. On June 6, a citizen witness in Ben Lomond in Santa Cruz County reported a suspicious van with weapons and bomb making materials inside. Evidence from that van led Santa Cruz County deputies to Carrillo's home in Ben Lomond, Anderson said. When deputies arrived, Carrillo fired upon them in an ambush attack that killed Sgt. Damon Gutzwiller and injured another officer.
According to the FBI, evidence suggests the suspects did not go to Oakland to protest, but rather to "kill cops." The suspects had planned their attack to coincide with the demonstration in order to avoid apprehension, authorities said.
Other evidence uncovered during the course of the investigation suggests Carrillo is influenced by the Boogaloo movement, a far-right extremist ideology whose followers are planning for a violent uprising against the government or second American Civil War. A bulletproof vest recovered from the white van had a patch with an American-style flag that had noticeable differences from a typical American flag. Where there are normally stars on the flag, there was a picture of an igloo, and one of the stripes had a Hawaiian-style motif. Also, Carrillo allegedly used his own blood to write phrases on a car that he had carjacked during his failed attempt to elude authorities after the Ben Lomond attack. A federal complaint alleges that the patch and the phrases written by Carrillo are associated with the so-called Boogaloo movement, Anderson said.
The FBI had begun surveillance on Justus after discovering phone and text communications with Carrillo. On June 11, Justus turned himself in along with evidence of his involvement in the shooting, according to the FBI.
Photo: Credited to FBI, the white van captured on surveillance video prior to the shooting in Oakland that killed one Federal Protective Service officer and injured another.