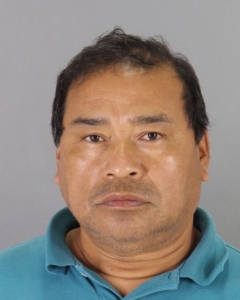 A resident of unincorporated Belmont was arrested at his home on Friday, July 17, on charges involving social media encounters with a 14 year old girl, authorities said.
Ovelio Ramos, 57, pleaded not guilty Monday to felony charges of contacting a minor with intent to commit certain felonies and dissuading or intimidating a witness in connection with the case, according to the San Mateo County District Attorney's Office.
The case came to light when the 14-year-old victim spoke with a school therapist, who reported Ramos' behavior to the San Mateo County Sheriff's Office, according to the DA.
Ramos met the victim through Instagram and WhatsApp and communicated with her for an 11-month period, prosecutors said. While they never met in person, Ramos told the girl he was in love with her, called her his pretty girl and on three occasions asked her to send him topless photos.
The 57-year-old also warned the victim not to tell anyone they were communicating because he didn't want to go to jail, prosecutors said, adding that Ramos knew she was under 18. He "claimed she was the only minor he has been attracted to," prosecutors added.
At about 11 a.m. on July 17, detectives with the sheriff's office contacted Ramos and arrested him at his home in the 100 bock of Harbor Boulevard. He was later booked into the Maguire Correctional Facility, where he remains in custody while awaiting a preliminary hearing set for July 31. His bail was set at $75,000.
The sheriff's office encouraged anyone with information about Ramos to contact Detective Joe Fava 650-363-4192 jfava@smcgov.org or Sergeant Joe Cang 650-363-4008 jcang@smcgov.org.