Ghostwood Beer Company announced on social media this week it will close its taproom at 965 Brewster Ave.  in Redwood City after this month. However, its brewery on East Bayshore Road will remain in operation, with "kegs being distributed locally and to-go crowler/growler fills," owners said, adding that details on pickup options would be posted on its social media pages in the coming days and weeks.
Economic impacts from the COVID-19 pandemic were cited for closing the taproom. The brewery says help from friends and neighbors have enabled staff to be fully paid since pandemic shelter-in-place orders began in March. But "with the uncertainly surrounding the future we simply can't afford to keep losing $15,000-$20,000 per month with no end in sight," it said.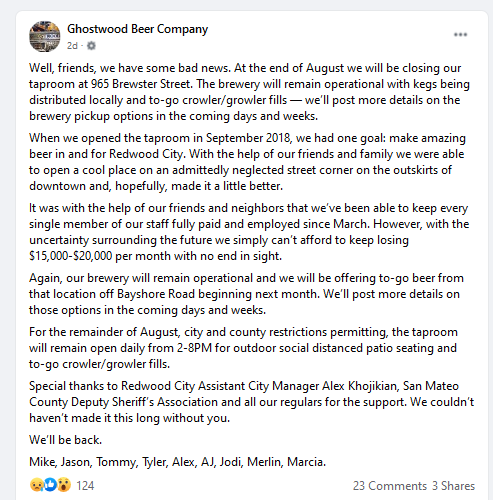 "When we opened the taproom in September 2018, we had one goal: make amazing beer in and for Redwood City," according to the brewery's statement. "With the help of our friends and family we were able to open a cool place on an admittedly neglected street corner on the outskirts of downtown and, hopefully, made it a little better."
In February, the brewery gained accolades after its Triple IPA, Clearly Dangerous, won bronze at the 20th annual Double IPA Festival in Hayward. It was a monumental feat for the young brewery, which beat out Russian River's coveted Pliny the Younger in the competition.
In a subsequent profile, The Six Fifty detailed how Ghostwood began when co-owners and local residents Jason Simpson and Mike Hedlund decided to launch their own backyard brewery while sharing a beer. They wanted to be "something by Redwood City, for Redwood City," the publication noted, and would eventually sign separate leases for the Brewster Street space and warehouse brewing space.
Photo: Google Maps