Chamber San Mateo County has named the 2020 winners of its "Cornerstone," "Business Woman of the Year" and Tom Mohr "Champion of Education" Awards," and it's no surprise this year's honors recognize heroic efforts amid the pandemic.
San Mateo Credit Union has been selected for the 2020 Cornerstone Award, which honors individuals and/or organizations for making a meaningful and lasting impact in their communities by devoting time, talent and resources to community development and philanthropic initiatives, per the Chamber.
Noting that San Mateo Credit Union embodies the true meaning of the Cornerstone Award, the Chamber highlighted the Credit Union's leadership and staff, who made it possible to distribute tens of millions in CARES Act, government, foundation and corporate support throughout San Mateo County.
"The impacts of the economic distress from the pandemic would be far worse if the San Mateo Credit Union were not an incredible corporate citizen serving San Mateo County," stated the Chamber.
Kate Comfort Harr, executive director of HIP Housing, has been chosen to receive the 2020 Business Woman of the Year Award, which is co-sponsored by Heritage Bank of Commerce. The Chamber pointed to Harr's "extraordinary impact to our community during an unprecedented time" during which she led HIP Housing's efforts to connect 2900 people to housing resources, raised $237,000 for low-income families impacted by COVID-19, helped 1,450 people identify/maintain an affordable home and provided 230 emergency assistance grants to low-income families and seniors.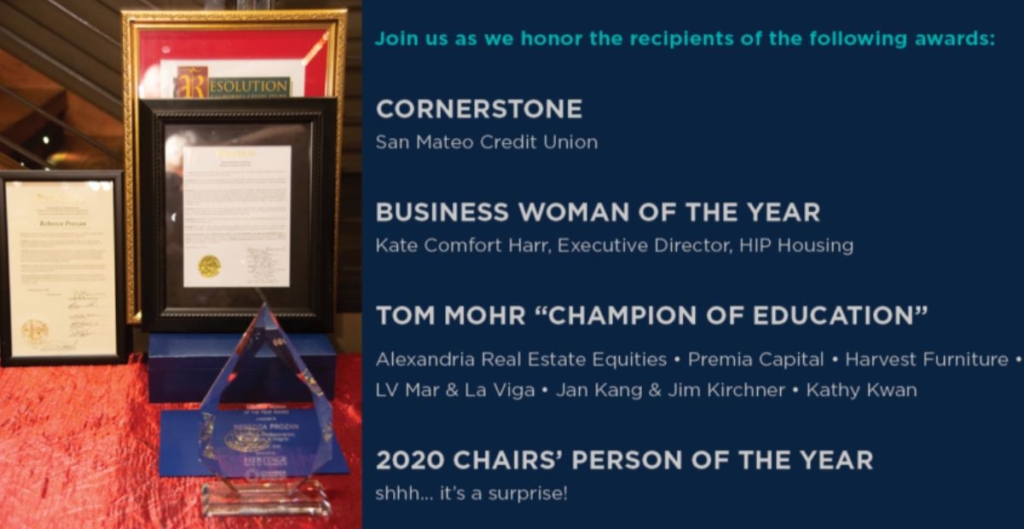 The 2020 Tom Mohr Champion of Education Award, formerly the Golden Apple Award, honors those who are committed to education and are leading examples of what great partnerships can accomplish, per the Chamber. This year's winners of the award include:
Alexandria Real Estate Equities, owner of the new commercial development on Industrial Avenue, for supporting San Carlos public schools, including with $1.5 million in donations and support for a parcel tax.
Premia Capital (large company honoree), for extensive community investments, including funding 22 year-round youth sports teams in the Police Activities League, contributing $2M to support refurbishing PAL's gym, and contributing $125,000 to the Redwood City Education Foundation to fund distance learning efforts, the largest ever gift in a single year to the foundation. Premia has also worked with HIP Housing to renovate and make permanent low-income housing at 3592 Rolison Road.
Harvest Furniture, for supporting the San Carlos Education Foundation with both monetary and in-kind donations and hosting various functions supporting schools at both their Laurel Street and Redwood City store locations.
LV Mar and La Viga restaurants (small company) for ongoing support of local schools and the community since opening in 2012, including by "donating gift certificates for fundraising to develop diverse programs, supporting the Redwood City Education Foundation with raising funds by catering at-cost during concerts for guests, as well as giving back a percentage on special dining experiences."
Jan Kang and Jim Kirchner, for a wide range of support for the San Carlos Education Foundation, via both financial contributions and volunteering. They volunteer at the Spring Fling, beautification days, and School Fun Runs and at "many teacher appreciation efforts," and have had their employers match their financial contributions for added impact.
Kathy Kwan (individual/family), who has "helped fund a broad range of organizations and programs in the San Francisco Bay Area's education, job training, and safety net sectors" since the Eustace-Kwan Foundation was established in 2005. "Kathy has facilitated partnerships with local non-profit such as the Redwood City Education Foundation, St. Francis Center, JobTrain and Center for Excellence in Non-Profits," according to the Chamber.
All winners, chosen for over 122 years by the Chamber San Mateo County Board of Directors executive committee, will be honored at the virtual "123rd Annual Awards Luncheon" March 5 at 11:30 a.m.
Photo credit: Google Maps