Competitive prices, historically low interest rates and the arrival of COVID-19 vaccinations likely all play a role in a reported spike in interest in the purchase of Bay Area condominiums, experts say.
Real estate developer Z&L Properties and its sales and marketing partner Compass Development Marketing Group are reporting an uptick in buyer interest and sales activity in three of its properties located in hotspot areas of San Francisco since the start of 2021.
Z&L achieved a new sales record at its Fulton 555 property in Hayes Valley, closing eight units since the start of the year with more than a dozen additional units currently under contract. Per the company, the rapid sales pace is nearly four times that of the same period last year, which saw only two sales in early 2020. Fulton 555, nestled in a vibrant neighborhood nearby many cultural amenities, offers 139 two-bedroom floor plans with outdoor space and parking from the high $900,000s and one-bedroom residences with floor-to-ceiling windows listed in the $700,000s. It began moving residents in during March 2020.
Over at Z&L's OneEleven property in San Francisco's bustling SoMa district, the company has had eight sales since the start of the year. Move-ins began Feb. 1 at the 39-unit property, which features a boutique collection of modern and bright one- and two-bedroom condominiums, some of which offer a home office/den, private terrace or parking. At this time, pricing starts at $599,000 for a one-bedroom and $1,039,000 for a two bedroom, two bath with parking.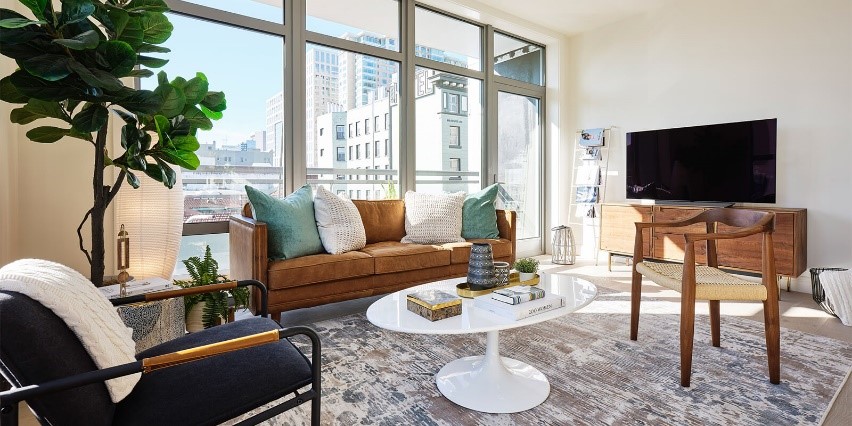 While Z&L's collection of 109 luxury condominiums at The Oak located in The Hub—a convergence of Hayes Valley, SoMa, Mid Market and other neighborhoods—has not kicked off sales or announced pricing, Eaton reports that Compass is "receiving very strong early interest…and with the recent overall increase in market activity, we're looking forward to a robust year."
"New prospective buyers have been inundating the sales team with requests to preview the homes," said Sandra Eaton, West Coast regional director for Compass Development Marketing Group, a division of Compass. She attributes the buying frenzy to a sense among buyers that "prices have bottomed out."
"We're seeing similar trends at many of the properties we represent," said Eaton. "With mortgage rates as low as they've ever been, the vaccine now offering a light at the end of the tunnel and today's competitive prices, those who have been waiting for their chance to buy in the city finally see their opportunity."
Z&L's perspective is echoed by experts at the California Association of Realtors (C.A.R.), which says the strong start to the housing market in 2021 has been a statewide trend.
"The statewide median price hit $699,890 in January 2021, down from $717,930 in December 2020, but up 21.7 percent from January 2020 [pre-pandemic]," according to C.A.R.'s report last week. "Home sales in January were up 22.5 percent from a year prior, driven by strong growth in California's core housing markets, in particular the San Francisco Bay Area."
C.A.R. also suggests low interest rates by historical standards play a role, and that "although inventory remains tight, buyer demand remains strong." The number of realtors that reported having a client hold back from selling their home declined to 40.7 percent, which "represents an improvement from January, when more than half of respondents to our weekly survey of California agents had sellers who had gotten cold feet." Last spring, nearly 90 percent of realtors surveyed reported having at least one seller hold back from selling due to the pandemic.
Top photo: Interior of Fulton 555, courtesy of Z&L Properties