With two months to go until the end of school year, the Sequoia Union High School District today welcomed back the first students who chose to return for "in-person" teaching.
About 3,500 students district-wide opted to go back to their campuses, and they had to sign on to protocols about behaviors such as mask-wearing, bathroom use, socializing in the hallways and so on that were unheard of before schools were closed in March last year because of the coronavirus pandemic.
The students are returning in groups, the first attending April 5 and 6 and the second on April 8 and 9. The following week, two more groups will attend classes Monday and Tuesday and then Thursday and Friday, bringing no more than 25 percent of students to campus at one time both weeks.
The week of April 19, the four groups would combine to two, for up to 50 percent capacity at one time, on the same four weekdays.
About 800 of Sequoia High School's 2,000 students have indicated that they are coming back, says Principal Sean Priest, whose staff reached out and connected with almost all families.
"We didn't want the message to get lost on anybody," he says. "We wanted to make sure they knew they had this choice. … One way or the other, they did give us this preference."
There are about 9,500 students in the district plus another 1,500 in charter schools, according to Board of Trustees President Alan Sarver. Asked why the majority of students opted not to return, Sarver lists fear of infection, a need some families have for high schoolers to help out with child care or contribute to household income, and concern that the in-person "hybrid operations are not a complete return to school as it used to be. There's a lot of wondering, 'Is it really worth it?'"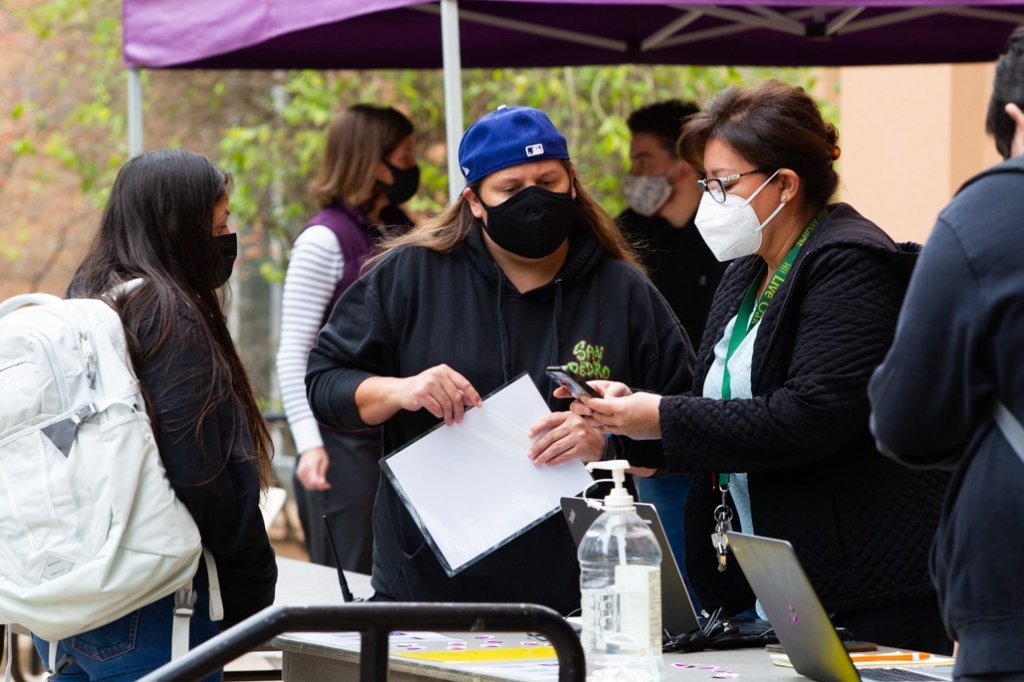 A fair number of kids are doing quite well with distance learning, Saver adds. "They do great in a Zoom environment and it just seems a lot more attractive to be lounging in your bedroom in your pajamas. … It's a mixture of a huge range of individual reasons for what works for you and doesn't work for you. And I think the one-third opt-in (in the Sequoia district) is pretty representative of what we've seen around California as California really tries to get going again."
Sequoia High sophomore Oscar Ponce was among those standing in line this morning waiting to be checked in. Going back to school, he says, "is pretty good. A little bizarre not having been for a year." Ponce wanted to be back in order to see most of his teachers and particularly wanted in-person instruction for classes like chemistry and physical education. He also wanted to see how school will operate in case things aren't back to normal in the fall.
The district is getting significant pushback from leaders of the community group Reopen Sequoia Union High School District, who sent an email March 23 asking for a meeting. Noting a judge's recent ruling in a San Diego case, the group wants to discuss the district's legal obligation to reopen for in-person instruction for upper grades.
In their email, the Reopen SUHSD leadership raises issues from the court case about the justification behind the spacing of desks six feet apart and requirements to keep discrete groups bunched together to minimize the spread of infection. The California Department of Public Health updated guidelines March 20 to only three feet between student chairs.
Paige Winikoff, a Menlo Atherton parent, says she and other parents can't understand with recent court rulings and expanded vaccinations why the district isn't allowing kids to go back more days per week. The group is also concerned that that the current "asynchronous day"— Wednesdays when students work on assignments on their own—will continue into the fall.
Winikoff says her son is "just grinding away at a computer screen all day" when he needs to be engaged with his teachers and fellow students. "We don't understand why, with all the barriers being removed—the vaccine, the physical distancing and all the court cases that we're closely following with great interest—why are they continuing hybrid education and the asynchronous days into the fall?"
Sarver responds that the difference between three feet and six feet hasn't been a determining factor in how many students who have opted in can be in a classroom. Though the school board hasn't met with the Reopen Sequoia group, their input is being received and heard, he says.
During the past year, staff members have said they particularly like the opportunity they've had on Wednesdays for "greater collaboration" and would like to be able to continue this in the fall. Sarver notes that there are many times when students are out of class—for testing, assembles, rallies, special events and so forth. If there were a way to build a schedule that would allow for that while giving students the same hours of instruction in the classroom, time could be carved out for faculty to work together as they have done on asynchronous days.
The logistics might not be simple, he agrees, but that's why public education "is not quick and nimble." A change would also have to be negotiated with staff and unions.
Sarver says that while district staff is planning for a full return to normal, they must also plan for the unexpected.
"We want to have our students on campus in classrooms fulltime from Day One of the 2021-22 school year in August," he says. "We are actively planning to operate in that mode. We are also actively contingency planning for a continuation of the pandemic at some level." Hopefully, with vaccinations becoming available for young people, things will look a lot different by August, Sarver adds.
To prepare students for their return to Sequoia, school principal Priest and other staff put together an online video. The kids were told to park only in the James Avenue lot and then report to the entrance of school to check in and get stickers to wear. They're not allowed to use lockers, aren't supposed to stop in hallways to socialize and can only go to the restroom when "absolutely necessary."
Lunches will be provided free but are to be eaten outside. The kids can't sit in their cars between classes or use water fountains, since they're not touchless.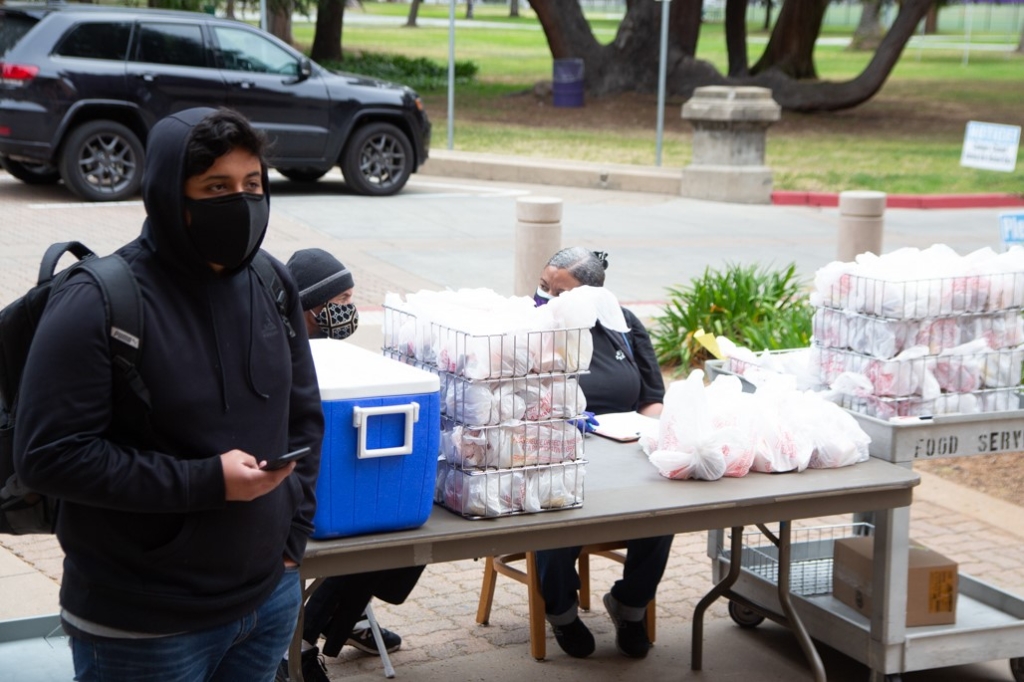 "We're all in this together," Priest says on the video. "… We're going to do the best we can."
Some teachers at a late March board meeting also voiced unhappiness because very few applications were granted for special accommodations because of family and health care problems or other extenuating circumstances. They complained that the district wasn't showing flexibility and concern for teachers or acting in good faith.
Sarver says there were no "blanket denials" but those who were turned down were referred to their high schools so administrators could continue to negotiate with the teachers, all the way through spring break. That said, Sarver adds, exceptions could only be granted in cases where "it is absolutely impossible for you to come in and do your job in the classroom, not if there are good reasons why it might be better for you to be continuing to work from home."
Photos taken by Jim Kirkland.