It's been more than a year. More than a year of losing loved ones or at least fearing for them. More than a year of worldwide lockdown. More than a year of separation from family, or exposure to too much family. Of closed schools and houses of worship. Of lost jobs and businesses. Of isolation from friends and co-workers. Of longing for favorite hangouts. Of just plain being cooped up at home.
Now, with places re-opening, people throughout the Peninsula are wondering the same thing as Dorothy after her weary-looking farmhouse crashed into Oz. What will be out there when they cautiously open the door? Will many –especially Silicon Valley's highly paid knowledge workers –continue their Zoom meetings, maybe from a ranch in Montana? If fewer return to the office, at least every day, what will become of the wage-earners who used to serve them in nearby restaurants, nail salons and dry cleaners? On the subject of restaurants, will folks ever go out again? Or have they all fallen in love with dinner and a movie –from the kitchen and the couch?
Steve Salazar is betting people will come back. The proprieter of Sneakers American Grill, a popular eatery and sports bar in San Carlos, hopes to be open seven days a week and fully staffed with 45 employees by early May. (As of mid-April, Sneakers was closed Mondays and Tuesdays, and operating at 50 percent capacity for indoor dining. The restaurant holds 300 customers inside, and the outdoor area can accommodate an additional 75 to 80 patrons.)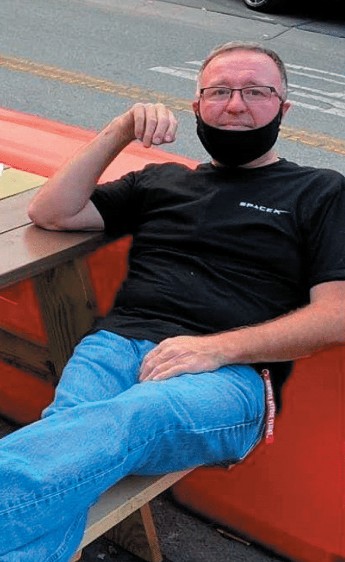 Salazar says the wooden outdoor platforms, which he built himself, are "something that I would like to keep, because San Carlos has incredible weather nine months out of the year. People like to eat outside. They like to socialize outside. Come (to downtown San Carlos) on Thursday through Sunday. There are just people everywhere. It's a social event. They feel safer outside, and I think it's going to stay that way for a couple of years, assuming that this goes away completely."
Live Music Resuming
The expanded capacities of restaurants and the reopening of bars and breweries (permitted to operate outdoors since March 13) will be welcome news to local musicians, who have disappeared from live view since California's lockdown began. For the past year-plus, music pros accustomed to playing engagements have been surviving mainly through online teaching. Meanwhile, nightspots such as Club Fox in Redwood City have turned to streaming events, asking for contributions from Internet audiences to pay the bands and other expenses.
Now, things are picking up. San Carlos drummer Mikel Bee played a few gigs in April, even driving to the small Sacramento Valley town of Winters for one job. Members of the E-Ticket Band, one of the Peninsula's favorite rock-and-roll cover groups, have recently been easing back into shape by playing outdoor sessions on weekends.
"Everybody's very anxious at this point," says leader Cliff White.Actors are also hovering in the wings.
General Manager Ernie Schmidt of Redwood City's Fox Theatre hopes performances can resume by July. In an email, Schmidt writes that he expects the stately, Art-Deco theater to operate "at full capacity, with conditions" such as proof of vaccination or a negative Covid test within three days, along with masks and temperature checks at the door. A couple of blocks up Broadway, Bora "Max" Koknar of the Dragon Theatre says the 65-seat facility may re-start productions for live audiences sometime in the fall. Koknar also hopes to provide a summer conservatory for youth and small in-person performances such as standup comedy and one-person shows, all off-site.
Meanwhile, the organization continues to offer its broad online programming. For the summer, the City of Redwood City is currently planning its usual array of summer camps with applicable Covid restrictions, says Jordana Freeman of the Parks, Recreation and Community Services Department. At present, the city has no plans for summer concerts at Courthouse Square; as Freeman observes, "People get pretty sardined in there."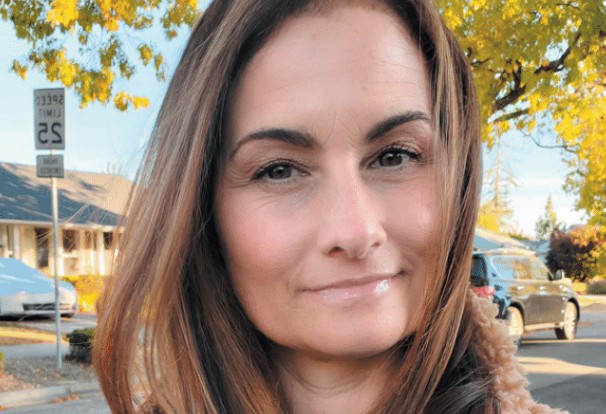 Like all people in business –public and private –Freeman and her Redwood City colleagues are dealing with constant uncertainty.
"We're following the current guidance by the California Department of Public Health and the CDC (the Centers for Disease Control and Prevention)," she says. "The have specific industry guidance for each area of what we do, like youth sports, day camps, childcare, things like that. We're not quite sure what's going to happen after June 15 (the scheduled end date for California's lockdown).
"We're anticipating that there will still be some (regulations) in place, for instance, for things like outdoor events. We figure that there are still some things we're going to have to be concerned about, like creating a critical mass (of people) two months after we're still in a tier. We're trying to do things responsibly."
Entertained at Home
While entertainment and many other activities have been on hold, people this past year learned to have fun at home. That lifted the hobby-and-craft industry, which early in the pandemic saw a 70 percent surge in U.S. sales of arts-and-crafts supplies. Locally, the E-Ticket Band's White –who for decades owned J&M Hobby House in San Carlos until he and his wife Pam retired at the end of March –says business was strong during the pandemic.
Even so, he wonders if new enthusiasts will stay interested. A forecast released by ReportLinker, a global business-data provider, suggests they will; it predicts the worldwide arts-and-crafts industry will grow by 41 percent between 2020 and 2025.
For people working remotely, leisure time has often shrunk. In Menlo Park, a merchandising manager for an international clothing chain says she averages 50 to 60 hours a week in front of her laptop. That's up from slightly more than 40 hours at the office.
"I think there's a challenge in remote work to get yourself to sign off and have limits," she says.
David Hooper, a human-resources director for a Peninsula biotech company, agrees.
"In this Covid environment, the stress level is up," Hooper observes. "People are having to work hard, work differently and manage family. The work hours can be intense."To guard against burnout, Hooper's company recently added three holidays. Employees are also urged to take a real lunch break and observe what Hooper calls a "no-fly zone," in which online meetings are discouraged between noon and 2 p.m.
Hooper recently has been spending part of his time determining how to bring people safely back to work. That may include reconfiguring the company's office space. The firm has had an open-office concept, with pods of six to eight sit-down and stand-up desks. The idea has been to promote collaboration and conversation. Now, Hooper says, the company is considering how to create safety barriers that might include a return to cubicles in some cases.
Rethinking Offices
Other organizations throughout the country face the same challenge, and are asking architects to reimagine buildings for a post-Covid work environment.
"The pandemic could potentially transform modern-day design for years," concluded television news reporter Bigad Shaban in a recent series on NBC Bay Area. Shaban and his team interviewed architects from nine firms, and learned about the expected coming prevalence of everything from touchless faucets to open-air shops and outdoor eating areas integrated into office complexes.
An axiom among office designers is that many people will be coming in fewer than five days a week – forever. Stewart Butterfield, co-founder of the photo-sharing site Flickr and CEO of Slack Technologies, which offers a team-messaging app, told the BBC that a study of 4,700 knowledge workers found only 12 percent wanted to return to full-time office work. That would significantly reduce the need for dedicated offices or cubicles. It would also increase the demand for flexible floor space where people could drop in, plug in and work together.
Who comes in, who works at home and when? Professor Amy C. Edmondson of the Harvard Business School says it should depend on the nature of the job.
"Working from home works best for relatively independent tasks, when knowledge is codified and can be easily shared from a distance," Edmondson told "Working Knowledge," a Harvard Business School website. "Being together matters when tasks are interdependent, require sharing tacit knowledge in fluid ways, and coordination needs are not scripted or predictable."
What if folks just feel like working from home? Edmondson gives a hearty thumbs-down.
"Designing future work arrangements needs to be based on what the work requires from us," she says, "not on our preferences or the length of our commute."
Back to the Water Cooler
Beyond the need to get things done, socializing also draws people into the workplace. As a Wall Street Journal headline dared readers last month, "Admit it: You miss office gossip."
Indeed, the day-to-day contact with co-workers is what a Peninsula college instructor discovered he had cherished most. Even though he slipped out of California and enjoyed a new locale for a couple of months, he still longed for casual conversations and camaraderie.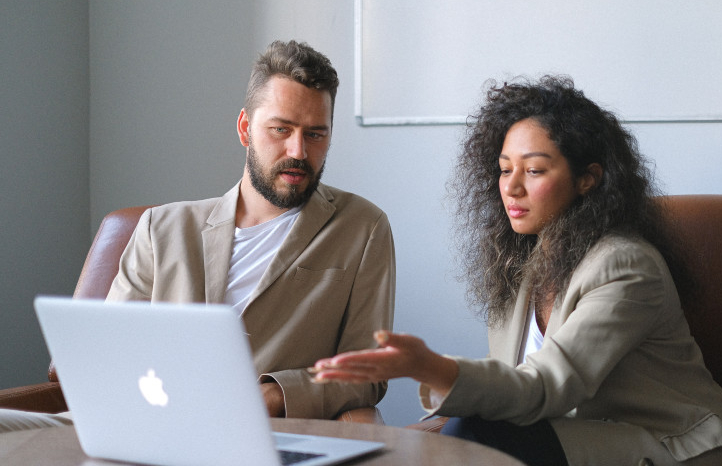 The pandemic, he says, "eliminated the kind of informal interactions that you have with your colleagues. You don't meet them in the hall, you don't see them on campus. Work is a community, and the job is more pleasant when you work in a supportive, reinforcing community … an email isn't the same thing as sharing a cup of coffee."
Besides the potential for losing touch, a long hiatus may carry another risk. Working from out of state –say, at a vacation home –could set people up for a double tax whammy.
"There's a real criss-cross of rules that can affect taxpayers negatively," tax lawyer Tim Noonan told CNN business reporter Jeanne Sahadi in March.
Sahadi additionally cautioned that "the issue becomes more complicated still when an employee effectively stays in a new state for more than 183 days, thereby calling into question their official residency status."
Service Jobs Impacted
Telecommuting and teleconferencing with out-of-town staff are already reducing the need for office space and, with it, support industries such as janitorial services, transportation companies and hotels. Having fewer workers in the office also means less income for nearby restaurants and other small businesses that cater to the downtown trade. Most of all these firms' employees, such as food servers, dishwashers, housekeepers, maintenance workers and delivery people, typically earn lower wages. They may find themselves with less work or perhaps none at all.
That worries many, including David Autor and Elisabeth Reynolds of MIT's Task Force on the Work of the Future. In a July 2020 paper published through the Brookings Institution, they wrote about the rise of remote work and the corresponding fall in demand for personal-service providers and outside support people.
"Workers who remain in these jobs may face even lower wages," the authors predicted. "Those displaced may suffer significant hardship as they seek new work, potentially in occupations where they have no experience or training."The consequences could be long-term. Before the pandemic, workers throughout the country were enjoying a boom in jobs and pay. But if various industrial categories lose business permanently, Autor and Reynolds say the effects "will take additional years to work off.
Growing numbers of remote workers also make this a bad time to own an office building. Commercial real-estate firm Cushman & Wakefield expects office vacancy rates nationwide to reach 17.4 percent next year, although the company anticipates a recovery to pre-Covid levels by 2025 through increased employment. San Mateo County's office vacancy rate jumped to 10.6 percent in the fourth quarter of last year, up 3.3 percentage points from the same period in 2019, according to Colliers International, another commercial realtor.
Palo Alto broker and developer Steve Pierce describes the local office market in one word –"dead." But a commercial building manager who specializes in biotech space says the research-and-development sector is "healthy and growing." Unlike office workers, scientists and technicians need labs such as those in the fully leased twin six-story biotech buildings that opened last month in San Carlos.
Countywide, Colliers reports the R&D vacancy rate dropped to 3.6 percent in Q4 last year, from 4.0 percent 12 months previously.
Gridlock at Bay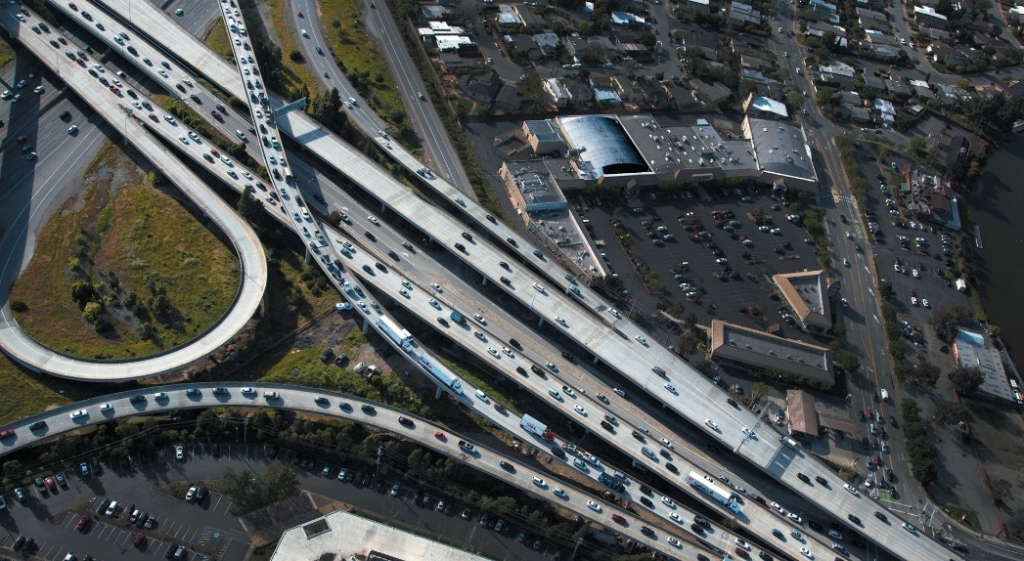 Biotech professionals aside, more people working from home has made commuting a breeze for the past year. Now, the California Department of Transportation's Freeway Performance Measurement System, which tracks delays, shows Bay Area drivers hitting the brakes more often. Still, remote work may keep traffic below pre-pandemic levels. For devotees of public transportation, Caltrain and SamTrans currently offer plenty of seats. Last fall, Caltrain reported ridership had fallen by between 93 and 95 percent of previous counts. Meanwhile, 17.7 percent fewer passengers boarded SamTrans buses last year compared with 2019. The resulting financial hardships forced service cuts for both the bus and the train.
Transit district spokesman Dan Lieberman says riders are gradually coming back. Weekday passengers on Caltrain in mid-April averaged 4,500, up from a thousand fewer in February. That's still a tiny fraction of the more than 63,000 per weekday that Caltrain carried in 2019. On the bus, SamTrans in March averaged 14,435 daily passengers, 44 percent of pre-pandemic riders. To entice more riders, Caltrain is offering a 20-percent discount on monthly passes through September. If the county's freeways and transit systems seem less packed than before, it might be in part because people are moving away.
According to U.S. Postal Service change-of-address data obtained under the Freedom of Information Act, more than 28,000 households left San Mateo County last year. That compared with slightly fewer than 19,000 that moved in, resulting in a net loss of 9,305 and reversing reported population gains from at least the past two years.
Where People Moved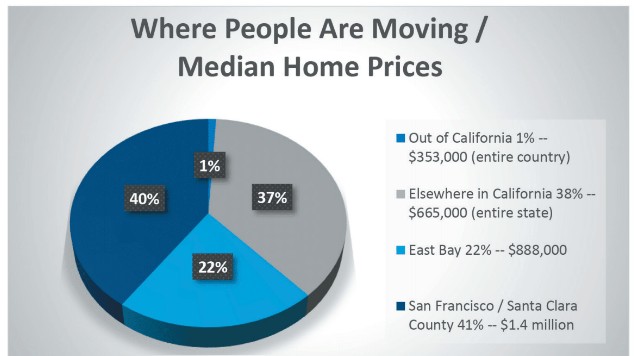 Where people went might offer a surprise. Despite talk of a colossal exodus spurred by California's liberal politics and oft-resented coronavirus restrictions, just 1 percent left the state. Perhaps planning to telecommute from a bigger, cheaper house, more than a third left the Bay Area. An additional 22 percent crossed to the East Bay. (In Alameda and Contra Costa counties, real-estate brokerage Redfin in March pegged the median home price at $888,000, compared with $1.5 million in San Mateo County. Statewide, Redfin found a median price of $665,000.)
On the other hand, cost apparently meant little to the 41 percent who stayed on the Peninsula and paid comparable prices in San Francisco and Santa Clara County.
John Sieling, a Realtor with Veritas Homes in San Carlos, recently found a house in Livermore for buyers from the Peninsula. Their dry-cleaning business, aimed at employees from large corporations, suffered during the pandemic while people worked from home. Sieling says they're "getting about the same-sized house for around a million dollars less."
Locally, buyers are finding the competition intense. February sales in San Mateo County rose 4.1 percent year-on-year, according to CoreLogic, an Irvine-based business-analytics company. Steve Pierce, the Palo Alto real-estate broker, routinely sees multiple offers –16 in one recent case –as wellas sales hundreds of thousands of dollars above the asking price.
It's not just here. In her March 25 blog, CoreLogic Deputy Chief Economist Selma Hepp wrote that, nationally, "Pandemic-induced demand –for homes with more living space and located in lower-density neighborhoods –coupled with historically favorable mortgage rates and declining for-sale inventories led to the most competitive market seen since at least 2008." Hepp reported that more than a third of home sales across the country in November 2020 involved more than one bidder.
Homebuyers may be pushing prices up, but apartment-dwellers throughout the Bay Area have benefited from lower rents during the pandemic. Of 25 local cities sampled in March by rental website Zumper, only Vallejo posted a gain during the previous 12 months. Median rents for a one-bedroom apartment fell by 29.3 percent in Redwood City, 27.1 percent in Menlo Park and 14.8 percent in San Mateo. Renters in San Mateo and Redwood City now pay an average of $2,200 –some $450 a month less than in San Francisco, whose own rental market declined by 24.3 percent in the last year.
Doctors Turn to "Virtual Care"
Wherever they live, people need medical care. More and more since the pandemic began, they're getting it at home or at work through video conferences with their doctors.
Santa Clara-based physician Dr. Craig Wargon, head of the technology group for Kaiser Permanente in Northern California, says the gigantic medical provider's demand for "video visits" is in the millions and has risen 3,000 percent since the advent of Covid.
Wargon cites numerous advantages. First, patients can eliminate the two hours that Kaiser Permanente estimates they spend getting ready to see their doctor, including the round-trip to the clinic and time in the waiting room. Second, older patients who have difficulty getting around can save time both for themselves and their caregivers. Third, avoiding a car trip saves gas or the charge on an electric vehicle. Finally, Wargon says, a video meeting frequently carries no copay (or a lesser one than an in-person visit).
Downsides exist, as well.
"There are times when you need to examine patients," Wargon says. "And that can't be done during a video visit."
Nonetheless, he believes the technology will remain popular.
"I think that many people have seen the convenience and advantages of video visits, and it's never going to go back down to the baseline that we had," he says. "It may drop a little bit over time, as people do come back to the office. But it's here to stay."
From seeing the doctor online to getting used to working at home or even relocating to a new city, life has been transformed over the past 15 months. For everyone, the type and degree of change will differ. But with stateofficials pledging to open California completely on June 15, the "new normal" –whatever that eventually may be –is about to begin.