America's defining experience with tea importation set irate colonists on course for war—and turned generations into coffee drinkers. Tea, of course, long ago reclaimed a place on the country's beverage menu, with ice tea far and away the top seller. But consumers today also have their choice of thousands of premium teas from around the world—on grocery shelves or on coffee bar menus, right alongside the cappuccinos and lattes.
A family-owned company headquartered in Redwood City since 1985 deserves much of the credit for the specialty tea industry renaissance in America. Begun in San Francisco in 1889, The G.S. Haly Company is the oldest tea importer in the United States and typically carries about 250 varieties at a time. Warehoused in Alameda, the teas are sold to businesses in the U.S. and a few other countries, including wholesalers, retailers, coffee houses and online sellers, as well as other importers—from 500 to 700 tons, depending on the year.
Someone ordering tea at a Philz or a Peet's could well be drinking a Haly import without realizing it. But the company doesn't sell direct to consumers. "Unless you want a hundred pounds," quips President Michael Spillane.
He and a three-member staff operate the business from an historic, renovated house on Arch Street, where tea samples coming from five Asian countries go through a meticulous and time-honored, international evaluation protocol.
"We have enough knowledge in this company to maintain standards so people don't have to worry about what they're buying," Spillane says. "Because not everybody can be a tea person, a tea taster, so they need to rely on us and our products and they also need to rely on us to explain why it is. That's our role. That's a big part of what we do."
Keeping the Name
Spillane is the third member of his family to have worked at the firm, which was begun by George Standish Haly, who also traded in coffee and spices. Mike's father, Edward Spillane, had been an apprentice and bought the illustrious company in 1930—retaining the Haly name.
"The G.S. Haly Company was a very important part of the San Francisco coffee and tea industry," Mike Spillane says. "I know that he appreciated what the Halys had done for him and the name of the company meant something around the world … To this day, it still means something. It is an important name still."
After World War II, Edward Spillane stopped importing coffee, cocoa and spices and concentrated solely on tea. The Haly company began to shape the growing post-war tea industry, and during the 1950s fostered a tight-knit tea community centered on the West Coast. After Edward's untimely death in 1961, his widow, Marie Spillane suddenly had to take over and learn a very complicated business.
Her late husband's friends—from global tea producers to the local community—helped her to succeed, and she built up a customer base which was interested in quality tea. Marie became the first female tea importer in the United States and the first woman to sit at the Calcutta Tea Auction.
Son Mike, who had swept tea leaves and emptied spittoons at the old company office growing up, had thought he'd enjoy a career in engineering. After he got out of college, his mother needed some help and he came to work in 1977.
"I started to meet the people from the trade from all over the world," he recalls. "It blew me away. I was hooked. I was hooked on the people before I was hooked on the tea."
British Roots
Especially before World War II, the tea world had been "a very proper British industry," and Spillane, now 67, found the close-knit fraternity to be honest and straightforward. "It's kind of a select group of people," he says, "and we were part of that group. So as a young person to be treated like I was by aristocrats and so forth, it was like—I can't explain it—it was over the top. And it still is today."
The San Carlos resident earned his own place among that elite, in large part because of his leadership in educating both the industry and the general public about "true tea"— the kind that comes from a species of the camellia. He became the first president of the American Premium Tea Institute, created in order to provide the first tea education program in the United States. James Norwood Pratt, a widely read author on wine, tea and tea lore, has called Spillane the "tea education" president.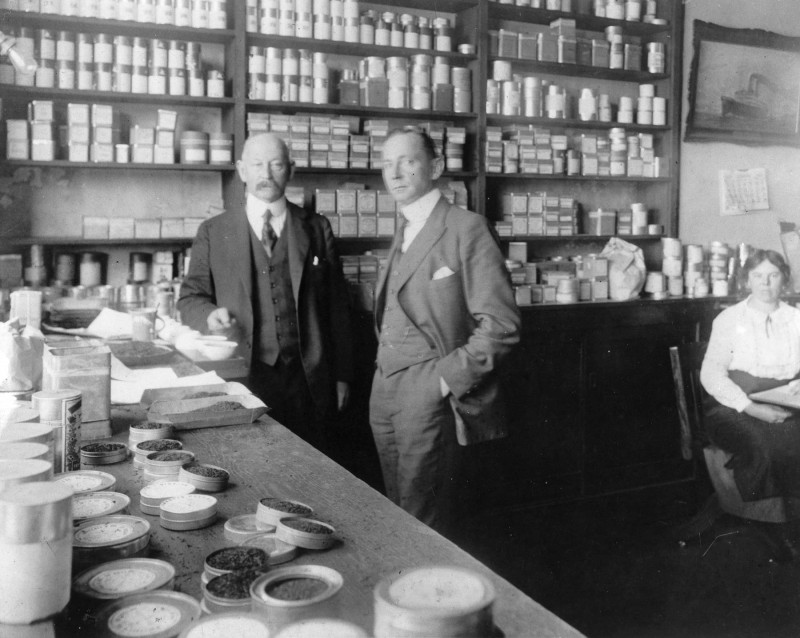 "From the beginning of his business career," Pratt writes, "he has devoted countless and sometimes thankless hours to the cause of lifting America's tea consciousness, one individual at a time." In the 1980s, America began taking a new interest in tea, and Pratt thinks Spillane's "years of educating and proselytizing nationwide" contributed to that awakening.
Like his father, Spillane has served as chairman of the United States Tea Board of Experts, and was recognized in 2016 at the World Tea Expo with a Lifetime Achievement Award. Marie Spillane died in 2002 at the age of 91.
The company moved its office to Redwood City in 1985 (to Veterans Boulevard) and then in 1990 to a Craftsman-style house at 156 Arch St. Mike Spillane restored it as much as possible from a fourplex to its original 1910 architecture.
Cupping Tea
Mo Sardella had worked at Peet's Coffee & Tea in Berkeley before joining Haly 10 years ago and is director of marketing. Knowing the company's reputation for professionalism, he felt a little intimidated by one of his first experiences at "the cupping table," where teas are evaluated. It takes place in a light-filled room (the better to "read" the tea leaves) where small white cups and trays are set out along the top of an antique cabinet from a Gold Rush-era sailing ship.
About two dozen teas from different tea gardens and producers in Sri Lanka were lined up to be assessed for possible purchase. There was no way they'd taste different, he thought, but the team spent hours poring over every tea.
Most consumers would probably say they all tasted alike, says Sardella, who drew "a life lesson" from that experience. "Clearly I need to look closer. I need to think longer about things. It just slowed me down to realize that sometimes the devil is in the details.  You have to understand those details before you make informed decisions."
It begins at the source—the plantations and gardens where tea is grown—and the Haly company has deep connections with the suppliers where most of their tea comes from: China, India, Japan, Sri Lanka and Taiwan. Spillane says he's seen the world four or five times over and is happy to let his staff make the three-to-four-week trips visiting the producers.
Their family members, including many of the tea pluckers, go back generations. The respect they have for the land and their role in tea-growing is obvious, both men say.  "Those people are the ones we care about," Spillane says as he eyes a photo of Chinese pluckers working a hillside, "not the guy that lives in the big house on the bottom but the people in the field because they're families and they've been doing it for years. They love the tea too."
The trips solidify relationships, but Spillane says they're also necessary to help growers keep up with the increasing number of federal regulations for purity and transparency. "I mean it's a book. We bring a three-inch thick binder to people saying, 'This is what you have to do if you want to sell to the U.S.'"
Reasons for the Revival
Until the 1960s, what consumers could buy was generally limited to mainstream teas that big distributors supplied to grocery. A number of converging factors opened the market opportunity for the specialty tea niche. Snapple's bottled ice tea and Celestial Seasonings products were advertised on television.  Consumers got interested in the process—starting with the tea gardens and plantations where the many varieties of tea (technically Camellia Sinensis) are harvested. Within basic categories (black, green, white, oolong, etc.), there are endless varieties and blends (gunpowder, Jasmine, dark, flavored, English Breakfast, Russian Caravan and more), and tea drinkers wanted to sample and learn about them.
"It wasn't until the '50s and '60s when customers became more aware of tea quality and they started creating demand from the bottom up," Sardella says.
Snapple ice tea, introduced in 1987, was a game-changer. Teabags make things easy, but not as easy as a to-go Snapple with a deli sandwich. "There were multiple little fires popping up around the industry and Mike was basically right in the center of it all trying to navigate and direct products in the right direction and for the most part doing it all on his own," Sardella says. "There weren't that many people doing what we do."
Tea's purported antioxidant and other benefits have boosted demand too. Matcha is a very fine, green Japanese tea, for centuries reputed to have strong health benefits. "We can't keep the stuff on the shelf," Sardella says. "… And I think it's become this poster child for healthy tea."
Coffeehouse culture also played a role. Customers looking to wean themselves off coffee found tea alternatives that were more than a consolation prize. The coffee industry was also on board. "Some of the most enthusiastic coffee people I know in the industry are just as enthusiastic about tea," Sardella says.
Having deep relationships with international growers and experienced, knowledgeable tea tasters; the Haly staff was positioned to connect customers with quality teas. "The table was set," Sardella says. "We just needed to wait for the guests to show up."
It comes down to the cupping table. "Most people eat things and they don't even try and taste it," Spillane says. "We eat. We taste. That's what we do. We feel with our tongues. We feel the viscosity. We smell.  You can smell better than your taste buds. We take in the aromas. We look at the leaf because we know there's sometimes when the leaf looks a certain way, it tastes a certain way. It takes many years."
A video on the company website (G.S.Haly.com) gives an idea of what cupping is like. For an entry level book on tea, Spillane suggests "The New Tea Companion," by Jane Pettigrew and Bruce Richardson.