By Scott Dailey
The pandemic is winding down on the Peninsula, and city leaders, restaurant owners and retailers find themselves at a crossroads – and possibly cross-purposes.  Do they keep the outdoor dining and partial street closures that have come to characterize local downtown districts?  Or do they return to the pre-Covid world, losing the European ambience but freeing up traffic and hundreds of parking spaces?  Or are there perhaps other options that, for the most part, might satisfy city governments, businesses and the public?
Restaurateurs and their patrons love the outside eating areas that now occupy sidewalks and the edges of downtown streets.  On the other hand, merchants worry about the resultant loss of parking spaces in front of their shops.  As for continuing to close off entire blocks – and extending outdoor dining permanently – one downtown business association manager warns, "We have to be very careful."
Among those who see opportunity is Lisa Grote, an independent, Redwood Shores-based urban planner whose career has included stints with San Mateo County and three Peninsula cities.  Although not all merchants might agree, Grote believes the eating areas and partial street closures can potentially benefit both restaurants and stores.
This story was originally published in the June edition of Climate Magazine.
Even when people park a block or two away, she says, "They go to a restaurant, then will go to other shops along the street and do some browsing and hopefully some buying."  Regarding areas closed to traffic, Grote says reports are anecdotal but "There's some indication that once people do get parked and they get to that pedestrian street, they're likely to stroll and look into other shops, not just restaurants."
Limited Re-opening
Emily Paul, manager of a retail store on Santa Cruz Avenue, Menlo Park's main shopping street, is more equivocal.  In response to the pandemic, the city first created outdoor eating spaces by closing two non-consecutive blocks of the street, then later switched to one-way traffic in a single lane.  Paul says the limited re-opening, which includes the block that contains her store, has made a difference.
"When the street was completely closed off on both sides, people didn't come down here because they thought everything was closed, and I thought that was a hindrance on the business," she says.  "Now that we have one side open, we have more people.  They know that the businesses are open."
To welcome downtown visitors, Paul has opened her own outdoor space in front of the store.  It includes benches for customers and passersby.  "We kind of use it to our advantage now," she says.
Should the partial closure be made permanent?
"I think that's a good question," says Paul, whose shop sits on the closed side of the avenue.  "I think I like the way it's a pedestrian walkway now, and kids can ride their bikes on the street."  But, she continues, "I think it would be better if it were completely open now.  I just think for parking and for business, people can drive up, they can do pick-up orders, they know it's open."
Paul is also concerned about traffic safety, as is Menlo Park Chamber of Commerce CEO and President Fran Dehn.  Both sayWW drivers have occasionally become confused, missing stop signs and traveling in the wrong one-way direction.  As if on cue, a car blew through a stop sign on Menlo Avenue, a block south of Santa Cruz, as a reporter waited at a corner.
Survey Support
Dehn recently completed a survey of Menlo Park businesses and residents that found 91 percent in favor of keeping the current configuration downtown.  Of those, 57 percent were business owners, although the study did not differentiate among restaurateurs, retailers or service providers such as hair stylists, attorneys and insurance agents.
One merchant decidedly unhappy with the present arrangement is Fredy Joudieh, owner of Sarrtori, a men's apparel store in downtown San Carlos.  Joudieh's shop is on the 700 block of Laurel Street, currently closed to traffic.  The city sacrificed 150 downtown parking spaces for outdoor dining; Joudieh says his customers, often from Woodside, Atherton, Hillsborough and Portola Valley, have told him that they don't want to search for street parking or spaces in a lot and a garage in the next block.  (The block-long city lot behind Sarrtori is frequently filled, or nearly so.)
Joudieh estimates his business is down by 55 to 60 percent, and says he goes three or four days at a time without a customer in a store where the typical sale ranges between $300 and $600.  He's also miffed at city leaders, who he believes favor restaurants over retail in an attempt to create what he calls a "Disneyland" atmosphere on Laurel Street.
San Carlos City Council member and former mayor Ron Collins sympathizes, saying, "I do have concerns about the non-restaurant businesses on that block."
Longer-term, Parmer-Lohan says the city – the first in San Mateo County to create an outdoor dining program during the pandemic – will begin a formal "visioning" of the entire downtown in January.  The evaluation will consider cementing the current changes, along with modifications that might be needed, for example, to improve access to businesses. City staff said that will take about 1-2 years to complete.
However on Monday, June 14, the San Carlos City Council ultimately stated 1-2 years is too long to wait. It voted to extend the current outdoor dining program to Sept. 1, 2022, by a slim 3-2 margin, with Collins and Parmer-Lohan voting against. Mid-term solutions are needed in addition to longer-term solutions, ones "that we can all coalesce around and be supportive of," Councilmember Adam Rak said.
Proximity of Parking
Parmer-Lohan acknowledges that, "for certain merchants, adjacent parking is a problem."  Any permanent plan, she adds, would have to accommodate "a number of variables that would need to be reviewed to try to figure out how to create a sustainable program – and by 'sustainable,' I mean that it works for a variety of different types of businesses and restaurants."
What does the public think?  Collins says San Carlos council members have received more than 300 emails, most of them supporting today's layout.  Collins believes many of the messages may have been prompted by a recently created advocacy website, www.keeplaurelclosed.org.
In Redwood City, circumstances resemble those in San Carlos.  At present, 42 restaurants offer outdoor dining, according to Executive Director Regina Van Brunt of the Redwood City Downtown Business Group.  Also as in San Carlos, one block of Broadway in downtown Redwood City is closed to traffic (with businesses open), between Jefferson Avenue and Main Street.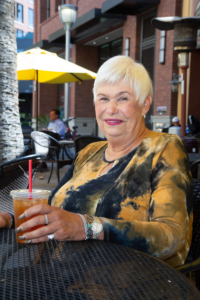 The current program will continue until at least Dec. 31, after which the City Council will consider whether to extend it.  Van Brunt says an undisclosed number of restaurant owners have asked the city to make their outdoor eating areas permanent.
She thinks it's necessary, even after indoor dining was restored to 100-percent capacity in San Mateo County last month.  "I believe that a lot of people are still very nervous about dining indoors," Van Brunt says.  "So I do feel it's very important that (the city) take these temporary outdoor spaces and make them permanent for the restaurants, because it is necessary to make people feel comfortable when they're downtown.  Otherwise, they might stop coming, or not come as frequently as they would."
As with other cities, "the parking is an issue," Van Brunt observes.  "We have to be very careful," she says, adding that "Redwood City, in my opinion, has done a heck of a job with this whole thing over the last 15 months … We've worked very hard to take care of all of our businesses, not just the restaurants.  Can you make everybody happy?  No, unfortunately, we can't.  It's not a perfect world."  Van Brunt hints, however, at a possible magic-bullet solution that she is discussing with city officials, promising details in a few weeks.
Carless in Palo Alto
One business person who thinks his city has performed less than optimally is developer and downtown landlord Roxy Rapp of Palo Alto.  There, various blocks of University and California avenues are now pedestrian-only.  In a sharp critique  of the City Council and City Manager Ed Shikada, Rapp says his retail tenants are suffering from a lack of customers, among them drivers who no longer pass by and notice merchants' businesses.
Like others, he's also concerned about front-of-store parking.  In particular, Rapp cites an upscale consignment shop in downtown Palo Alto; its customers, he says, are reluctant to lug armfuls of clothing and other items between the business and parking spaces a block or two away.
Palo Altans against the car-free streets (Rapp says he supports the restaurants' outdoor areas, but not the traffic closures) will have to wait.  The City Council voted 5-2 in April to keep the current blocks closed on both streets until Oct. 31, and outdoor dining until at least Dec. 31.  Opponents may also be greatly outnumbered; as reported by the Palo Alto Weekly, a recent city survey showed 96 percent of respondents approved keeping blocks closed to traffic on California Avenue and 97 percent said the same about University.
Mayor Tom DuBois and council member Lydia Kou aren't so sure.  They voted against extending both the street closures and outdoor dining areas, and the Weekly quoted Kou as saying, "It's only fair, now that (retailers) are allowed to be open that they be given the opportunity to succeed, as well.  So it distresses me that a lot of emphasis has been put into restaurants only and they're given so much leeway.  The least that we can do is ensure fairness and ensure visibility for these businesses and ensure that their access is easy to get to."