Sixty-five years after Italians immigrants set up a youth soccer program in Redwood City modeled after Juventus Football Club, the perennial powerhouse from their home country; the city is getting its first professional soccer club.
In April, newly formed Bay Cities F.C. announced it will join the National Independent Soccer Association, a third-tier league for American professional soccer, and play home games in the 3,500-seat stadium on the Sequoia High School campus. The club is forming both men's and women's teams. Practices and matches are already in progress, but "Our first league game will be in 2022, at Sequoia High, with hopefully 3,500 fans," said Anders Perez, Bay Cities' co-founder and coach.
Professional soccer in Redwood City was bound to happen, club officials say, citing in part the city's central location on the Peninsula and its recent economic boom. But the seeds for such a program – and for Bay Cities F.C. in particular – were planted back in 1956 and took many years to take root.
That year, three Italian immigrants started a club in Redwood City inspired by hometown team Juventus F.C., based in Turin, Italy. One of the world's greatest strikers of all time, Cristiano Ronaldo, currently plays for "Juve." Redwood City's version of the club – named Juventus Sports Club and adopting a sports badge strikingly similar to the professional club's – served for a long while to bolster local youth soccer but had no affiliation with the Italian club. At the same time, youth soccer steadily grew nationally and also in the Bay Area, certainly in Redwood City.
"Back in the day there was one (youth) club team every 20 miles," said Perez. "Now, there are five club teams for every five miles. We've seen a real explosion."
Unifying the Clubs
Bay Cities F.C. sees its mission as the "great unifier" of local clubs, enhancing opportunities for development for all up-and-coming young players on the Peninsula, according to Perez.
Now 29, he played in the Major League Soccer youth academy and at the collegiate level. Nearly seven years ago, he became a coach with Juventus Sports Club. In 2018, he moved up to general manager. He's been around soccer his whole life. His father, Hugo Perez, is a U.S. National Soccer Hall of Fame inductee, having played for the national team.  Currently he is head coach of the El Salvador National Team.
Anders Perez in intent on making his own mark on U.S. soccer. That mission gained steam in December 2018, when Stefano Baldassi, the parent of a player in the Juventus Sports Club, joined Perez in connecting with officials in the Juventus F.C. sporting network. Baldassi happens to be a big fan of A.S. Roma, a major Juventus rival. Even so, a delegation from the Turin-based club came to Redwood City to evaluate a long-term partnership.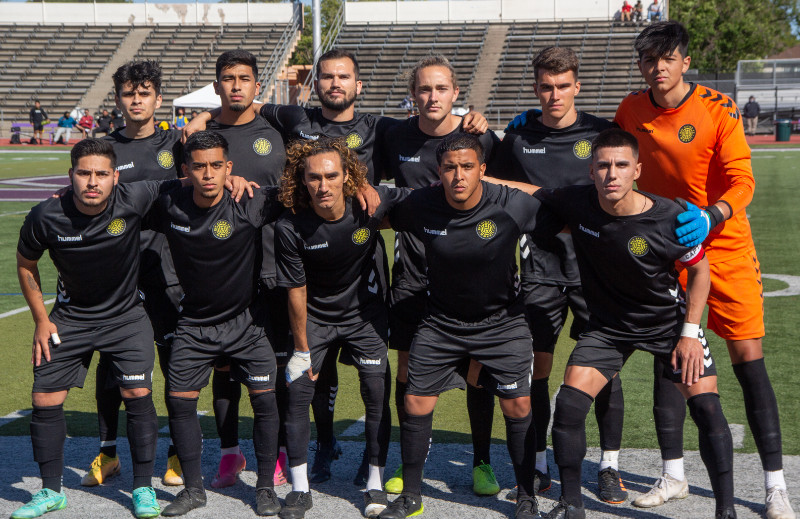 In 2019, Juventus Sports Club became Juventus Academy Silicon Valley, and in February 2020, right before pandemic lockdowns arrived in the U.S., 60 members of the newly branded club traveled to Turin to watch Juventus' first team play, train with the club's coaches and play in a couple of friendlies.
Perez remains general manager of Juventus Academy Silicon Valley, which is continuing the exchange of information with the Turin side. "We have (Juventus F.C.) coaches talking to our coaches over Zoom, their leaders talking to our leaders, and at the end of the day the ones who benefit are the kids," Perez said.
Training for Advancement
A bolstered local coaching program and ever-rising local interest in youth soccer, adds Perez, have helped to foster top talent and plenty of interest in a professional soccer club.
"There are five youth clubs, and almost 20,000 players," Perez said, adding the Bay Area is among the top in the nation for talent feeding colleges and professional teams. "You could fill a stadium with just them."
How many up-and-coming players could follow in the cleats of Daniel Aguirre, the Redwood City midfielder who was recently signed to play for LA Galaxy II, or Cade Cowell, the 17-year-old San Jose Earthquakes forward who rose up playing against local teams?
Perez doesn't want any talent to fall through the cracks. So when soccer went on hiatus during the pandemic, he doubled down on the search for ways to maximize player development. It didn't take long to come up with the next plan, as National Independent Soccer Association officials contacted him. They'd been reading the news about the progress of Juventus Academy Silicon Valley. In a statement, NISA Executive Vice President Josh Prutch said the organization, which features teams in areas such as Los Angeles, New York, Detroit, and also the recently-formed Oakland Roots, is focused on "re-establishing a presence in Northern California."
NISA's invitation wasn't solely about geography and level of soccer interest in the area. Juventus Academy Silicon Valley's program specifically impressed them, including efforts off the field. "Bay Cities F.C. shares our perspective on growth, development, and connection with community," Prutch said.
In March 2020, U.S. Club Soccer announced that Juventus Academy Silicon Valley earned its licensing as a "Players First" organization. The distinction, shared by nearly 100 clubs in 25 states, is awarded to organizations that meet high standards for developing players both on and off the field. NISA officials read that article, which Perez believe is a big reason they contacted him about a professional team.
Community Partnerships
Juventus Academy Silicon Valley offers various off-the-field programs, including a college mentoring program that guides athletes with fulfilling college requirements and filling out admissions and financial aid forms. The club also has a partnership with Stanford University, where sports physicians treat the young athletes. NISA expects a professional club within its league to conduct community engagement and partner with local organizations.
The connections are already there. A few months ago, Perez reached out to Ivan Martinez, executive director of the Redwood City Police Activities League, the nonprofit that serves underserved local youth through partnerships with the Police Department, school districts, the city and community organizations. Perez asked Martinez to take on the role of community engagement manager for Bay Cities F.C., calling him the club's "moral compass."
Perez and Martinez have known each other for a couple of years. Martinez said he grew up in North Fair Oaks hungry for opportunities like many of his peers.
"When I grew up here, it wasn't the Redwood City we see today," Martinez said. "I have a lot really great, talented friends, people not just in the soccer community. We just lacked the opportunities."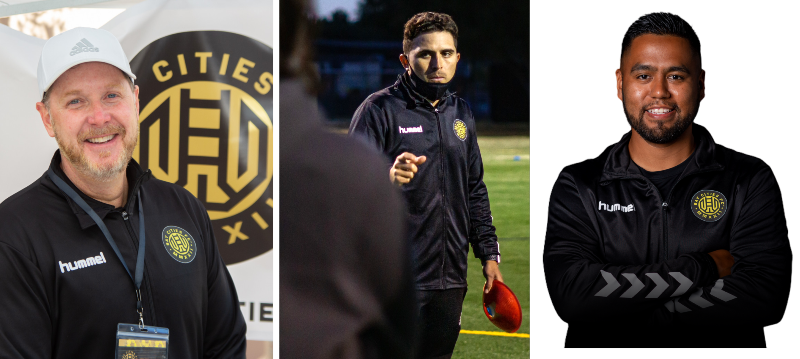 Martinez says his focus with Bay Cities F.C. "is on the 10,000 kids not going to make the professional club, what we can do for them." He sees the soccer club as having the potential to inspire community programs that equip local youth with skills they'll need as young adults, whether through grants, scholarships, proceeds to nonprofits and presence on school campuses and in community centers. Martinez cited a need for more programs serving young people in their late teens and early 20s. Much like local soccer, he points out, there is plenty of interest and talent, but not enough development for young people after they've left high school.
"We want to be recognized as the Peninsula's elite soccer club," but also as a club that goes deep into the community, from school campuses to community centers, "to transform lives," Martinez said.
Bay Cities F.C. aims to establish a community advisory board so that its efforts are community-driven, Martinez said. "We are welcoming folks to reach out to us and we are going to have some sort of interview process," he said.
The Digital Pitch
Bay Cities F.C. has already picked up a few star players – except they don't come from a sports background.
K.C. Watson, whose kids are going through the Juventus Academy and had previously spoken with Perez about the need for professional soccer in the Peninsula, is the club's Business Strategy Lead. He comes with Silicon Valley pedigree: He's co-founder and former CEO of Sherpa Digital Media, a Silicon Valley enterprise SaaS company, and more recently co-founded Listo, a special education software startup.
Watson enlisted help from Don Kianian, who worked with Watson on a startup and agreed to join Bay Cities F.C. as its marketing/digital lead.
The pair see the demand for a soccer club not just in Redwood City, but one that connects the rich soccer communities across the Peninsula and other parts of the Bay Area. Local communities want a team in their backyard, not just up in San Francisco or San Jose, Kianian said.
"Most soccer clubs and franchises have a set way of doing this," he said. "What Anders wants to do is build a soccer club that is more than the team itself, but a community."
Kianian envisions a pandemic-free future that allows for parades and fan processionals from downtown Redwood City to the Sequoia High stadium, gameday parties and events, and other opportunities to bring fans closer to the team, translating into fan ownership and fan sponsorship opportunities.
Thus far, Kianian said they've been focused on building the digital side of the club – helping fans tune in from afar. Bay Cities F.C's new website (www.baycitiesfc.com) shows off a slick new jersey and logo promising to "Bridge the Bay," revealing that while this is Redwood City's home team, the club has have a wide reach.
"There are a lot of things we want to do. We have ambitious plans in motion," Kianian said. "We're going to start with Sequoia High and the summer tour, continue to build the team and grow from there."
The Slow Pitch
Bay Cities F.C. is coming together as quickly as a Juventus F.C. counter attack. But the game of soccer is about patience as much as it is about hustle and speed, which Perez says he's keeping in mind. "Time will open and close doors," he said.
And when obstacles come in his way, all he has to do is remember what three Italians started in 1956.
"I bet they would be proud of where we are today," he said.
Imagine what could happen 65 years from now.