Never mind that marijuana is illegal at the federal level, that it still has a ways to go to achieve cultural acceptance, that bringing the product to consumers was a costly, uncertain and highly regulated enterprise, even before a pandemic came along.  Yet the weed business has grown like— well, a weed — since California voters in 2016 approved Proposition 64, which legalized non-medical use of cannabis. On Nov. 9 of that year, adult use by people 21 and older became legal.
California led the nation in both sales and revenue in 2020, in Leafly's annual jobs report, with nearly $3.8 billion in sales and 57,970 employed in the industry. Cannabis was declared an essential business during the Covid pandemic and almost 24,000 jobs were added in 2020. The State of California late last year estimated it had taken in more than $1.8 billion in tax revenues since January 2018. And sales continue to climb.
This is the green rush that Redwood City has entered—in the slow lane.
Completing a phased program begun nearly four years ago, the city is expected this fall to issue up to six permits for retail cannabis dispensaries. City Manager Melissa Stevenson Diaz will pick the winners, chosen from an initial 28 applicants, each of which had to put down $23,863 in non-refundable fees and go through a lengthy screening process.
The Mayor's Doubts
Mayor Diane Howard, a nurse whose husband, Steve Howard, is a physician, had her doubts about allowing retail pot sales and had to be convinced before voting in favor. What changed her mind was a field trip to two "reputable establishments" in San Jose and meeting with both the owners and representatives from the police and fire departments. They wanted to pass along what they'd learned so Redwood City could avoid some pitfalls.
This story was originally published in the August edition of Climate Magazine. Click here to read the full digital publication.
"As a nurse, I'm coming in here skeptical because I always felt things like this probably should be handled from a pharmacy or hospital base for safety's sake and assurances that you were getting quality product," she says. "I was going in with skepticism."
Mayor Howard says she is very concerned that allowing cannabis into stores might send the wrong signals to kids. At the same time, she personally knows of people who have benefitted from using cannabis for pain and migraine relief. Since so many states have legalized it and there's a strong demand, "I felt I would be almost negligent in my duty if I didn't step up and learn every way we could do this to make sure it's safety first, that it's regulated properly, that the companies that are chosen are truly reputable licensed individuals who will do our community proud."
Among the useful tips from the San Jose field trip: Limit the number of licenses and limit the zoning areas. Howard says one of smartest decisions the council made was putting the final choice in the hands of the city manager. "We are getting lobbied by the different companies," Howard says. She tells them they just need to follow the process.
Since 2018, when the state began issuing state licenses to businesses selling cannabis products to adults, Redwood City opened the door incrementally—while city staff worked on potential regulations. Deliveries and cannabis nurseries are now allowed. Currently there are six licensed, non-storefront delivery operators, three of them active, according to Simon Vuong, the city's economic development manager. Companies outside the city also do deliveries. There are no permitted indoor cannabis nurseries.
The city went through a long process to determine whether to allow walk-in purchases, how many retailers to let in—and in which zoning districts —and how to choose among them. Two community meetings were held. An online survey showed more than 61% "strongly" or "somewhat" supported allowing storefront retailers, but a significant minority (almost 39%) were just as opposed. There was virtually no middle ground (.5%).
Retail Sales Okayed
In October 2020, the City Council approved zoning amendments to allow for retail sales. The city identified more than 500 potential sites for sales and distribution, generally in the commercial, mixed-use and downtown areas—no closer than 600 feet from parks, schools and other sensitive locations, with no commercial cannabis operations in residential areas. Stores have the option to do delivery service.
The application window closed in February, and working with a consultant, Redwood City's staff has been evaluating and scoring the contenders. Two of the 28 applications were deemed incomplete and were ruled out of the running, according to Vuong.  An early goal to issue permits by summer has slipped to the fall. He says the application fee will continue to be reviewed to make sure it truly squares with the time spent on them.
Because cannabis is a Schedule I narcotic at the federal level with no accepted medical use, industry entrepreneurs from growers to retailers have had to deal with unique difficulties accessing the traditional credit and banking systems and a lot of business is conducted in cash. Vuong says the city required a thorough vetting of the applicants' safety and security plans, cash-handling procedures, employee training and other business practices "to limit the amount of exposure any particular storefront retailer may have."
Background checks are required for owners, and they must work closely with the Police Department to ensure that appropriate alarm systems are in place and vehicles are inspected. "Many cannabis operators," Vuong adds, "have been able to slowly gain access to financial services and banking systems to streamline their business operations and reduce their reliance on cash."
From Redwood City to the cannabis dispensary Airfield Supply Company near the San Jose Airport is a 20-mile journey by car, and it's an instructive place to visit to get an idea of what's involved in this rapidly transforming industry. Founded under a different name and as a collective in 2010 during a time when a doctor's recommendation was required to join, Airfleld rebranded itself in 2015. Chris Lane, the company's chief marketing officer, who has a background in corporate branding, has moved Airfield beyond the "green crosses and purple leaves and zigzags" of marijuana's flower power heyday to an aviation-theme for the website and some products. Deliveries are done in Teslas.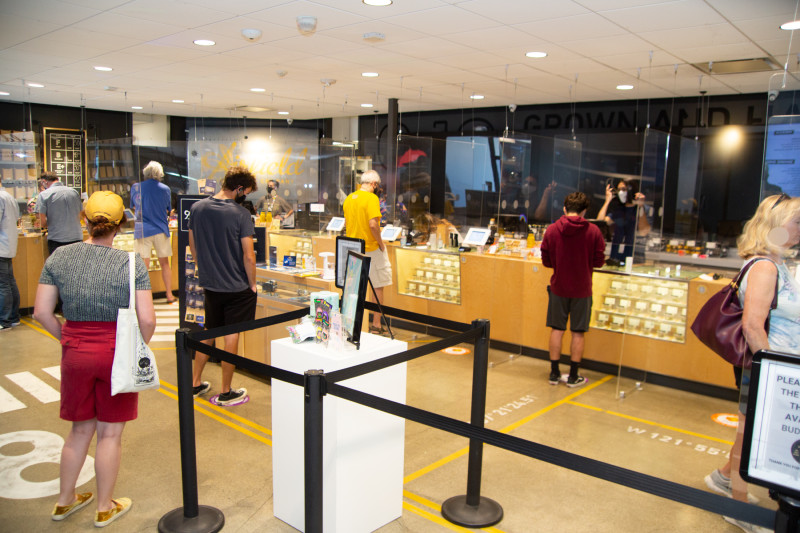 Though regulations have swiftly changed the industry, Airfield's business is still medically driven, he adds.
"The mission for Airfield is making the most out of life's journey every day. That's what we're here to do. We do it as trying to help people, whatever they need, whether it's relaxation, fun, sleep. … Obviously we do not make medical claims. We're not doctors. But there is a wide variety of uses of cannabis for anyone looking for whatever they're trying to solve or alternatives to opioids or alcohol or a variety of addictive substances that are really toxic on the body."
A Busy Trade
Within some 30,000 square feet split between two buildings, Airfield Supply houses both its headquarters and a retail shop staffed by "budtenders" which is as genteel as a cosmetics bar at a nice salon. Airfield Supply sells about 450 to 500 products at a given time, and does about 35,000 transactions a month, according to Lane.
Every product sold has to come from a state-licensed manufacturer with third-party validated testing to ensure ingredient quality.  Gummies. Tinctures. Chews. Harvested cannabis buds. Topicals. A squeezable THC "beverage enhancer." A 30-calorie, cranberry-sage, cannabis-infused "social tonic."  Edibles, including peanut butter cups. And for the green thumber, plant clones to grow at home. (Airfield sells only clones from third-party suppliers, not its own plants.)
Past the retail space and largely unseen by the near-constant stream of customers is a precision growing, cultivating, cutting, trimming, packaging and retail (including ecommerce) and delivery operation that keeps about 175 people employed.
"We're vertically integrated and always have been, which means all the way from seeds to sale for lack of a better phrase," Lane tells his Climate magazine visitors. "You're literally standing below a garden above us."
Past the retail space is a warren of rooms where employees fulfill mail orders. On the cultivation side, workers pluck (remove) buds and leaves and hand-trim plants. In climate-controlled spaces both downstairs and upstairs, something like 15,000 cannabis plants are in various growth stages, from "mother" plant to full flower. Indoor plants can reach four to six feet tall at harvest.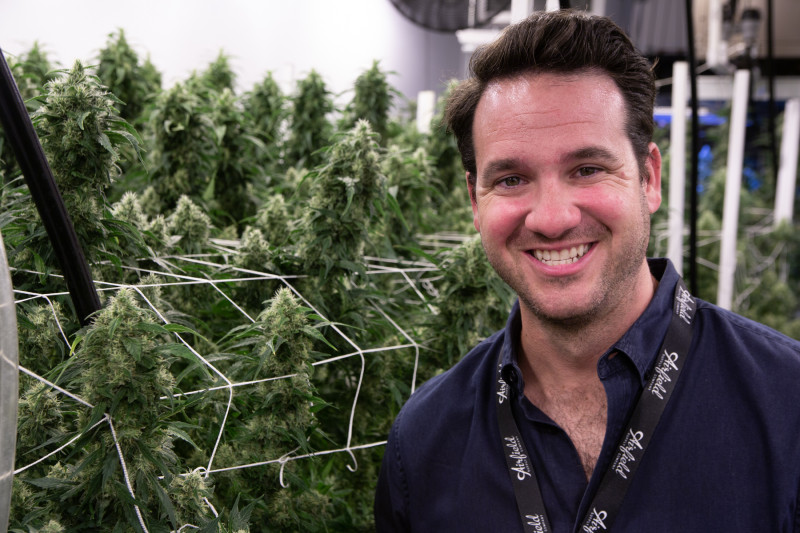 Marijuana plants produce chemical compounds known as cannabinoids, and receptors in the body are particularly responsive to tetrahydrocannabinol—THC—which is the active, mind-altering compound that makes users get high. Another compound called cannabidiol—CBD—is  considered the healing element. A third-party lab tests Airfield's products for things like THC and CBD, as well as heavy metals and various contaminants, and all plants have to be tagged with unique identifiers in the state's computerized Track-and-Trace System. Inspectors can drop in and check at any time, Lane says. They can make sure that all plants are present and accounted for.
Green Genes
Noah Sweeters—Airfield's Chief Cultivation Officer—acquired a taste for marijuana while a student at Los Gatos High School, where he played baseball. "It has always been big," he says, "but I just knew there was going to be a market someday." Self-taught in the art and science of growing weed, he manages the progress of the plants to make sure that everything from the THC content to the flavor profile remains consistent so he knows exactly what he will get from each plant.
"We're very proud of what we do," he says.
"We can't lose a garden to unstable genetics," Lane adds. "We'd literally lose a lot of revenue."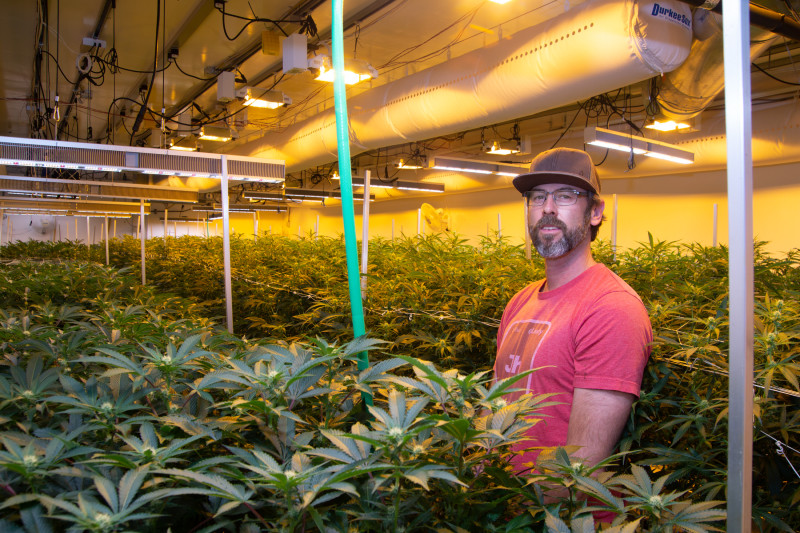 Back in the '60s and '70s when smoking pot was the thing to do, getting high flew in the face of "The Man," usually a teen-ager's parents. The passage of time has transformed those rebels into senior citizens with aches and pains and sleep problems.
Charles Freeborn, today a 64-year-old cabinet maker living in Portland, Ore., was part of that generation, growing up in Palo Alto.  "I didn't care for alcohol as a kid," he says. "The loss of control and feeling of it — not to mention the hangover. I tried cannabis and discovered it enhanced overall sensation and, more importantly, music. It really added to the concert experience."
He's learned to grow his own, "two plants every other year, which yields about a half pound, and that's all I need. I don't grow it to smoke it," Freeman says, "but prefer to extract it by boiling it into a tea then mix it with coconut oil. Then I take that and use a quarter teaspoon and stir it into my sleepy time tea at night. My use now is more to help me sleep and for pain relief."
A Challenging Business
People in the cannabis business—from delivery to retail companies and from manufacturers to cultivators—had until recently been regulated and licensed by three programs housed within different departments at the state level. Last month, Gov. Gavin Newsom signed into law Assembly Bill 141, which consolidated the three programs into a single standalone cannabis department for licensing and regulatory oversight.
The new Department of Cannabis Control will regulate all commercial cannabis license holders in California, including cultivators, retailers, manufacturers, distributors, testing laboratories, microbusinesses, and industry event organizers. DCC will also manage the Track-and-Trace System used to record the inventory and movement of cannabis plants and products every step of the way within the legal supply chain. Cultivators must attach a "Unique Identifier Tag" to the base of each plant.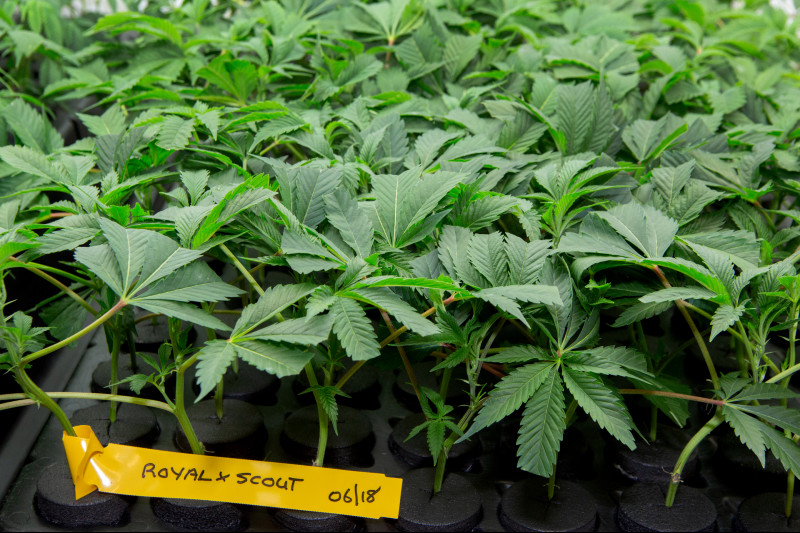 The Bureau of Cannabis Control has a statewide public information program called "Get #weedwise," which has two audiences: It's designed to encourage consumers to only purchase cannabis from licensed purveyors but also warns unlicensed businesses to become licensed. The Get #weedwise ads inform consumers about dangerous foreign material, including chemicals, mold and fecal matter, that can be found in illegal, untested cannabis. The campaign also includes alerts to unlicensed dealers that they could face confiscation of cash or cannabis by engaging in unlicensed activity.
One of the other challenges the growers of these water-loving plants face in this drought year is possible water restrictions. Lane says Airfield Supply did a beta test of using reclaimed water which showed it would be a costly challenge, but the company is still interested in the possibility. The indoor plants grow under intense lighting with large fans running to circulate the air, which is also expensive.
"Regulations and permitting and all of that, it's a lifelong effort in the cannabis industry," says Airfield's Lane. "Regulations are constantly evolving and changing and so you're just constantly cognizant of the fact – you know, it's a part of working in the industry."  A simple change in a packaging requirement, for example, can put a company out of compliance overnight, so it's a good idea not to overinvest in something that all of a sudden isn't allowed.
Cannabis is taxed at many levels, and the challenge to government is not to kill the goose that laid the golden egg. Legal cannabis businesses need to be able to compete with the illegal market. Growers pay a cultivation tax based on a percentage per ounce, and a 15% excise tax. The sales tax rate in Redwood City is 9.875%, and the city has levied an additional 4% business tax on gross receipts on storefront retail.  There will also be an annual $29,530 permit renewal fee, according to Vuong.
The city expects to collect almost $1 million in sales taxes once all six retailers are up and running. Renewal fees will help fund cannabis drug education to prevent youth use, according to Vuong.
Benefits to the City
Vuong joined the Redwood City City Manager's staff early in the year and had prior experience with cannabis regulation while working for the City of San Rafael. "We know that there is a demand for legal cannabis products, and cannabis retail businesses typically serve the local community. It is in the community's best interest to provide safe and greater access to retailers through regulated channels." This, he says, is also an effective strategy to limit greater availability of "untested and potentially harmful products within the illicit market."
Mayor Howard, for her part, has sympathy for people operating cannabis businesses under a legal and financial cloud because of the mismatch between state and federal law. Without federal research and testing, consumers also don't have reliable information about dosing and whether cannabis really is good medicine.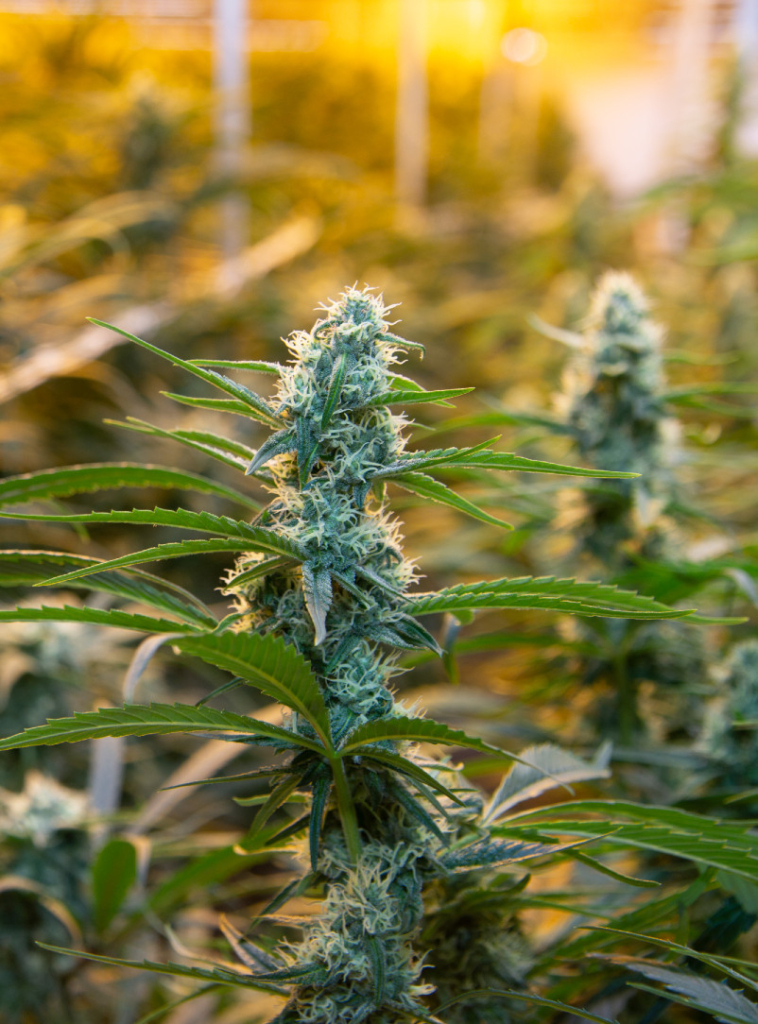 Since so many states have legalized cannabis and there's a strong demand, Howard would like to see the federal government "step up and take charge. … If it's been made legal, then the federal government should put money into research so that good products are promoted, good companies are promoted, make it as regulated as alcohol, cigarettes, any of these things. Because it's here."
Asked if she'd be willing to do ribbon-cutting duties at the first retail store opening, Howard said, "Actually that's a good question.  I would feel obligated to do that because we have made these companies jump through a lot of hurdles. … They've been patient. They've done everything we've asked them to do. I have to believe the cream of the crop are going to be the ones that are chosen. … I would go to their opening because I would like to thank them for being patient with us. And I think we're all going to learn together."