By Liz Sloan
The American Dream was invented in 1931.
No, really.  Remarkably, this phrase was coined at the height of the Great Depression in the book "The Epic of America" by Scott Truslow Adams.  The words caught fire with politicians and writers, and almost instantly worked their way into the American ethos. Their defining idea? Everybody—wherever they are born, whoever their parents, whatever their class—can attain success in this country through their own grit, determination, and hard work.
But how often is this the storyline?  Not often enough, says Cristina Huezo, vice president and head of community for the Chan Zuckerberg Initiative.
"Achieving the American dream should not be a matter of luck," says Huezo. "That dream should be available to everyone."  This daughter of immigrants saw her own family reach the dream. But she believes chance plays far too large a role in who thrives and who fails in this country. She has forged a career to change that.
Immigrant Parents
Huezo's father was born and raised in El Salvador, landing in San Francisco's Mission District as a teenager. "He truly had the immigrant experience," she says, "working multiple jobs—at the airport, in the fields of Napa picking grapes—all while trying to get through school. My grandparents believed that education was the key to success, especially for immigrants. My  father was able to go to college because my grandfather worked at USF as a janitor."  Huezo's maternal grandparents were also immigrants, coming to Oakland from Portugal shortly before Huezo's mother was born.  "My mother was an English-language-learner growing up."
This story was originally published in the August edition of Climate Magazine. Click here to read the full digital publication.
It was work that brought Huezo's parents together—literally, a workspace. "My father met my mother because they shared a desk at the phone company. She had the day shift and he had the night shift." The two met, married, and eventually settled in Newark, where Huezo grew up.
"I was very close to both sets of grandparents," says Huezo, who served as their translator and navigator with doctor's appointments, banking and other everyday tasks.  "I grew up seeing the racism and systemic barriers they faced. It really shaped my work in the Bay Area today."
Huezo originally imagined a career in international development.  "I thought I would work for a global NGO (non-governmental organization) or be an ambassador." Graduating from UCLA with a degree in international development, she joined the National Council of La Raza, a Latino civil rights organization now known as UnidosUS.
"My job was to bring stories to Sacramento to make the case for statewide policy change," she says.  "I started to realize how many needs were right here at home. I thought about that American dream, and how out of reach that was for so many people."
Changing Course
Impatient with the slow pace of change in policy work, Huezo decided to "zoom out" and think about the other avenues of impact.  It was while pursuing a master's degree at Harvard's Kennedy School of Government that she got interested in philanthropy. Tapping her networks in Sacramento and at Harvard, she approached the Gates Foundation, ultimately landing a job as an educational grant maker. She spent a few years on the East Coast, but the Bay Area called.
"I always knew I wanted to come back home, and I had a feeling that Mark and Priscilla would ultimately do some pretty significant investing in the Bay Area."  That would be Mark Zuckerberg, Facebook CEO, and his wife, physician Priscilla Chan.  That "pretty significant investing" turned into the Chan Zuckerberg Initiative, or CZI, launched in 2015 with the ambitious goal of creating "A Future for Everyone" through transformative investments in education, social justice and science. Huezo joined CZI's predecessor organization in 2015, a tiny team operating in startup education.
Over time, Huezo built CZI's Community program, which houses CZI's "place-based" work—initiatives focused on the needs, solutions and attributes of the Bay Area and California.  The program encompasses these areas of outreach: affordable housing; youth and family homelessness; the grantmaking/capacity building Community Fund (which is on track to grant $7 million this year to San Mateo County organizations); and Community Affairs, which responds quickly to local needs.
Through its Community team, CZI has committed more than $12 million to Covid relief and recovery in the San Francisco Bay Area, including expanded health services, remote learning, financial assistance and small business relief. Another focus area in 2020 was wildfire response, with $3 million going to organizations in the Bay Area and the state. CZI also provides meeting and events space in its Redwood City headquarters to community organizations free of charge.
A Listening Approach
In working with community organizations, the team's grantmaking philosophy is: trust and empower their partners.  "It's not about dropping in with a strategy," says Huezo. "It's about really listening, saying 'You are the ones developing solutions.  What can we do to help you succeed?'"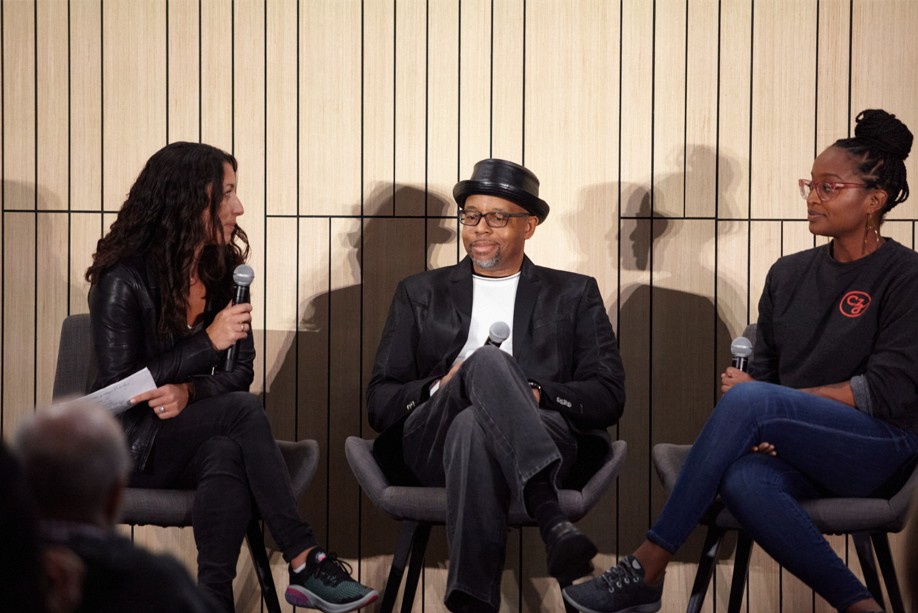 These questions guide the grantmaking: "How do we make sure that people and communities are thriving?" asks Huezo.  "Are people living with dignity? Do they have access to socioeconomic opportunities? Do they have agency in helping shape their own futures?"
Now entering its fifth grantmaking cycle, the Community Fund has given millions to San Mateo County organizations focused on housing, education, healthcare, job and career skills, and civic engagement. Applications are easy, reporting requirements minimal, and "partners" (the word Huezo uses rather than grantees) are trusted to spend the money in whatever way will grow the capacity of their organization. Operating grants can be used for communications, leadership development, fundraising, outside collaborations—whatever will help the organization best serve people in the community.
John Baker, superintendent of the Redwood City School District, lauds Huezo's collaborative approach.  "When I became superintendent," he says, "Cristina congratulated me, then asked: 'What kind of needs do you have?'" Baker was dreaming of a laptop program in which middle school students would have dedicated computers they could take back-and-forth, school to home.  "It's really important to the continuity of the learning," he says, "and we didn't have the funding to support it. Cristina was intrigued.  She said, 'Let me take this back to our team and think about what we can do.'" CZI granted two years of funding, after which the district would pick up the costs.
The laptops were a huge success, says Baker, and not just for the students.  "The parents could use the devices to look for jobs, housing, medical assistance and so forth." This was especially useful in lower-income households that lacked any computer.  In addition to the machines, CZI funded internet hotspots, professional development for teachers and administrators, and outreach to bring girls and students of color into science and technology. The program spread to other schools. Now, every student in the district has a dedicated laptop (middle schoolers can take them home), an innovation that proved prescient during the pandemic year.
Help with Connections
Baker has appreciated Huezo's creativity, connections and partnership.  "I wanted to look at our community schools," says Baker. (Community schools offer on-site wraparound services for families—things like health care, parent education, legal support, emergency food and other social services.) "Cristina connected us with some people in other states who were doing these programs way before Redwood City was." These thought partners helped take the community schools to the next level.
"Many times, when a grant maker wants to help, the resources come with an agenda," muses Baker, who finds Huezo a refreshing contrast.  "Cristina has been a wealth of collaboration, knowledge and assistance in helping me achieve my goals.  I am so grateful for knowing her, and for the time I have spent with her getting these exciting opportunities off the ground."
Huezo's job brings stark lessons, every day, of life's inequities. "I am struck by the incredible contrasts of San Mateo County," she says, citing the breathtaking wealth of Silicon Valley existing side-by-side with people struggling intensely just to get by.  Covid both illuminated and exacerbated those inequities.  Huezo, who resides in Menlo Park with her husband and three children, lived at least one of those pandemic challenges: trying to keep a young family on track with remote and everyone working from home. "That was hard," she laughs.
But in a strange way this year of pandemic—along with 2020's awakenings around race and social justice—bring her hope.
"People got more attuned to social problems during this pandemic; they became more compassionate, more civic-minded," says Huezo.  "In some ways, we were able to move more quickly with innovative solutions and models because of Covid.  The governor is actually putting a lot of the state budget surplus toward homelessness." The question, says Huezo: Can it be sustained?  The answer to that question embodies the mark she seeks to make.
"I am an optimistic, glass-half-full kind of person," she says.  "I don't want the American dream to be about luck. When I think about my work today, it goes back to my dad, and the experience he lived.  If I can point to families in our community who are thriving, that will be my legacy."