About 100 people recently marched down El Camino Real to a rally at San Mateo's Central Park to raise awareness about carbon fee and dividend legislation.
Held Saturday, Aug. 21, the "Students for a Carbon Fee & Dividend Rally" was organized by about 30 college and high school students comprising the Citizens Climate Lobby San Mateo Youth (CCLSMY), a stand-alone group associated with the nonprofit Citizens Climate Lobby which advocates for a carbon fee and dividend.
The idea for the rally stemmed from a meeting between the group and Rep. Jackie Speier (D-CA-14) regarding her efforts to pass a carbon fee and dividend as part of a bill she is co-sponsoring—The Energy Innovation and Carbon Dividend Act (H.R. 2307)—in the House of Representatives, said the group's youth leader Róisín McElarney, a pre-law major at the College of San Mateo. "She suggested that we hold a rally to raise awareness about carbon fee dividend."
According to Citizens Climate Lobby, "Carbon fees are proposed fees collected for the cost of burning fossil fuels; the dividends are the fees collected (minus administrative costs) and returned to Americans to spend as they see fit." The nonprofit advocates that accounting for the true cost of fossil fuel emissions creates a level-playing field for all sources of energy and informs consumers on purchase decisions.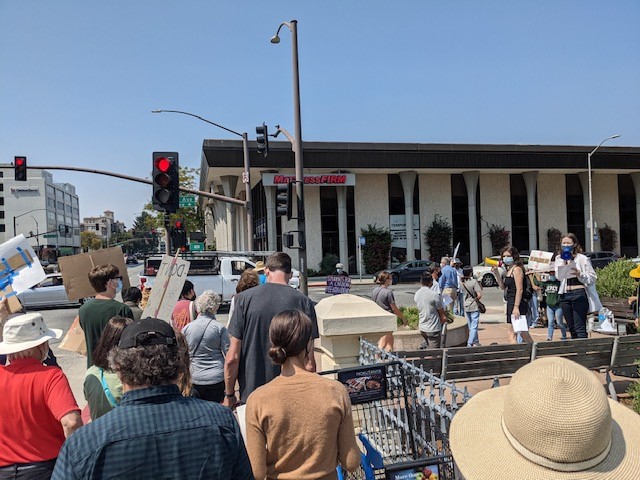 "As the Sunrise Movement got attention to the Green New Deal, we're trying to get attention to a carbon fee and dividend," said McElarney about the demonstration and rally, the group's first. "So that phrase is really important to our message."
Students and local politicians alike spoke at the rally in Central Park, among them CCLSMY group representatives McElarney, Claudia Nolasco and Aran O'Sullivan. Other speakers that day included Rick Bonilla, San Mateo deputy mayor and San Mateo city councilmember; Amourence Lee, San Mateo city councilmember; Laura Parmer-Lohan, mayor of San Carlos; Josh Becker, CA state senator, District 13; Kevin Mullin, CA assembly member, 22nd Assembly District; and Dave Pine, San Mateo County supervisor.
McElarney pointed to San Mateo Deputy Mayor Bonilla as the "star of the show" who garnered positive reactions from the large park crowd and also helped CCSLMY plan the demonstration and procure its permit. "He's just been really outspoken about climate change and climate action for quite a while now; he's really been an environmental champion," she said.
During her speech, McElarney touched on the importance of voting and spoke out against hollow climate declarations by "various governments and companies who have something to gain from appearing benevolent," but who fail to take action toward true meaningful change. "We have to demand concrete goals, demand that they act to not condemn or mitigate climate change, but stop it. Because that's what's going to make the difference between a humanitarian crisis and a beautiful day at the park," said the CCLSMY youth leader.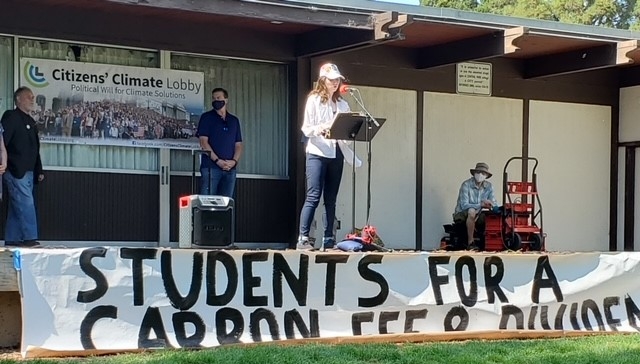 In terms of the constituents in the area, McElarney said CCLSMY aimed to "get the word out and raise awareness for the carbon fee and dividend," while their aim regarding the politicians in the crowd was to "demonstrate to them that their constituents care about a carbon fee and dividend, they want climate action and it's important to them. And this is something worth pursuing for them."
She said once they have established that message through demonstration, they're planning on meeting with local political leaders and discussing specific plans for what they can do.
McElarney said since CCLSMY is local, they're focused more on the Bay Area and are also working to further the issue of how to address climate change at the state level and the regional city levels.
"On the city level what that's going to look like is a carbon action plan with teeth, a corporate action plan," said McElarney, who reiterated that many such plans are often general statements. Pointing to Menlo Park's climate action plan as a local benchmark, she said they're planning on modeling climate action plans on the Menlo Park format "so that they actually do something; it's not just an abstract statement against the idea of climate change, but [rather] a concrete action that will stop climate change and mitigate climate change."
In all, approximately 150 gathered at Central Park for the rally, including passersby who were attracted to the activity on what was a beautiful, sunny day. "People were excited the whole time—they were engaged," said McElarney about the crowd. She said the group will look to host similar rallies once per year in the future.
For more info about CCLSMY, contact McElarney at rmcelarn@gmail.com.
All photos by Cynthia Sandoval except for the march photo, which is by Mick McElarney