By Vlae Kershner
For a long time, downtown Menlo Park was a place where things didn't happen.
A look through the Menlo Park Historical Association archives crammed into a basement room at the Main Library yields articles about renewal plans dating to the late 1960s. Most of them never got off the ground amid public sentiment to maintain a residential, low-density vibe.
The city didn't go along with Stanford University's plan to widen Sand Hill Road to four lanes and extend it to El Camino Real, so unlike neighboring Redwood City and Palo Alto, there's no easy way to get from Highway 101 to Interstate 280. Several proposed parking garages along Santa Cruz Avenue weren't built. Three hazardous at-grade railroad crossings were never replaced.
But finally, downtown is getting a new look. Three major redevelopment projects are expected to open along El Camino within a year, two of them featuring plazas open to the public.
This story was originally published in the September edition of Climate Magazine. Click here to read the full digital publication.
The first glimpse that El Camino could become more than a dreary strip highway came in the 1990s, when Menlo Center was developed around the existing British Bankers Club bar-restaurant at the intersection of Santa Cruz, the heart of downtown.
The Café That Led the Way
With outdoor tables on a wide brick plaza, Café Borrone became the first place on El Camino anywhere on the Peninsula where people would sit, drink coffee, read material bought at Kepler's Books, and visit with friends, urban architect Donlyn Lyndon said at the time.
The impetus for more change came when four car dealerships—Cadillac Buick Pontiac GMC of Menlo Park, Stanford Lincoln Mercury, University Ford, and Anderson Chevrolet—closed between 2005 and 2007, as the auto business migrated to the easier-to-access 101 corridor.
"Menlo Park is in what I call the messy middle," said City Councilmember Ray Mueller, a former mayor.  "Candidly, the difference between El Camino and Santa Cruz is on El Camino we had old vacant car lots."
The city responded to the embarrassing eyesore by preparing an Environmental Impact Report and formulating the El Camino and Downtown Specific Plan, issued in 2012.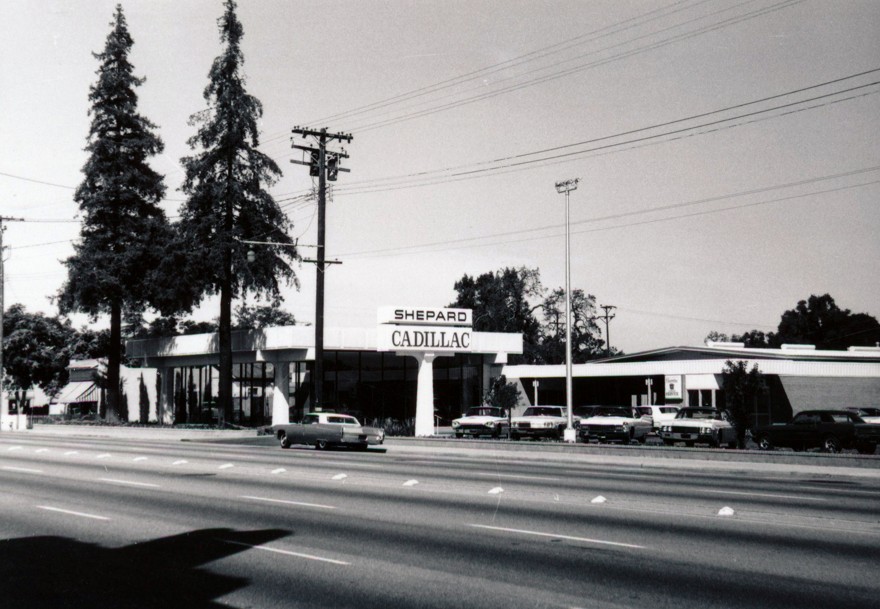 The plan established a maximum allowable net new development cap of 680 residential units and 474,000 square feet of non-residential uses, including retail, office and hotel. It was intended to reflect likely development over a 20-to-30-year timeframe.
Developers snapped up almost all the non-residential quota, though in some cases it took years to get shovels in the ground. Here is a look at three key developments nearing completion:
Middle Plaza (Rendering in Top Image)— Stanford University is redeveloping an 8.4-acre parcel at 200-500 El Camino Real it has owned almost since its founding, which had been leased by three of the car dealerships.
The project includes three retail and office buildings totaling 145,000 square feet and three residential buildings with 215 one- and two-bedroom rental units, tiered as three-, four-, and five stories.
"It's a great project for Menlo Park because it's on El Camino, close to Caltrain, with good walkability to apartments," said Steven D. Elliott, managing director of development for Stanford Real Estate. "We expect this to be a Stanford staff and faculty housing project. Housing is a real priority for us because of the difficulty of recruiting staff and professors."
A community benefit is a half-acre public plaza across from Middle Avenue that will include shops and a restaurant, Elliott said. A pathway will connect to a Caltrain crossing tunnel to Burgess Park for pedestrians and bicyclists. He expects it to open for residents in the second half of next year.
Springline—A decorative metal arch leads invitingly to a public outdoor plaza.  Presidio Bay Ventures is finishing up a 6.4-acre mixed-use development at 1300-1302 El Camino Real and 550 Oak Grove Ave., part of which had been vacant since the Cadillac dealership closed in 2005.
The project will include two 100,000-square foot office buildings and a residential building with 183 units of 1-, 2- and 3-bedrooms (including 20 units classified as affordable). Retail is located along the ground floors. There is also a two-level underground parking garage.
"We have signed leases or are in advanced discussions with retail operators for all of the 25,000  square feet," said  K. Cyrus Sanandaji, managing director, Presidio Bay Ventures.  "We have also signed a handful of leases and letters of intent throughout the office buildings from the ground to third floors making up approximately 50 percent of the office space."
The office buildings are expected to be completed this month, with the first tenants moving in shortly afterwards, Pre-leasing for residences is expected to begin in the fourth quarter, with construction completed by January.
Guild Theater—The movie house at 949 El Camino Real was built in 1925 and became famous for midnight showings of "Rocky Picture Horror Show." Like most of the cinema's brethren, it declined with the rise of the multiplex and finally closed amid community regrets in 2019.
Local investors and donors came to the rescue. The Guild is being rebuilt as a three-story live entertainment hall for music and live performances, operated by the nonprofit Peninsula Arts Guild.
Concerts are expected to begin at the end of this year or early 2022. Capacity will be roughly 200 people seated, or 500 when configured with standing room instead of chairs. Musical styles envisioned include rock, jazz, blues, singer-songwriter, country, metal and EDM.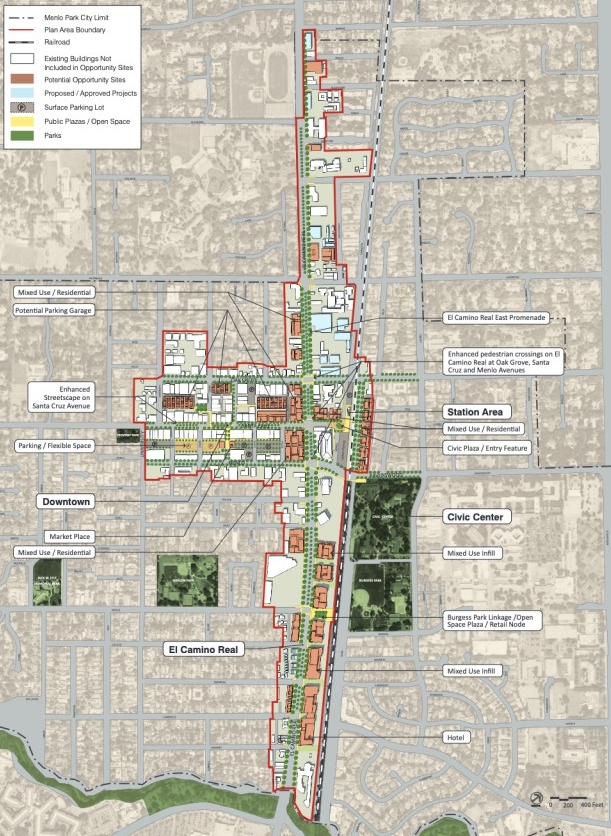 A movie screen with surround sound is also being installed. "How many we show will be dependent on how successful they turn out to be," a spokesperson for the Guild said.
Besides those three, downtown projects include 1540 El Camino, a 48,000-square-foot office building and 27 apartments at the site of the old Beltramo's Wines and Spirits; the 61-room Park James Hotel at 1400 El Camino Real; and the three-story Alma Station office building at 1020 Alma St. adjacent to the Caltrain station.
What will all this redevelopment mean for residents? One enthusiast is longtime resident Clem Molony, a retired environmental manager and a Chamber of Commerce director.
"Those two El Camino Real projects (Springline and Middle Plaza) are absolutely home runs," Molony said. "Two small office projects will pay for hundreds of units of housing, near transit. After those are finished, everybody's going to be so pleased about the architecture, the fit, the right size. Neighboring cities are going way tall—Redwood City is allowing 10 stories tall."
Going Higher
The downtown Menlo Park height limit is two to three stories, except near the train station where up to four to five stories are allowed.
"The NIMBY, keep residential sentiment that was dominant in the '80s and '90s in Menlo Park has ended. During those years, developers stayed away in droves because the electorate did not want to modernize the downtown core. City Councils have become more and more knowledgeable about the wisdom of building housing and modernizing building codes so that developers will be more interested in investing," Molony said.
The progressive citizen's group Menlo Together doesn't think the plan allows enough housing.
"The allowable density in the Bayside is 100 units per acre; and downtown it is 40.  We believe this is backwards," said Adina Levin, of Menlo Together.
"Menlo Park's general and specific plans currently call for more and denser housing in the Bayside area east of 101 (near Facebook and the Belle Haven neighborhood) than in the area near downtown, where we have a Caltrain stop and major bus line, great schools, and bike and pedestrian access to services and park," Levin said.
At least 1,300 new apartment units have been approved or proposed for the Bayside, an area with a heavy minority population.
Drew Combs, the city's mayor, said "From an equity standpoint, increasing housing, we are very much focusing west of Highway 101."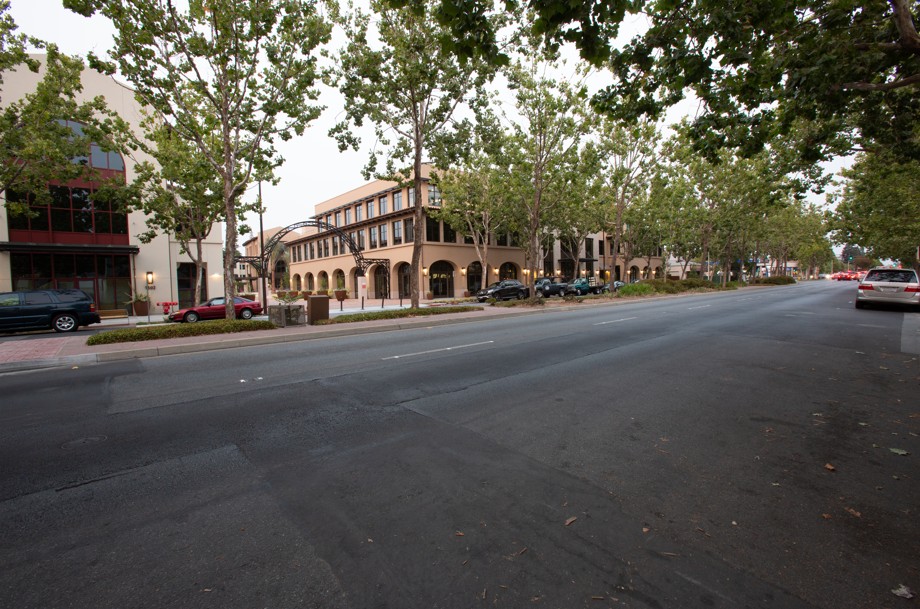 Where to Add Housing
For downtown, "I don't see a scenario where there would be lots of community support for raising caps on office space. Where I could see community support is allowing for more housing. I do see that as something that will likely happen. We haven't reached the cap for housing units for those specific plans yet. We're discussing what could we do within current plan to try to hit that cap for housing," Combs said.
Councilmember Betsy Nash said she finds attitudes are changing. "I'm encouraged that residents are embracing at least some increased density and see the need for more housing around transit. There is concern with redevelopment and inevitable growth that we don't displace current residents, and also that we can house our local workers including teachers, city employees, and retail staff."
Like many California cities, Menlo Park has the state looking over its shoulder. The latest update of the state-mandated Housing Element requires planning 3,000 new residential units between 2023 and 2031, a big swallow for a suburb with a slow-growing population around 35,000.
Mueller said the period when the City Council was divided between pro-growth and residentialist factions has ended. "That sort of distinction has really been eviscerated by the state. At the end of the day, you have to find a place to zone for 3,000 units and owners of properties have to express desire to legally qualify."
Possibilities for SRI
Some of the housing will come from adjacent to downtown. SRI International is in the early stages of a redevelopment project that will change the 63-acre parcel along Ravenswood Avenue between Middlefield Road and Laurel Street from a closed campus to a mixed-used development.
The project is called Parkline (not to be confused with Springline). Its developer, Lane Partners, held three open houses this summer to get community feedback before the plan is finalized and submitted to the city.
It includes at least 400 housing units at densities ranging from 25 to 60 per acre, with one plan calling for five apartment buildings on Laurel. It also includes the replacement of 1.1 million square feet of existing office space as SRI consolidates into a fraction of the site. There will also be approximately 28 acres of open space, including a trail connecting with Burgess Park and the new rail underpass at Middle Plaza, allowing pedestrians and bicyclists to have a dedicated route from El Camino to Middlefield.
Another chance for housing will come at the U.S. Geological Survey campus at 345 Middlefield, which is being moved to lower-rent space at Moffett Field. The federal government is in the process of selling the 17-acre property. Local and congressional leaders want housing on the site.
Beyond that, possibilities for housing include expanding and refurbishing the stock of old apartment buildings near downtown and investigating whether the Sharon Heights Shopping Center could be made available for mixed use, Mueller said.
One factor complicating redevelopment is traffic. Downtown has short blocks and streets that do not line up precisely, notably where Menlo and Ravenswood avenues meet at El Camino in a counterintuitive lane pattern. Caltrain at-grade crossings at Ravenswood, Oak Grove and Glenwood avenues lead to traffic backing up during commute hours.
 A Look at Grade Separations
Mayor Combs is hoping to restart the grade-separation process.  "Menlo Park has debated this issue for a number of years or decades," he said. "Other communities have gotten their acts together ahead of us and taken advantage of state and federal money."
Construction on El Camino has caused problems for old-line businesses, such as Menlo Clock Works, which is next door to the Guild Theater and its remodeling. "Like being near any construction site, there's noise, trucks, disturbance. It hasn't been too bad except when they have to block a lane to get a truck in or out," said owner Alex Delly.
He said his loyal customer base built up over 40 years is putting up with the inconvenience to buy watches and get them repaired. "I'm amazed at the clientele that keeps coming to us and supporting us."
Members of a Facebook group for people who grew up in Menlo Park lament the closures of longtime favorites like the Oasis bar and grill on El Camino and the teenager hangout Foster Freeze on the Springline site.
"I can't believe all the building going on! Just think how the traffic will be after all those apartments and condos are filled with new residents! It's already bad enough!" said one commenter.
Change is coming more slowly for the traditional downtown on Santa Cruz Avenue, which consists mostly of older low-slung buildings with surface parking behind the stores on both sides.
The Covid-19 pandemic hit Santa Cruz hard, creating numerous empty storefronts, most notably Ann's Coffee Shop, a fixture since 1946. The vintage café was closed for months, limped back into operation, and went out of business in April after the building was sold to developers.
"It's heart-wrenching but also promising in that we're going to see long-hoped for redevelopment," Combs said.
The pandemic has triggered a movement to beautify Santa Cruz Avenue and make it more pedestrian-friendly. Parklets have displaced parking spaces and two segments have been closed in one direction. The movement was spearheaded by Ali El Safy, owner of Bistro Vida, who received an award from the Chamber of Commerce for his efforts.
Many of the buildings are owned by family trusts that have had little incentive to do much with them, Mueller said. "The challenge is to figure out how to work with business owners and property owners and the community to take the lessons learned from redevelopment and create a vibrant services and restaurant-oriented area."
Adam Alberti, the publisher of Climate Magazine, is Managing Director at Singer Associates, Inc. Lane Partners is represented by Singer Associates.