A Zoom meeting this Thursday will update community members on the ongoing construction of two projects that aim to prevent flooding to properties along East Bayshore Road in Redwood City and Haven Avenue and Marsh Road in Menlo Park.
Community members will have the opportunity to ask questions of the project team during the Zoom meeting which begins at 7 p.m. (see end of this story for details on entering the meeting).
In May, construction began at the entrance to Bedwell Bayfront Park near the intersection of Highway 84 and Marsh Road, according to the OneShoreline, the countywide agency formed to address sea level rise, flooding, coastal erosion, and regional stormwater infrastructure.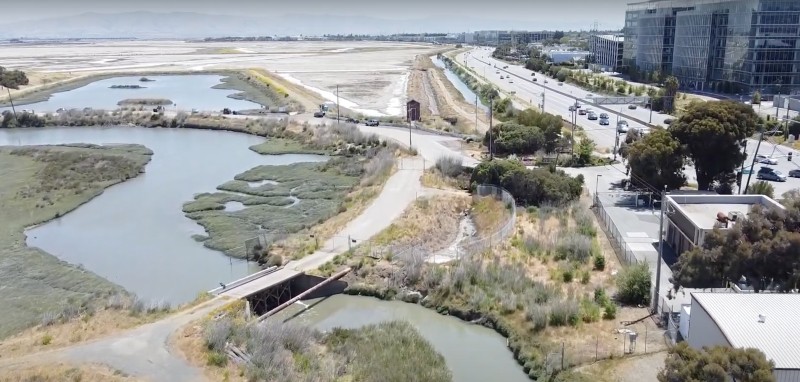 "The Bayfront Canal and Atherton Channel project will protect five mobile home parks, and other housing and businesses from frequent, damaging flooding," the agency said.
Properties in the area have endured 40 flooding events over the past 70 years, most recently in 2017. Just east of Highway 101 north of Marsh Road, the Bayfront Canal and Atherton Channel converges, emptying stormwater runoff from inland areas into the Bay. With high tides, even minor rain events can prevent flows from draining to the Bay, causing water in the Channel and Canal to back up and flood mobile home parks and businesses in the area.
The Bayfront Canal and Atherton Channel project consists of an underground culvert that diverts excess flow from the canal and channel into managed ponds within the Ravenswood Complex of the South Bay Salt Pond Restoration Project (SBSPRP), according to OneShoreline.
"The Project features will be within and along Bayfront Canal, Flood Slough, the entrance to Bedwell Bayfront Park, and the managed ponds owned by the U.S. Fish and Wildlife Service," the agency said. "The successful implementation of this Project will protect developed areas of Redwood City, Menlo Park, and unincorporated San Mateo County against frequent flood events, provide water quality and ecosystem benefits to the managed ponds, and complement flood protection efforts upstream along Atherton Channel."
Zoom Meeting Details:
https://zoom.us/j/99243217083?pwd=Z3BtWnpkZjJmRHQyUE55Z3RrRE95QT09
Meeting ID: 992 4321 7083
Passcode: 414387
Or you may join by phone, by dialing: 669-900-9128, ID 992 4321 7083
Photos courtesy of OneShoreline