A "Poetry Slam" hosted by the Community Foundation of San Carlos Nov. 19 at Devil's Canyon Brewing Company saw 24 poets and storytellers share their experiences with prejudice and bullying in alignment with the Bay Area's United Against Hate movement.
Contestants of the Poetry Slam competed for a $1,500 award for the nonprofit organization of their choice. The three winners who emerged victorious based on audience applause included: We Solemnly Promise Not to Hate by the Sequoia High School Black Student Union (Amra, Lydia, Paris, Jada, Maya, Mia and Akiyla), whose award will benefit the Black Students of California United (BSCU); Is This Not What You Wanted by San Carlos Charter 8th graders Leila Berman, Maisie Street, Kylie Ho, Hannah McAffee and Sabrina Alvarez, whose award will benefit AAPI Women Lead; and Bringing the Crow Down by nine-year-old Akaash Kendale, whose award will benefit Khan Academy.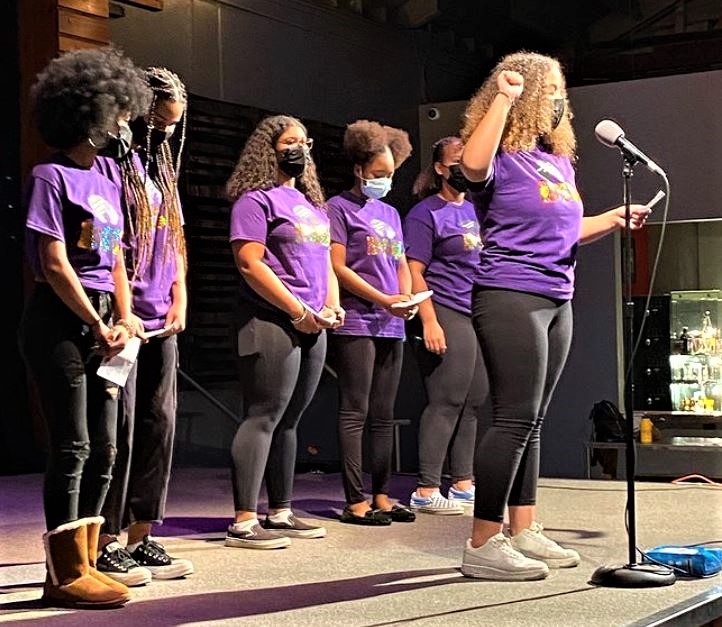 Performers shared their personal accounts of being shunned for looking and speaking differently, feared and pursued because of their skin color, teased due to their disability, unappreciated because of their age or gender and bullied for their clothing choice and appearance, said the foundation in a statement.
"Their powerful revelations elicited both pain and hope," added the foundation, which said that families and friends of the contestants joined an overflow crowd of multigenerational community members to support the performers and to "stand united against hate [and] united for love and acceptance."
The Community Foundation of San Carlos aims to create and amplify sustained and measurable impact for its local community via its philanthropic outreach, per its website. Learn more here or email info@SanCarlosCF.org.
All photos courtesy of the Community Foundation of San Carlos