In her first speech as the newly-selected, first-time mayor of Redwood City, Giselle Hale called for the city to "stay the course" on issues of housing, transportation and the needs of children and youth, and further announced a new countywide effort to tackle mental health issues, called the San Mateo County Mayor's Mental Health Initiative. 
At the annual City Council transition ceremony Monday, Hale was selected by fellow council members to serve as mayor for the next two years, succeeding longtime Councilmember Diane Howard, a retired nurse and consummate community advocate who was praised by her colleagues for her steadfast leadership of the city during the COVID-19 pandemic. Since 2019, the council has followed a seniority-based rotation system for appointing the mayor and vice mayor, where previously the council voted on who to select among them. For the next two-year term, Hale, formerly vice mayor, has been selected mayor, while Councilmember Diana Reddy has been selected as vice mayor. 
During Monday's transition, Hale, elected to council in December 2018, laid out her priorities as mayor of Redwood City, which she described as a "vibrant and resilient community."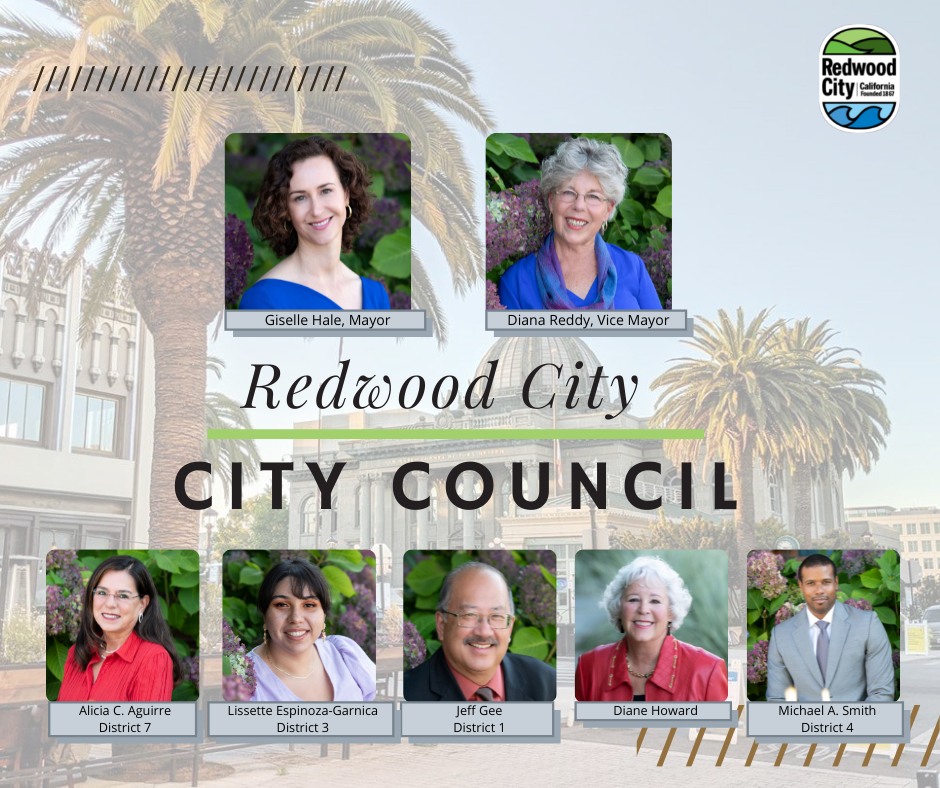 "First and foremost, we need to stay the course," Hale said. "I am committed to the City Council's strategic plan that guides staff work at every level. It focuses on the three most urgent issues facing our community: housing, transportation, and the needs of children and youth." 
Hale added that the COVID-19 pandemic "has only intensified the importance of addressing these issues," noting that "childcare lost an additional 6,000 seats in our County adding to the 20,000 that were already missing." In addition, more needs to be done to address traffic, according to Hale, which "has returned to pre-pandemic levels." She expressed particular passion toward addressing mental health needs in the community that are "skyrocketing" due to the pandemic. 
The mayor said her oldest daughter was "diagnosed with multiple learning differences" during the first year of the pandemic. She described the difficulties of navigating such challenges even for a family with a strong support system. 
"We have to break that stigma by sharing our stories," Hale said. "So with my family's permission, I am sharing ours." 
The San Mateo County Mayor's Mental Health Initiative aims to do just that – raise awareness of mental health needs and increase access to services. 
"I am joined by 11 other incoming mayors who have made this issue their priority," the mayor said. 
Hale also expressed hope with the return of vibrant city events such as Hometown Holidays, the lighting of the Menorah, Zoppe Circus' extended stay, the new upcoming MakerSpace at the Library and the ongoing construction of the Veterans Memorial Senior Center. 
Big shoes to fill
On her last day as a second-term mayor, Councilmember Howard, elected six times to council since 1994, was praised by City Manager Melissa Diaz, her council colleagues and several other elected officials for giving her all to the city during a difficult period in history. Diaz was among those pointing out how Howard's medical training served to support public safety guidance during the pandemic,. Diaz described Howard's leadership as "grounding us both with sincerity and compassion." 
"You encouraged us all to support each other, to be patient and to work together to help everyone get through this stressful time," Diaz said. 
Fellow councilmembers echoed Diaz's sentiments and praised Howard's experience. State Sen. Josh Becker and San Mateo County Supervisor Warren Slocum were among those to publicly thank Howard for her service. Slocum said Howard was "the right person at the right time in our history" to serve as mayor over the last two years. 
Howard vowed to continue her advocacy for the city. 
"My father-in-law was very cynical about government," Howard said during the transition ceremony Monday. "One of his favorite lines was government does nothing for responsible people but annoy them….I have spent my years on the council trying to prove him wrong."
Photo contributed