Growing up in San Carlos, Bruce Anthony had to stretch his allowance to afford the 45s he so desperately wanted. "If the allowance was 50 cents, you had to make it last all week," he explains.  "So that had to cover baseball cards, an ice cream cone, a matinee. … Comic books were a dime a copy. So 50 cents didn't go that far." But anyone who grew up in the '60s listening to the Four Seasons wail about Sherry baby will have no difficulty at all identifying with what the music-loving youngster did: Anthony scrimped and saved to be able to buy pop treasures like "The Tracks of My Tears" and the novelty tune "The Purple People Eater."  As a result of his boyhood thriftiness, today, at the age of 73 the retired Serra High School teacher/administrator is sitting on a sizeable collection of classic vinyl, meticulously catalogued and preserved in pristine condition.
For his birthday in August, Anthony gave himself the ultimate gift for a grown-up oldies' lover: an authentic Rock-Ola jukebox.  The glowing behemoth sits in the family room of his Redwood City home, where he can spin platters to his heart's content.  After his wife Teresa goes to bed, he usually picks out seven or eight 45s for a bedtime listening snack. "One last blast from the past before heading to sleep," he says.
This story was originally published in the December edition of Climate Magazine. Click here to read the full digital publication.
Bruce Anthony can listen to the same nostalgic tunes on Apple iTunes but the sound doesn't compare to the richness of vintage vinyl, reverberating through the five speakers of the marvelous music box. More to the point, each record triggers memories. A good friend may have loved the song. Or a tune resonated as a "break-up" song. "Besides being a little time machine for me, it kind of brings back the people that were a part of my upbringing and part of my youth," he says. Similarly, he notes that the Beatles' Paul McCartney is 79. But when the jukebox's pick-up arm plucks "Yesterday" from out of the magazine (carousel), "suddenly those people are in their prime. They're 20, 25, 26, whatever. So it's not just me stepping back in time. It's also getting to experience people from the past … and appreciating what those songs meant."
Anthony grew up in the White Oaks neighborhood, and he and his friends would ride their bikes to Brown's Music (later Eddie Kramer's World of Music.) Once a week, the newest record survey by local radio stations was posted, and the boys would track which record had moved up from number 7 to 2, or how many weeks it had been on the survey. They could even take the record into a booth to listen to it. The first time Anthony saved up a dollar to buy a 45 rpm record, it was the 1957 release "A Teenager's Romance" by teen idol Ricky Nelson. He croons about the well-known travails of first love: "A teenager's romance is red hot or blue. You're either in misery, or high on a crest."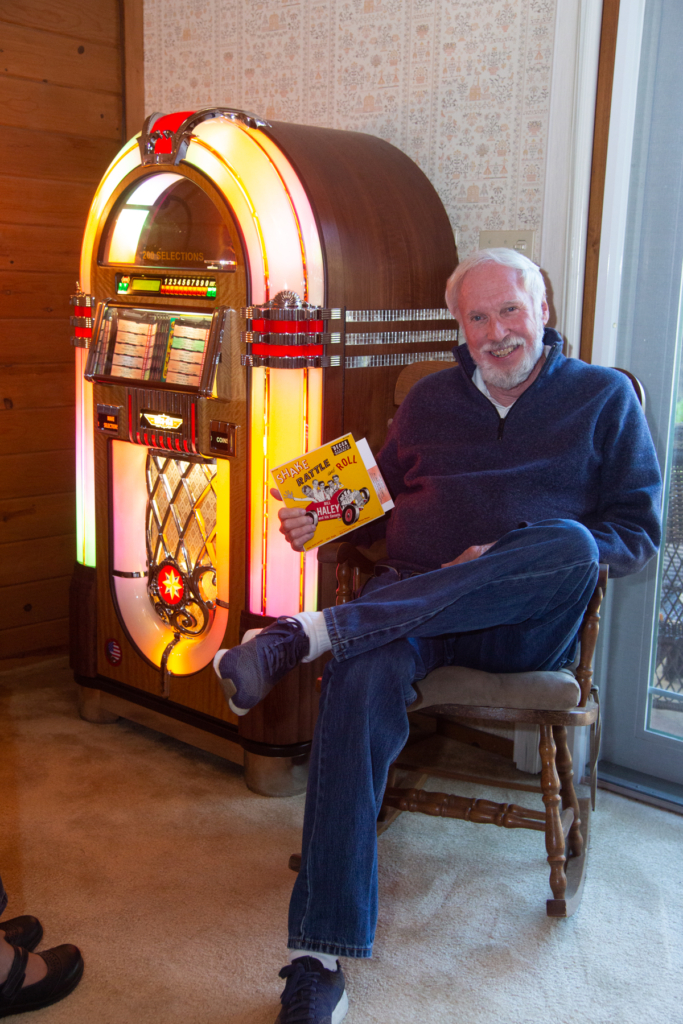 Anthony owns about three hundred '45s—not a vast collection—but what they have in common is that they're meaningful to him, or to friends or family. The format was produced from 1948 to 1991, and jukeboxes were converted from 78s to 45s. Randy Vogel, a longtime friend and Serra colleague, gave Anthony a copy of Bill Haley's "Rock Around the Clock." Anthony owns many of Gene Pitney's hits, including "The Man Who Shot Liberty Valence" and "Only Love Can Break a Heart." The flip side of that one is "If I Didn't Have a Dime," which is about being able to play a jukebox. (No coin is required for Anthony's.)
Among his unusual treasures: "Stand by Me"—sung by boxer Cassius Clay before he became Muhammad Ali. The singing is surprisingly good. The back side is called "I Am the Greatest."  Anthony's collection goes back to the Big Band era of Jimmy Dorsey and up to Barbara Streisand, Simon and Garfunkel, Rod Stewart and Cher.  The jukebox holds 100 records, and Anthony had to create the tabs for each 45, so a listener who punches in "130" gets to hear the Everly Brothers singing "Let It Be Me" and not another selection. He's compiled an extensive color-coded database on his records, with such minutiae as the record label, year of release, and whether a record reached the top 10 or top 40.
Anthony had dreamed of having a jukebox so he could enjoy records he hadn't been able to listen to for decades. Begun in 1927, Rock-Ola is the only company which still manufactures jukeboxes, and on a drive to Southern California last spring, Bruce asked his wife of 45 years if it would be okay if they stopped in at the company's showroom in Torrance.  The LED fluorescent lighting in the jukebox he ended up buying cycles from red to orange to green and purple, and eight handmade glass tubes create a "Bubbler" effect. Anthony was impressed to see how much, from the glass-blowing to sanding and staining the wood, was done by hand.
He'd prepared Teresa for the price—about $9,000—but she had no objection whatsoever to her husband's splurge. "You know because he doesn't spend a lot of money on himself," she says. "It's something he wanted for probably 20 years at least."  The Anthonys had to get rid of a piano to make room for the jukebox, which Bruce concedes is "a little garish." Though it glimmers in the corner, at the press of the remote, the bewitching box can turn into a pumpkin.  When Bruce has his friends over, "My guy friends say, 'Oh my goodness, I wish I had one of those. But my wife would never let me.'" Well," Bruce adds, "it helps to have a good wife."  Could that be a song title?