By Dan Brown
There's a heavy mist on this gray Saturday afternoon atop the wooded terrain of Kings Mountain, where the fresh coat of moisture will again prevent the persistent mud from drying. But should the soft rain turn into downpour that lasts, say 40 days and 40 nights, the Nielsen family would well-poised to pull off a Noah's Ark imitation and float right out of here.
Two of everything? By the looks of it, they'd be covered with plenty of creatures to spare. There are legions of ducks, turkeys, peacocks, cattle and babydoll Southdown sheep on the premises. There are also six dogs, seven cats and, consequently, a lot fewer mice than there used to be. There's a skittish pony named Tony Macaroni, a rescue lamb named Joey Bean and a honking ball of angry feathers that accounts for the prominent warning sign: "Area patrolled by attack goose."
There are quirky animals, too, such as a family of zebus (domestic cows with Asian origins), dozens of Guinea keets (ground-nesting birds like partridges) and a rhea (a flightless, ostrich-like bird from South America).
Perhaps most exotic and endangered of all, there are two human children who actually love their hours of daily chores.
Adventure Begins at Home
"My kids have lived more adventures in life than sitting in the living room or in their bedroom playing computer games all day,'' said Robin Nielsen, the one-liner slinging matriarch of this eclectic animal farm.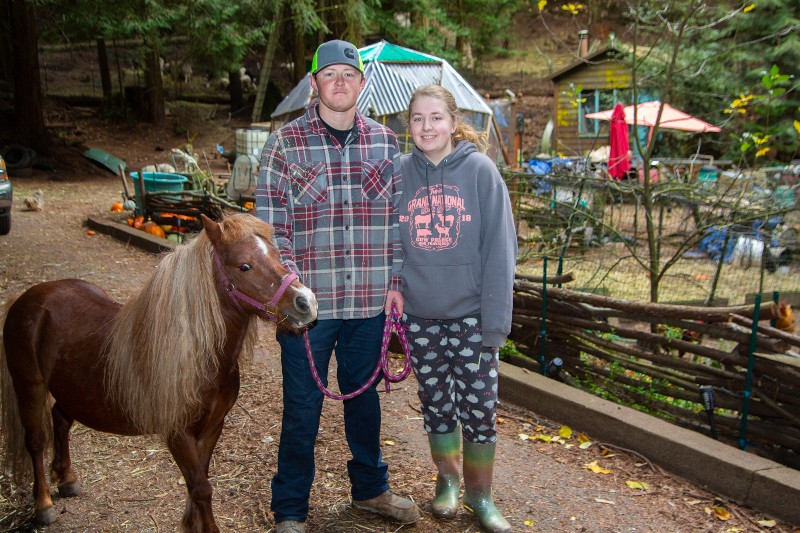 Welcome to the Forest Meadow Ranch, a 14-acre haven located in unincorporated San Mateo County (the listed address is Woodside). The sprawling but well-kept farm serves as something of an accidental animal sanctuary. The Nielsen family moved here because they needed ample room for their own menagerie. And as something of a happy accident, they wound up serving as an impromptu rescue operation for animals across the state. Forest Meadow Ranch is where animals come after they've been abused or neglected or sick or unwanted or otherwise discarded.
How they get here is often a mystery because the Nielsens don't advertise (other than a rapidly expanding Instagram account at @forest_meadow_ranch). But the critters keep on coming, including two sets of fowl that were dumped out on the side of Cañada Road by their previous owners.
—
This story appeared in the February edition of Climate Magazine.
—
The ranch doesn't formally function as a charity or nonprofit. Everything here is privately funded by Robin and her husband, Chris. Somehow, though, the word seems to get to the right place. "The animals in distress that need us,'' Robin said, "make it here.''
Before the days of Covid-19, the Nielsens would also take their friendliest animals to children's hospitals and family homeless shelters for the purpose of emotional support.
Bethlehem A.D. Stars
By early January, many of the happy (and noisy) animals on this ranch were essentially out-of-work local actors. They were fresh off their costarring roles in Bethlehem A.D., the popular annual Christmas event in Redwood City, where organizers aim to recreate the village of Bethlehem on the night of the first Christmas. The public can walk through the scenes and, as the website says, "travel 8,000 miles and 2,000 years back in history." Costumed citizens peddle their wares in the marketplace, cook over fires or create pottery. But the biggest attraction for the younger set tends to be the furry cast members, dozens of whom come from Forest Meadow Ranch.
No wonder there's a Noah's Ark vibe here. This is a ranch of biblical proportions.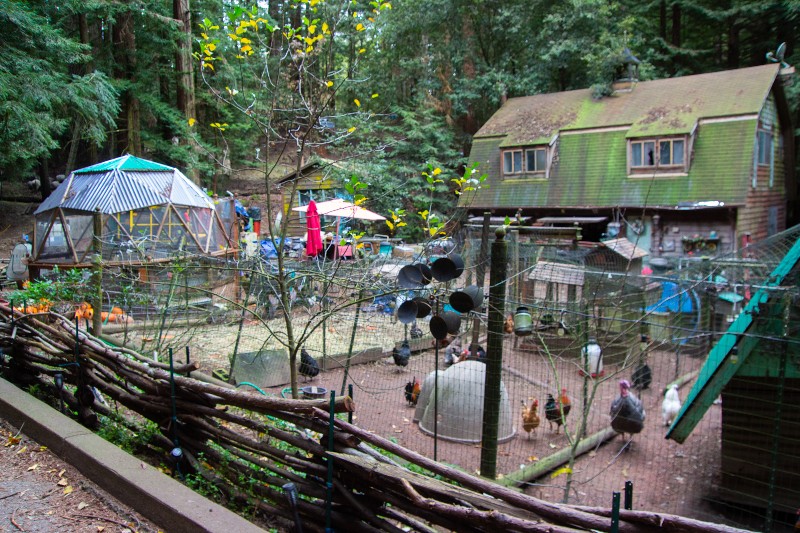 "I think we started doing it even before we moved here,'' Robin said of her Bethlehem A.D. contribution. "Gosh, it's been a long time. We'd bring rabbits and chickens. As we got bigger, we started bringing larger animals. So, that meant our whole herd of sheep. The chickens. All the peacocks went."
Longtime locals might better recognize the family name for Nielsen Automotive, the turn-back-the-clock service station that opened in San Carlos more than 75 years ago. Chris and his brother Jeff co-own the fourth-generation business these days, and it is undoubtedly the only gas station in town at which people sometimes drop off a spare rooster or two. From there, Chris will ferry the birds 35 miles up the road to a new life. "I always told my wife that the sheep are not going to dictate where we live,'' he said, smiling wide, "but apparently they are."
Chris and Robin moved from San Carlos to Forest Meadow Ranch about eight years ago, and their daughter Nicole (now 23) and son Christopher (20) still live on the ranch and embrace a life where every day can feel like a zoo. It's an automotive family by trade, but this endeavor is also a gas. And nothing fills their tanks quite like providing a haven for creatures that deserve a better life.
A Rescued Horse
Tony Macaroni, the nervous horse, for example, was part of a rescue mission that began with somebody else wresting Tony and four mares from a property where the horses were beaten as well as dangerously malnourished. "(Tony) and the mares were skin and bones,'' Robin said. "Nothing left."
The man who rescued the five horses kept the mares, but retaining Tony proved too much to ask. The stallion was wild, tried to bite and was clearly suffering from trust issues when it came to humans. But that formula is right up the Nielsens' alley, so they brought Tony to this remote section of Woodside and gave him a second chance.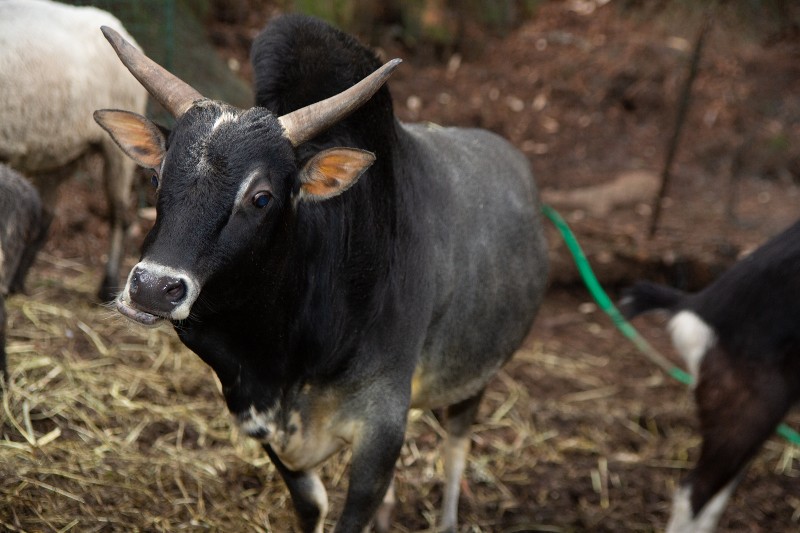 "The stuff that makes it here, we tend to have an emotional connection. It's important that (the animals) feel safe,'' Robin said. "The pony has never been safe. Even where he was at before—the guy fed him and made sure he was not sick. But he wasn't doing anything with him. Tony didn't feel safe. He was just in a field."
Warning Signs
The Nielsens, especially Nicole, are attuned to warning signs regarding the animals available on Craigslist. Nicole will often peruse the for-sale listings with the specific goal of identifying creatures in distress. "If there's a picture of a cow and you can see every rib, you know it's not good,'' Robin said. Nicole specializes in recognizing the telltale signs of even reptiles in trouble. Whenever something's not right, the Nielsens spring to action like Bruce Wayne spotting the Bat Signal.
For example, not long ago the Nielsens spotted a Craigslist ad in which a young woman in Concord was offering two free lambs. Robin recognized the red flags instantly. "I thought, 'Aww, this person's gone and gotten herself into some sort of trouble,''' she said.
Her suspicion only grew after learning that several people had inquired about the lambs only to change their minds after arriving to pick them up. As it turned out, Robin said, "they were catastrophically ill." Both of the animals had "sore mouth'' disease, a highly contagious herpes virus that results in open sores around the mouth and skin. Worse, both sheep had a neurological disease.
But what scared off other parties only made the Nielsens more interested. They took both lambs in and did the best they could to give them a better life, albeit to mixed results. The female died after a few months, but the male survived and is thriving on the ranch now. "He's in great shape,'' Robin said. "We did a lot of therapy work with him."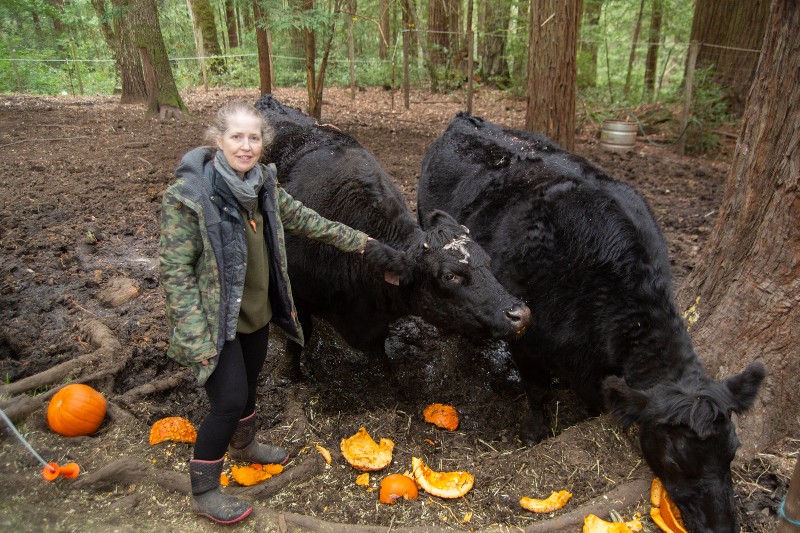 Though knowledgeable about various animal maladies, the Nielsens trust the important stuff to a few local veterinarians who are happy to assist with their cause, among them a specialist who gets a kick out of the unexpected challenges.
"I tend to use an equestrian vet down at Stanford barn, where they treat your half-a-million-dollar polo pony,'' Robin cracked. "They treat our animals just because it's interesting to see something different."
It Started with 4-H
None of this was the plan, even if it's easy to see the path in retrospect. Robin grew up on two-and-half acres in lower Portola Valley, where she was active in 4-H as a child.
Her father was an electrician and always wanted his children to grow up and find a place in the redwoods. That's what happened, even if it took a while. About a decade ago, Chris and Robin were married and living with a handful of backyard animals, when Nicole, too, became an enthusiastic 4-H member. Nicole wanted to raise sheep—but not for meat. After the San Mateo County Fair, she decided she wanted to keep her woolly friends.
But where? The Nielsens dispatched some of their miniature sheep to a friend's property in Redwood City. Later, they arranged for some big cows to stay at another friend's property in Woodside. Predictably, Robin quickly tired of spending three hours a day driving around to feed sheep and cattle, so she and Chris began looking for a proper ranch property.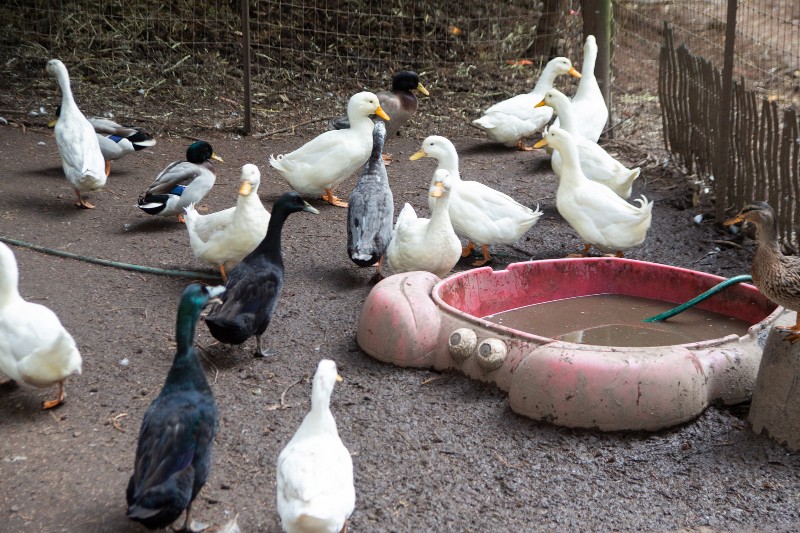 It took three years—and lots of checking on Zillow—but they finally found a winner when a seller decided to break a 54-acre parcel into two parts, one of which the Nielsens could afford. They bought 14 acres; the rest of the lot became publicly owned open space. The animals here stay in well-protected pens, fortified by an electric fence designed to keep the wild fox and mountain lion population at a safe distance from an easy dinner.
While Chris works during the day at the automotive business, Robin's "real" job is teaching general human biology at Cañada College, where most of her students are studying to go into health-care careers. Robin joked that she's been teaching at Cañada for "for the past 9,000 years,'' which certainly explains her qualifications for the Bethlehem A.D. event.
How much does it cost per day to feed the 150 to 200 animals on this sprawling farm? On this question, the creature Robin most resembled was a clam.
"The answer would lead to a divorce,'' she joked. "So, I'm not going to tell you."
To donate to the Nielsens' rescue mission, follow the link in their Instagram bio at @forest_meadow_ranch