Richard Healy had one hell of a run.
For more than five decades, the 69-year-old jazz, rock and blues guitarist performed from Portland, Ore., to Perugia, Italy.  Always a backup musician, he accompanied stars such as Melissa Manchester, Neil Sedaka and John Lee Hooker, among others.  Throughout much of his career, he worked between five and seven nights a week, often squeezing in a wedding on a Saturday afternoon.  He averaged 60 studio sessions a year, playing on local song demos and occasionally traveling to Los Angeles for record company dates with industry giants such as Capitol, Warner, A&M and Motown.
In San Francisco alone, Healy frequently played at legendary venues including Keystone Korner, the Great American Music Hall, the Orphanage and the Fairmont Hotel.  He even provided music for the topless dancers at Carol Doda's Condor Club, though few people may have noticed.
Now, it's almost all gone.  His current band, a seven-member jazz-blues-funk group called the Delta Wires, plays every other Saturday night at The Saloon in San Francisco, and once in a while at another nightspot in Hayward.  He earns his income mainly by giving guitar lessons at Gelb Music in Redwood City.  Still, he owns his home in San Mateo, and considers himself fortunate for a line of work that paid him for what loved to do.
Nevertheless, he says, "Making a living as a musician – that's over with."
Others agree.  "We've seen a steady decline in employment for instrumentalists," says another jazz guitarist, Pascal Bokar, who was forced to close his Savanna Jazz Club in San Carlos in the early months of Covid.  Even with the scourge of the pandemic, which drove many music venues out of business, Bokar believes the main culprit is technology "that has made the trios and quartets who used to play at the hotels obsolete," and has also led to "the complete unraveling of the recording industry as a provider of employment."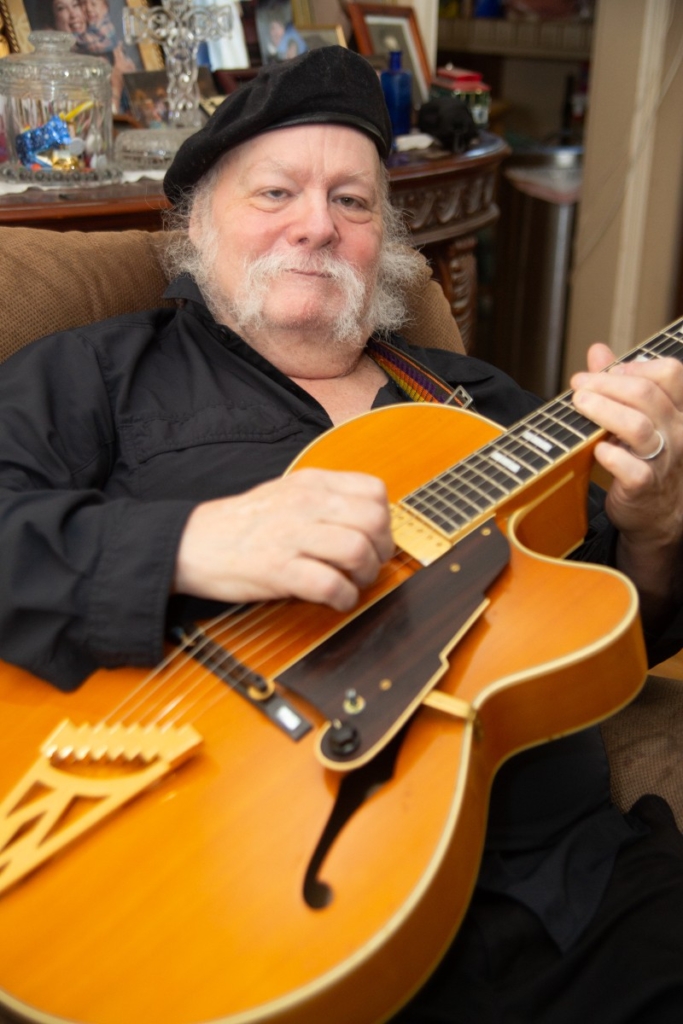 For Bokar, the current Musicians' Enemy Number One is the growing collection of internet-based entertainment-streaming services.  Platforms such as YouTube, Spotify and Apple Music let their audiences customize playlists from myriad genres, ranging from classical to heavy metal to soft jazz.  Listeners can keep their favorite music coming all day and all night – for free, if they're willing to hear commercials.
Streaming to a Trickle
With that, say goodbye to CDs and their potential profits for musicians, versus the tiny royalties many artists receive from the streaming services.
Whereas it's the listening public that consumes music from Spotify and similar providers, businesses such as restaurants and hotels are expected to use licensed versions of the streaming services when they craft a musical ambience for their clientele.  Different styles played through computer-controlled systems can be programmed to evoke contrasting moods in the bar, the dining room and even the restrooms.  And it's cheap; a Spotify affiliate licenses 51 million songs to businesses in the U.S. and Canada, starting at $35 a month.
Goodbye, lounge bands.
For the past four decades, increasingly low-cost electronic music gear has whittled at jobs in the recording business, as well.  Today's synthesizers and software can produce thousands of sounds, from trumpets to violins, oboes to kettledrums.
—
This story appeared in the March edition of Climate Magazine.
—
Thus, goodbye to gigs for song demos and most commercials – once staples for musicians nationwide.  So long, as well, to considerable record-company and film work.
After creating a song on a cellphone, anyone with an internet connection can upload it to a streaming service at no cost.  On one hand, that creates access; musicians from beginners to virtuosos can offer their music to the world without a recording contract or the expense of a self-produced CD.  On the other hand, streaming royalties for independent musicians are potentially a pittance compared with the revenues that a physical recording might return.
Geoff Roach, former CEO of San Jose Jazz and leader of an octet called Octobop, says his periodic statement from Spotify often logs listeners from 50 countries or more.  In addition, posting a single avoids the cost of producing a whole album.  The flip side:  Roach reports that each play brings approximately a tenth of a cent. "Unless you're someone like Taylor Swift or Justin Bieber, it's rare that you can break even," he says.
More Practice Time
Like many musicians during Covid, Roach and his band have gone on a practicing binge, and the group is currently working on its eighth album.  Even so, Roach misses playing live. "The feedback you get from an audience, you can't get anywhere else," he says.  Beyond that, Roach continues, is simply the matchless exhilaration of an unforgettable performance.
"One of the greatest nights of my life was introducing (the late jazz pianist) Dave Brubeck at the Fox Theatre in Redwood City," he says.  That concert, on Sept. 15, 2006, brought roars from a sold-out crowd, which included two 14-year-olds – sons of local jazz musicians – screaming and high-fiving while jumping on their seats.
"What does that besides church, and maybe when the Warriors win?" asks Charley Lochtefeld, owner of Club Fox (pictured at top of this story), around the corner from the larger theater.  Lochtefeld, 60, saw scores of musicians while growing up in the Bay Area.  He recalls counting 32 significant venues in the 1970s – from legendary halls such as Fillmore West and Civic Auditorium in San Francisco to the Circle Star Theater in San Carlos and smaller nightclubs throughout the region.  As a teen, Lochtefeld says, he routinely stayed out listening to music until the early hours.
That was fine with his father, Chuck.  The younger Lochtefeld says his dad, now 90, roamed the San Francisco jazz scene beginning in the 1950s.  North Beach clubs such as the Black Hawk and the Hungry i routinely presented greats such as Brubeck, Barbra Streisand, saxophonists Paul Desmond and Stan Getz, pianists Oscar Peterson and Erroll Garner and vibraphonist Cal Tjader.  Later came the great rock bands, from the Jefferson Airplane and the Grateful Dead to Journey and Green Day.
A Listener Shortfall
But since the late 1990s, Lochtefeld believes, the Bay Area's live-music scene has fallen off dramatically.
"When you look at what we had, and where we are now, and compare it to a place like Austin (Texas), you can't call it a musical mecca anymore," he says.  "What we have is not a talent problem," Lochtefeld continues.  "It's an audience problem.  We have a deficit of educated audiences that are curious and adventurous.  There are plenty of audiences that will go see the Rolling Stones.  But what we don't have is an audience that's craving the actual music of their community."
San Carlos-based Greg Posten, an independent audio and video engineer who helps produce local events, is even more acidic.  He describes the Peninsula as currently "the wasteland of live music." During the past five years, closures and curtailed music calendars have informed Posten's view.  Along with Savanna Jazz, Backyard Coffee – which Posten describes as "a cool, indie-oriented place" – shut down, first in Redwood City and then again, after being sold, in San Carlos.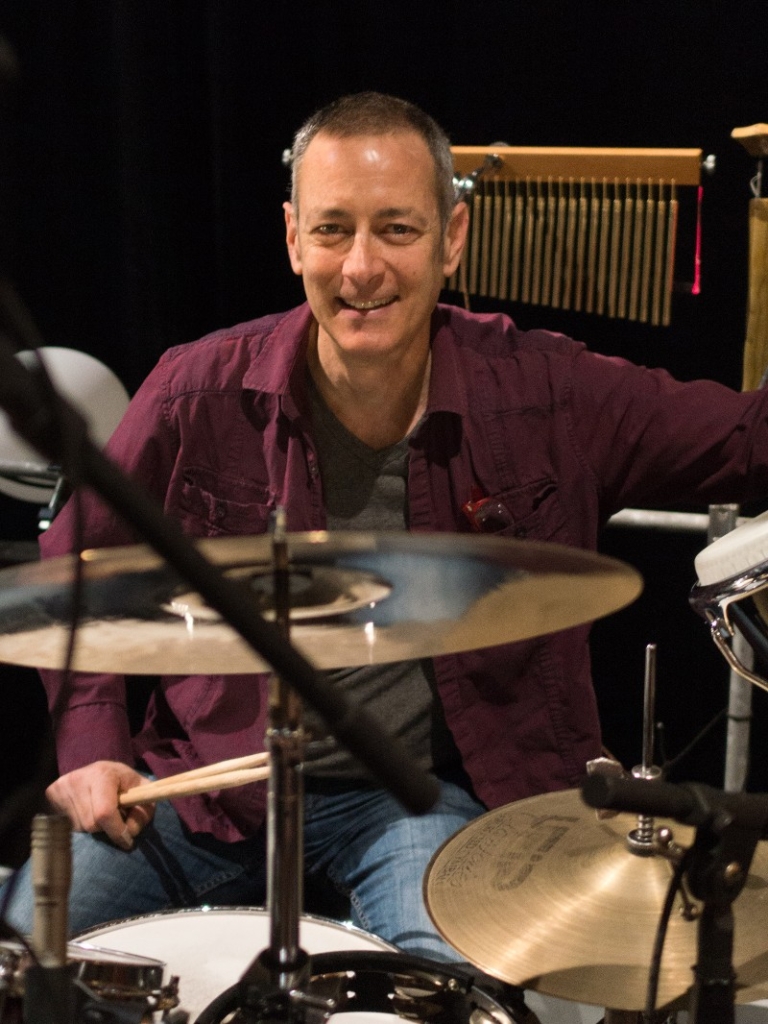 Chantilly, an elegant continental restaurant near Redwood City's border with Atherton, featured quiet dinner music played on a grand piano; the establishment closed in 2017 after 43 years in business.   More recently, in early March, Max's in Burlingame was still presenting acts on Monday nights.  But citing slow business, manager Martín Acosta was unsure how much longer music would accompany the menu.
Denny Berthiaume, one of the Bay Area's elite jazz pianists, played at Chantilly and other local spots for years.  He says two decades ago, he was working "a good three to five nights a week," not only on the Peninsula but also in San Francisco, where he lives.  These days, he plays at a retirement home in Millbrae, and says many other soloists are doing the same.
Similar to Berthiaume, San Carlos drummer Michael Bee played often at Max's and Savanna Jazz.  His group, the Four Corners Jazz Ensemble, still performs at Faith and Spirits, a bar on Laurel Street in San Carlos, although now just twice a month instead of every week.  Bee also reports that restaurant and club owners are sometimes paying only $50 per musician – 1970s rates.
Not All Gloomy
Posten sees "a glimmer of light" emanating from Club Fox and the recently renovated Fox Theatre, along with Menlo Park's Guild Theatre, a once-dilapidated movie house that underwent a reported $35-million upgrade and reopened in February as a concert space. (See page 28 for the story.) Posten is also encouraged by the return of local festivals such as Portola Valley's summer concert series, San Carlos Hometown Days and Rock the Dock at the Port of Redwood City.
That said, musicians and club owners alike observe that patrons have been slow to return even as Covid-19 restrictions have receded.  "There are nowhere near the numbers we had, pre-Covid," says Bee.  "A lot of people are still leery about going out."
At Club Fox, Lochtefeld says his audiences, which before the pandemic filled all or most of the cabaret's 220 seats on weekends, have reached no more than 50 percent of capacity since the venue reopened at the end of January.  He expects full recovery will take two years.
With few club dates available, Berthiaume says many local musicians are benefiting from a resurgence of "jazz parties" in private homes.  Like the Parisian salons that helped support composers such as Chopin, Debussy and Ravel, the events are enabling players to sharpen their chops, get some exposure and earn a bit of money.
Jazz vocalist Teresa Bleux, who performed frequently at Savanna Jazz, has hosted a musicians' party almost monthly since mid-2020 at her home overlooking the San Mateo Lagoon.  Guests drift from the living room to the deck, enjoying the water view as the jazz flows and kayakers paddle by.  Asked about her reasons, Bleux replies, "What are you going to do?  There are almost no jazz clubs anymore."
Boomer Bedtimes
That has to do not just with Covid and music technology, but also an inescapable fact:  The baby boomers who have long formed the principal market for live music are hitting their 60s and 70s.   They don't venture out as much as they once did.  Bleux and Posten agree that younger fans who like to go clubbing are more into electronic dance music than jazz or even live rock.
Bokar, who holds a doctorate in education and teaches at both the University of San Francisco and City College of San Francisco, isn't pleased.  A self-described traditionalist, he complains, "In 50 years of popular music, we have gone from Duke Ellington to Snoop Dogg.  That is not a gain – even though Snoop Dogg is legitimate."
Inevitably, though, tastes change.  New venues emerge.  And as local places get going again, musicians are gradually – and gratefully – waking from an enforced hibernation.
Dana Bauer of South San Francisco plays five woodwind instruments professionally, mainly in pit orchestras around the Bay Area.  After a 16-month layoff, she performed again last summer for a production of "You're a Good Man, Charlie Brown" at Foothill College in Los Altos Hills, followed by a two-week run of "My Fair Lady" in November at the Orpheum Theatre in San Francisco.
"Every note was sheer heaven," Bauer says.  Her husband, drummer Russ Gold, adds that the long hiatus sparked a new appreciation for what he calls the privilege of being a musician. "It made me double down on my promise of being a professional and a high-level player," he says.  "I take every gig much more seriously now."
San Carlos percussionist Chris Anthony was luckier than most musicians during the pandemic.  A graduate of the Oberlin Conservatory and a music teacher for 22 years, he saw his number of students rise as kids got bored and even their parents tried an instrument.
So, finally, the unavoidable question arises.  Whether for performers, teachers or fans, can live music survive – even thrive – on the Peninsula?  Lochtefeld, who calls himself both optimistic and stubborn, says he would have quit by now if he didn't think so.  Posten adds, "I'm crossing my fingers."
He might want to point them into the wind.  Posten's son, a gifted guitar player in his sophomore year at the renowned Berklee College of Music in Boston, Mass., has decided against concentrating on performance.  Instead, 19-year-old Reese Posten is majoring in the business of music.
After all, the kid has to eat.