As a destination, North Fair Oaks is hard to locate, even for residents. Some addresses are "Menlo Park." Some "Redwood City." It's neither. As an unincorporated area it's actually "San Mateo County." With a population larger than some San Mateo County cities, it has no city administration. It is notable and noteworthy because, for a community without an origin story, the largest proportion of North Fair Oaks residents share the semi-tragic history of Mexican immigrants first invited to this country, then shunned.
North Fair Oaks, population about 15,000, is a roughly rectangular area south of Woodside Road bounded by Bay Road on the east, El Camino Real on the west and Atherton town limits on the south. It omits Woodside Central shopping center's anchor Target store, and Costco, both of which belong to Redwood City.
Atherton, under color of protecting minimum one-acre residential lot sizes, specifically excluded the area when it incorporated in 1923. Menlo Park, drawing up incorporation papers four years later, surveyed North Fair Oaks, a swampy area subject to frequent floods, bisected by two railroads and lacking any tax base, and also passed.
North Fair Oaks, often referred to as NFO, has never been incorporated as a city with its own government, nor has it been annexed to any of the neighboring cities. This makes it the responsibility of the County of San Mateo and the five members of the Board of Supervisors. Lack of city government services also has fostered and exacerbated the contrasts between NFO and the cities that surround it, contrasts in affluence, infrastructure, public services, ethnicity and commerce.
—
This story appeared in the May edition of Climate Magazine.
—
Of all the factors that helped make it what it is, the official U.S. guest worker policy of the 1940s, 50s and 60s, the Bracero program, was the most influential. Faced with a shortage of workers after World War II, the U.S. and Mexico negotiated agreements to bring Mexican braceros, translated as "arms," to America, primarily to do farm work at 30 cents an hour.
Signed federal contracts entitled braceros to work passes issued by the federal Department of Justice. Employers paid the wages, but were not part of the contract.
The Texas Resolution
Controversy arose over Mexican workers who entered the country illegally and worked alongside braceros. To resolve it, ironically it was the state of Texas, which today is at the forefront of anti-immigrant activism, that passed a law allowing employers to employ both legal and illegal immigrants, the labor shortage being as bad as it was and a 30-cent-per-hour wage being so attractive to employers. Since most braceros entered through Texas, it became de facto policy and thousands of undocumented workers were allowed to pass.
Before it ended, the program brought more than 4 million Mexicans as contract labor. As the U.S. Library of Congress archives characterizes it, "the program resulted in an influx of undocumented and documented laborers (and) 22 years of cheap labor from Mexico."
"Cheap labor" was a post-war blessing, and a curse. It saved the American economy. But it created a massive, complicated immigration problem, of which North Fair Oaks is the exemplar. For three-quarters of a century NFO has thrived, in its own way, because of Mexican immigration. And it has suffered by the unique challenges of the complicated aftermath of official and unofficial immigration, challenges as live today as they were when the Bracero program ended in 1964.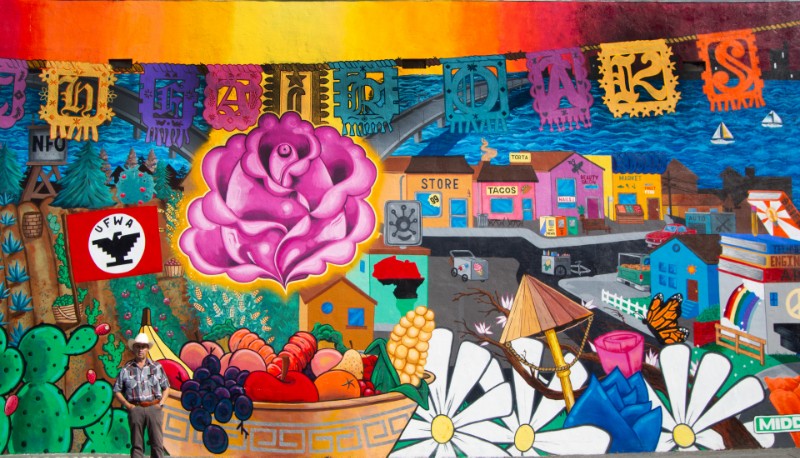 In the early 1950s Amador Bustos, Sr., joined the worker flow, leaving his wife and children back in Aguililla, Michoacan state, eight months a year while he worked the vegetable fields of Salinas, following the crops to Mountain View's pear orchards, tomato and onion fields. He found permanent work serving patients' meals at Stanford Hospital by day and washing dishes at the Pioneer Hotel in Woodside by night.
He was undocumented and subject to periodic border patrol deportation roundups; at least twice he was sent back to Mexico, only to return, violations from which the U.S. government ultimately excused him.
After nearly a decade of this, his wife told him to choose between a divorce in Aguililla and a family in America. Having come to the U.S. for opportunity not available in Aguililla — a theme repeated millions of times by multi-millions of documented and undocumented Mexican and Central American immigrants up to the present — he obtained sponsorship from his brother, Abel; and Bustos began the family move to North Fair Oaks, a move that required his wife and children to move to Mexico City to pursue visas. The process took four years.
Following Family Members
Why North Fair Oaks? The community already was the center of Aguilillan immigration, where fathers brought their families, family members brought siblings, cousins and friends, to work for wages very high by Aguilillan scale, but cheap by American. At one point it was said that Aguillians in North Fair Oaks outnumbered the 5,000 back in Aguililla.
Women, too, found steady, low-paying, work in NFO, a rarity in Mexico. At the northwest end of Middlefield Road, today the site of the Costco store, walking distance from anywhere in NFO, was located the S&W Foods vegetable cannery, which ran shifts of 300 workers, the majority of them women.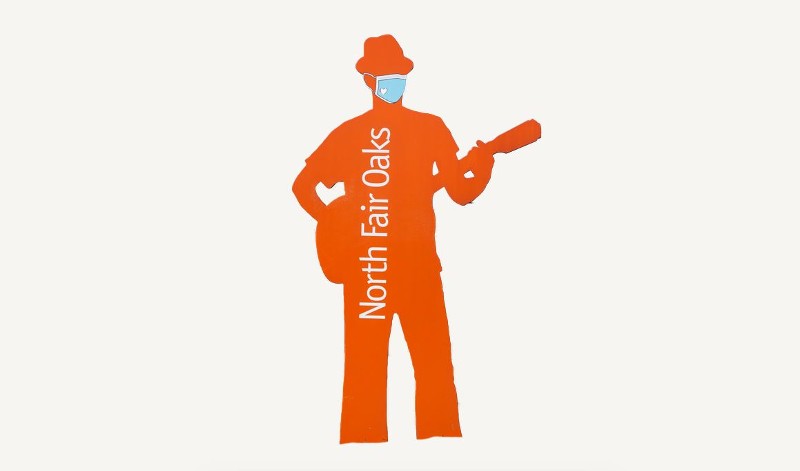 There was more work next door, in the estates of Atherton, for household workers, nannies, gardeners and laborers, as there had been since the 1920s. To that immigrant population, the location was ideal.
Amador Bustos, Jr. was a teenager when he came up with his mother and siblings to join his father in NFO.
A Central Church
"It's a compact little town," he said. "It has not changed much. There's a big church" — St. Anthony's — "in the middle of town, which is typical because religion was central … It was cobblestone streets, red-tiled roofs made of adobe  …granted there were no sidewalks and it got a little muddy, but so what?"
Periodic deportation sweeps by border patrol agents spoiled the idyll. Every few years agents showed up at homes, schools, restaurants and construction sites to round up dozens of immigrants at a time, another legacy of the Bracero program. Beginning in the mid-60s, periodic immigration raids swept across the country, deporting workers who overstayed the end of the program — between 4.6 and 5 million were sent back to Mexico.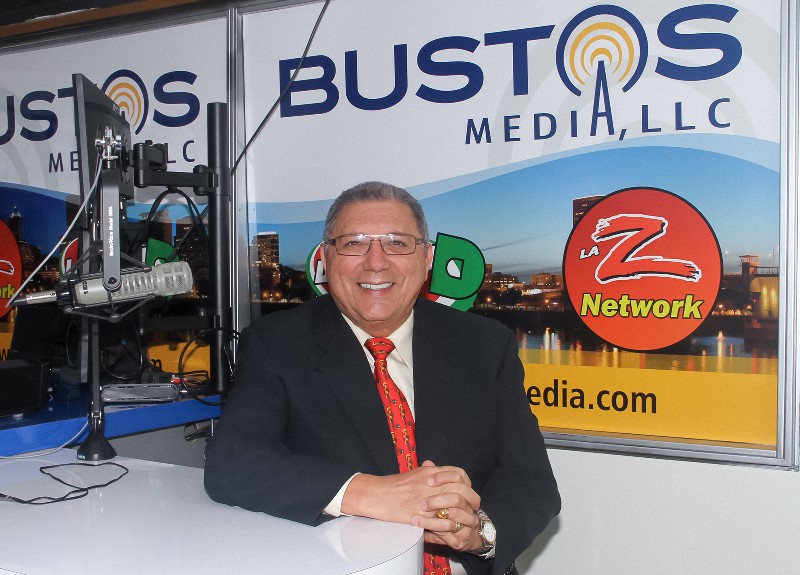 Border control agencies, most recently Immigration and Customs Enforcement, adapted tactics over the years, but the fear of deportation never abates in North Fair Oaks. Raids have occurred there periodically, every seven or eight years, in the past with active participation of the San Mateo County Sheriff's Office, the agency with police responsibility in NFO. Mass deportations happened as recently as 2008, when sweeps plucked off the streets seven NFO residents from five families.
With prodding from the community and the elected board of supervisors the county has halted its participation in this arrangement, but it was only six months ago that Sheriff Carlos Bolanos stopped referring inmates in jail for other offenses to Immigration and Customs Enforcement for deportation.
Living in Limbo
Immigration patterns in NFO have created a situation where those here legally commonly are related to those waiting for years to be legally processed, or who have not applied, cannot, or do not intend to apply for legal status: the undocumented.
One deportation always magnifies its impact, disrupting families, plunging them into poverty, putting them in a financial hole from which they may never emerge, because beyond loss of income, the disappearance of a breadwinner means new legal expenses.
Popular biases about deportees — they're all criminals who deserve no fair treatment because they are of no social benefit — rarely fit with the truth.
Maria Diaz-Slocum, a trustee of the Redwood City School District and spouse of San Mateo County Supervisor Warren Slocum, is case in point. Her mother was taken out of their Redwood City home when she was a child, leaving her and her five siblings to fend for themselves alone until her father returned.
Hers is a tale of the Horatio Alger spirit — perseverance, integrity and hard work — easily found in NFO. She got a college education at Menlo College, has worked as librarian at North Fair Oaks' public library for 35 years and continues to serve the local schools after two decades as a school board trustee.
Amador Bustos, Jr. is another. He attended Cañada College after Sequoia High, and then UC Berkeley. Proposition 13 property tax limitations passed while he worked on his doctoral dissertation in ethnic studies. Judging that public education would be a bad career choice at that moment, he left the teaching track to take a job in radio in San Francisco. In 1990 he bought his first radio station, then built the company into a $470 million asset acquired by Entravision. With the proceeds he established Bustos Media, which today operates 25 radio stations in Oregon, Washington, California, Arizona and Texas.
He validates the truth of the "immigrant spirit," the spirit of striving, succeeding in a new environment. "The immigrant work ethic comes from such struggles for survival," he said. "It seizes the opportunity, the time and the moment and makes the best of it."
Mutual Benefit
He does not condemn the disparity in wealth between NFO and places like Atherton. "It's a symbiotic relationship," he said. "You could say it's exploitation, but in some cases it's not. They need that labor. The workers may be underpaid by American standards, but for these people it's much more than it was before. That's when they start to climb the ladder."
There's Aguilillan Rosendo Chavéz, who went from 16-hour days washing dishes to owner of a meat market. The fruits of his labors are the three markets of the Chavéz Supermarkets chain.
These are successes, but success is defined "in spite of," and the dark cloud that always hovers at the edges of NFO, always threatening to blot the sun and cast a shadow, is deportation.
That fear is a major obstacle to establishing an organized, self-governing North Fair Oaks.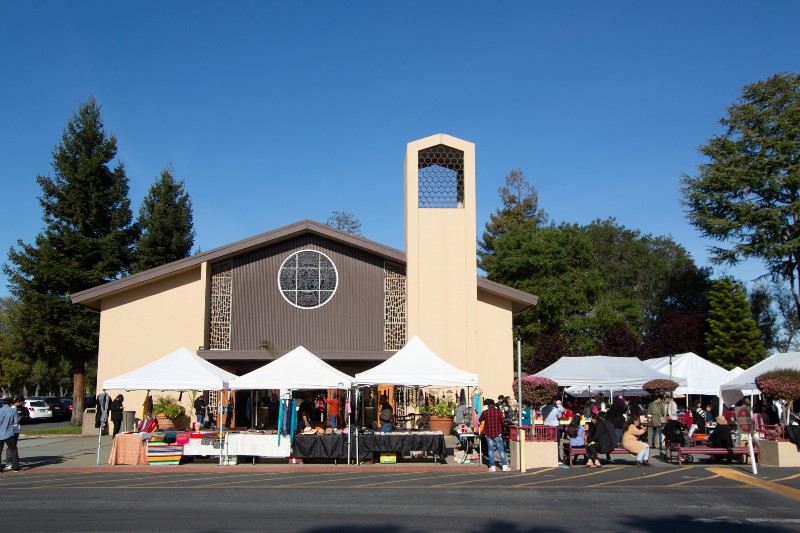 The last thing anyone fearing deportation, whether of themselves, a family member, a friend or a co-worker, seeks is attention.
The historical record contains no legitimate or even seriously-proposed idea of North Fair Oaks either becoming a city or getting city services by annexing.
The reticence of the residents is one reason. Annexation requires voting, and the voting history of renters of any economic status is problematic — more than half its residential properties are rentals. A quarter of the population does not speak English.
The poor state of its public works, its infrastructure, is the big impediment. Along with the cost of the annexation process itself, the annexing city would have to shoulder the burden of generations of neglect of storm drains, sewers, streets, sidewalks, lighting and public facilities.
The county's Local Agency Formation Commission has designated Redwood City as North Fair Oaks' annexing city, should it ever occur, but Redwood City has never undertaken the task and shows little sign that it will.
City and County Initiatives
In partnership with San Mateo County, however, the city has channeled millions in funds and programs to the neighborhood, where it locates a branch of the city library and staffs the North Fair Oaks Community Center. Redwood City, like the county, also supports St. Francis Center's low- to extremely-low income housing programs and its Siena Center youth center.
It's not cityhood, but it helps.
It's another obstacle, as Supervisor Slocum points out, that despite the impression North Fair Oaks is a homogeneous bloc of Latinos, "it is really not."
Down Middlefield toward Atherton and Menlo Park are "the avenues," tree-lined streets of single-family homes and a growing number of scrapers and mansions, all contributing to the dismay of long-time residents. In the central area are predominantly Latino families living in multi-unit dwellings as well as single-family homes on small lots.
Then there is the Middlefield commercial strip, a dizzying mix of commercial businesses, body shops, personal services, nonprofits and social welfare organizations. There is diversity there, Slocum said, but also "there is tension."
Inevitably, the area is changing. Largely due to Slocum's initiatives as the supervisor with responsibility for the district, the county is cleaning up and reconfiguring Middlefield Road, undergrounding utilities and fixing storm drainage and the Bayfront Canal.
But North Fair Oaks still faces a future as just NFO. It needs civic services to improve — some would say gentrify —but it appears it will have to gentrify itself first, a tall order for a place founded by exclusion and surviving as the source of cheap labor.
Sidebar
What's in the North Fair Oaks Name?
Go back far enough and the county's wealthiest enclave, Atherton, and its most disadvantaged, North Fair Oaks, share a seafaring heritage, both branches of a family tree rooted in the South American port of Valparaiso, Chile.
Both Faxon Atherton, after whom Atherton is named, and Commodore James Thomas Watkins, the man responsible for the name "Fair Oaks," were acquaintances in Valparaiso before the 1849 Gold Rush, Atherton as a prominent merchant and provisioner of goods from the east that were traded by sailing ships, and Watkins, then a sea captain, helming ships that Atherton provisioned.
Atherton's connection to Chile was deep: He named the 611 acres he bought mid-Peninsula after retiring to San Francisco "Valparaiso Park," a name that survives as Valparaiso Avenue.
He built the family summer home at what now is the Menlo Circus Club in 1860. Six years later he sold 20 acres to Commodore Watkins. Watkins dubbed his rancho "Fair Oaks."
The new Southern Pacific Railroad ran along the northeast edge of Watkins' property and a flag stop station developed there where the mail dropped and a passenger could flag a train to board. Locals called it the Fair Oaks Station.
For 50 years the area developed slowly into second homes for wealthy "summer people" from San Francisco, like San Francisco Mayor Thomas Selby of the Selby Smelting Co., Comstock silver king James Flood, the Fleishhackers, the Coryells, the Lloydens and more.
The Quake Migration
The 1906 earthquake and fire changed everything. Along the railroad land speculators carved out small subdivisions and hawked $5 and $25 lots to earthquake refugees.
Between 1906 and 1919 "Fair Oaks" disappeared as a community name and "North Fair Oaks" appeared. Watkins' Fair Oaks flag stop had gotten busy enough to cause confusion with the existing Fair Oaks station near Sacramento. The railroad ordered a name change and locals honored the founder by officially christening the Atherton station.
According to area pioneer Thomas Jennings, in the same period an enterprising real estate salesman set up his own train station on property abutting the railroad and named the station "North Fair Oaks."
The station did not survive, but the name did. By 1919 North Fair Oaks was recorded as a place, as it appeared on a subdivision of 27 lots at Marsh and Middlefield filed by Edward Fitzpatrick.
The household workers, cooks, maids, nannies, gardeners, vegetable farmers and laborers who tended the Atherton estates lived in North Fair Oaks and went to Menlo Park for mail, food and services. It was a beneficial arrangement for Atherton, which got cheap labor, and Menlo Park, which got the business, but detrimental for North Fair Oaks, which benefited from neither and consequently suffered many decades of government neglect.
Over a century the dichotomy has persisted and been amplified, the community by turns receiving official support and rejection depending on the vagaries of county budgets and occasionally the personal whims or competing obligations of the San Mateo County Board of Supervisors.
Confusion about what, and where, is North Fair Oaks is geographical. Parts of Middlefield Road  south of Woodside Road are in Redwood City, then North Fair Oaks, then Atherton. Parts of Marsh Road are in North Fair Oaks, then in Menlo Park and back again. One side of El Camino Real is North Fair Oaks, the other side Atherton. The only North Fair Oaks-oriented shopping center is in Redwood City.
However, it can be figured out. It only takes crossing the lines to know.