For three Sundays every month, Carmen Blair doesn't have to worry about who's minding the Woodside Store. Three reliable volunteers show up to open the rustic museum site for their docent shifts and close up after the last visitors leave. But for that fourth Sunday? Blair, who is the San Mateo County Historical Association's deputy director, doesn't have another regular volunteer to plug into that vacant date, which means she has to deploy paid staff.
"I can do that," she says, but the volunteers bring their own interest and knowledge of local history, enthusiasm—and even friends to visit. "So it's just not the same. My staff is wonderful but it brings a new dimension to have the volunteers interpreting the site one day a week as well."The association operates the history museum in downtown Redwood City plus two sites—the Gold Rush-era Woodside Store at 3300 Tripp Road; and the Sanchez Adobe in Pacifica, the county's second oldest building, dating from 1786. (An adobe on private property is older.) Association employees cover most of the hours on weekdays and weekends when the three locations are open. By volunteering, the docents and "gallery monitors" who take other weekend slots or help at big events expand the museum's staffing capabilities.
—
This story appeared in the June edition of Climate Magazine.
—
Coming off of two years of Covid and prolonged closures of all three locations, the association needs to rebuild the ranks of both docents and the gallery monitors (the monitors don't lead tours but can help direct visitors between galleries or toward interactive exhibits).
Some of the docents at the history museum conduct adult tours, but others help with visits of school children, from grades 1 to 4. Pre-pandemic, Blair says, she could call on 12 to 14 gallery monitors on a big event day, plus five docents leading tours. "Currently, our gallery numbers are much smaller," Blair says.  She only has one volunteer docent for the museum tours.
Why A Shortage
Some volunteers are still uncomfortable being around crowds, even wearing masks. Some, says Blair, are now taking care of grandchildren. Some have moved from the area, and others are dealing with illness. Docents are often seniors or retirees, who are also two years older than when the pandemic arrived.
Sanchez Adobe is open weekdays but uses volunteers both Saturdays and Sundays. The historic site has an interpretive center in addition to the two-story adobe, so twice as many people are needed, says Blair, who picked up some new volunteers after an orientation in October.  More are needed, but the shortfall is especially acute at the Woodside Store, where three retirees are largely holding the fort. A couple of others fill in when they are able to or help at special events, according to Blair.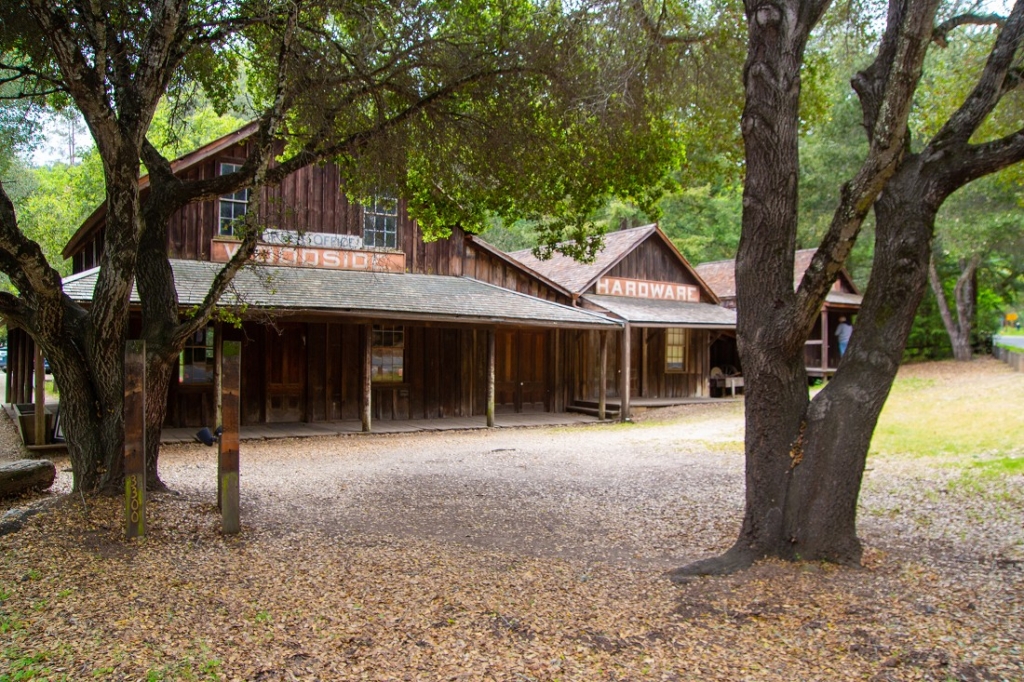 Jim Kelly of San Mateo and Jim Wagner of Foster City have been volunteering there for decades. Each takes one shift a month (noon to 4 p.m.), and when there's a fifth Sunday, they split it.  Kathy Klebe of Redwood City, who is also president of the Historic Union Cemetery Association, covers another Sunday. All three enjoy serving as docents—greeting visitors and explaining about the store's history—and wish more people would join them.
"When we first started here it was not uncommon for us to have maybe three docents on a weekend," says Wagner, " which was great because if one of them went on vacation, then you'd still have at least two. Then it got down to two docents per weekend. Now it's down to one for a weekend."
A solo volunteer can't leave the general store unattended to open up the blacksmith shop, which gives visitors less to see, Kelly adds.
Reasons for Volunteering
Formerly a water department supervisor for the City of Burlingame, his entrée to volunteering came when his research about a San Francisco ancestor brought him to the history museum. "So here I am 30 odd years later," Kelly says. He finds being a docent a pleasant way to volunteer. "People don't come in here if they're in a bad mood."
Wagner wanted a change after a career at Lockheed Martin "staring at a computer screen all day" and was looking for something "where there was absolutely no tech involved."  (Though the Woodside Store has wi-fi, he abstains while on museum duty.)
The store dates from 1854 (the original, built in 1851, burned down) and sold everything from construction supplies to food. It also served at various times as a post office, bank, saloon and the dental office of one of its partners, R.O. "Doc" Tripp. All of that has been recreated within the redwood emporium, which includes a mercantile room where loggers and other settlers could buy lanterns, coffee pots, tobacco, a pound of beans for five cents, a dozen eggs for six cents or an axe handle for $5.
A third room displays sawmill blades, a yoke for a team of oxen and other equipment from the lumber trade. Another room is set up as a classroom for school visits, when kids may get a chance to learn how their ancestors made rope, dolls or lugged water to wash clothes.
During their training, would-be docents read about the history of the museum or site but also get pointers on how to interact with visitors. Some, like Garbo, just vant to be alone when they power through, and the volunteers are taught to pick up on body language and other cues as to who does or does not want to engage.
Kelly says international visitors often hang out longer than local people: With its rough, sawn siding and creaking wooden floor, the old store brings to life foreigners' ideas about the Old West from the movies. Docents are also taught to be honest if they don't know an answer. There's a reference binder—and a lifeline to Blair if a question is a real stumper.
Living History
In addition to volunteering at the store, Klebe also leads tours at Redwood City's Union Cemetery, where some of the pioneers who bought potatoes or whisky at the Woodside Store are buried. The more she's learned about the cemetery, the more she realizes that their histories are entwined. "I get them at the cemetery at the end of their lives, and here they were—working people," she says, leaning on a counter in the store."… They were in this building. So to me it's like living history."
From about 10 to 30 visitors drop in on a typical Sunday, and the most common reaction, says Klebe, is "We've driven by this for years and have never been here." Once, as she swept the wooden porch, she noticed three teen-aged boys on the street watching her and invited them in.  Though reluctant at first, Klebe says, "They left 3½ hours later."
Docents and gallery monitors alike are asked to commit to one shift a month, and as volunteering goes, it could be ideal for a couple, especially people who enjoy history. Or kids. Or both. "Former teachers are a good source," Blair says. "We've had grandparents who are just very enthusiastic about conveying their own love of history."
Help is needed for big special events like the Fourth of July and Victorian Days, on Aug. 21. Blair is targeting this month for the next orientation; trainees get "shadowed" by a veteran docent before they're out on their own.  For information, go to historysmc.org.
Writer Laurence Marks contributed to this story.