It's Critical Mass without a political statement — but with fireworks and, sometimes, fists. It's groups of flashy but sometimes irresponsible kids on bikes — though not "outlaw bikers." It's yet another manifestation of teenagers with pent-up energy being cooped up too long because of the pandemic. And it's spun out of control into the heart of Redwood City, where struggling businesses and an understaffed police department are trying to work with it.
When the downtown area was redeveloped some two decades ago with Courthouse Square as its showplace "living room," Redwood City found itself the Peninsula's new place to go. It attracted throngs to concerts, festivals, movies and live theater, or to enjoy the blossoming restaurant scene. Even pre-Covid, kids were coming there to hang out, too.
—
—
But when pandemic-related restrictions turned downtown into a ghost town, observers say, young people began to fill a vacuum that turned out to be ideal for bike-riding, including wheelies and awesome tricks.  But a benign activity has taken an ominous turn in recent months. Police and business people report vandalism and other criminal activity, from fighting to setting off commercial-grade fireworks.
Police Chief Dan Mulholland says the problem got worse in April and May, but adds that the situation has improved as a result of both enforcement and outreach through community groups, schools and parents. "We want to have a positive relationship with our kids," he says.  Still, he cautions, "We can't have disruptive behavior."
Unruly Conduct
Regina Van Brunt, executive director of the Redwood City Downtown Business Group, has watched in dismay as benches, tables and chairs — things that can be thrown — have been removed from Theatre Way and Courthouse Square. She says she knows people who have become afraid to come downtown for fear of being intimidated by roving bicyclists who ride up alongside drivers or perform bike stunts in the street and on the Square with no apparent concern for who's in the way.
"They want Courthouse Square," Van Brunt asserts. "They want to be able to be there all the time. They're out to make a reputation for themselves." The situation has gone on "way too long," she adds, "but now it's become vicious and violent."
Looking back on the city's investment in a revitalized downtown and the challenges businesses have weathered to stay open, Van Brunt says, "We're just shocked that this has happened." She says groups of 30 to 40 cyclists typically show up in the mornings and leave a little after 9 p.m., possibly because they have curfews at home.
Perhaps the most serious incident happened on May 20, when, police say, 150 to 200 youths crowded into Courthouse Square. Some began igniting fireworks and blocking sidewalks and streets. When the police asked the bike-riders to disperse, items were thrown at them. Two suspects were arrested, and two officers were assaulted. The noise was so loud that Fox Theatre manager Ernie Schmidt asked the 700 patrons who were attending a talk by 2014 Nobel Peace Prize laureate Malala Yousafzai to stay inside until the situation de-escalated.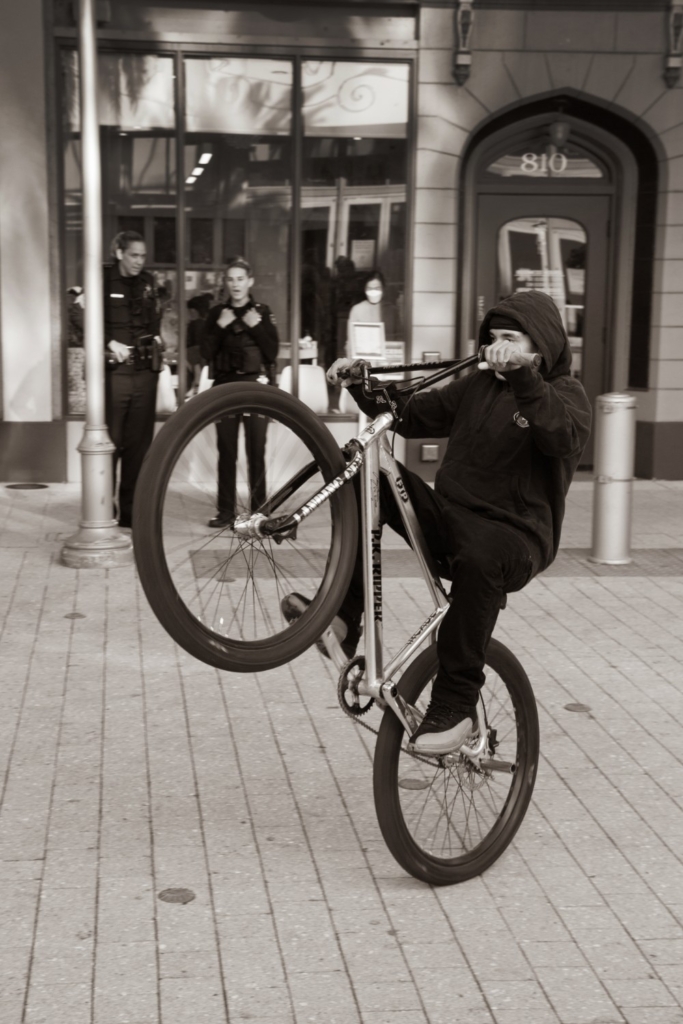 Across the street from the theater, frightened history-museum staff were told to leave by a side door, according to Mitch Postel, president of the San Mateo County Historical Association. "We've had homeless people sleeping on Courthouse Square," Postel says. "But this is the first time that staff has actually felt threatened." The building was hit with graffiti, which was later removed.
About 40 business owners and others attended a Downtown Business Group-sponsored meeting June 8 with city representatives to air their frustrations and ask for help. The city has a two-pronged approach that involves engagement with the kids, as well as enforcement. Since then, some business representatives have seen improvement, but wonder how long the police department, which is down nine budgeted positions pre-pandemic, can sustain the more proactive presence.
One business owner, who asked not to be identified, thinks it's too early to tell how effective the response will be.  The bicyclists, some wearing masks and hoods, seem to treat the police response as a cat-and-mouse game, he says. People committing crimes are difficult to identify, and with so many avenues of escape, the cyclists can scatter and then return after the police have moved on.
Re-Funding the Police
The city, which is dealing with revenue shortfalls and unexpected Covid-related expenses, is trying to rebuild police staffing to pre-pandemic levels. City Manager Melissa Stevenson Diaz in June proposed amending the 2022-23 budget to restore five of the nine vacant officer positions, four of them possibly next year. (One officer position comes in at $277,693, all benefits included. A public hearing and adoption of the budget were set for June 27, after Climate's press time.)
Schmidt was among several who spoke at a June 13 city-council meeting, urging that all nine slots be filled.
"You have an excess of 12 officers following the kids all night until (the youths) just give up and go home," Schmidt told the council. "But we all know that this is expensive. And, more important, we have officers being called in from their days off.  Mandatory overtime is being required of police officers.  These officers are working 16-hour workdays."
Council member Diane Howard, who was in the Fox Theatre the night of the uproar downtown, responded that she supports "providing our police with the manpower and equipment to keep our streets safe. It's got to be a top priority for us. I understand there's a substantial cost in hiring more officers, but not doing so will cost us more."
Howard also attended the business group's meeting, along with Mulholland and two members of the city manager's team. Assistant City Manager Alex Khojikian outlined efforts to bring in parents, schools and nonprofits such as the Redwood City Police Activities League and Redwood City Together to connect with the kids. The objective, he said, is to create constructive alternatives and programs as an incentive, so long as the negative behavior subsides.
"Rather than rely solely on traditional methods of apprehension and detainment," Mulholland said in a news release, "the Redwood City Police Department trusts that relationship-building to foster a collaborative approach is more effective for addressing this immediate concern."
Kids Lacking Alternatives
To state the obvious: It's summer, school's out and, almost inevitably, kids get bored. In a way, the situation in downtown Redwood City is reminiscent of the classic 1950s movie, "The Wild One," in which Marlon Brando portrays a member of a motorcycle gang that takes over a California town. Asked what he's rebelling against, he responds, "Whaddya got?"
Ivan Martinez, who grew up in Redwood City and is executive director of the Police Activities League, has met with some of the kids over burgers and fries to find out who they are, why they congregate downtown and how they, the city and local business people can build trust and partnerships. The kids told him they don't have a park where they can ride bikes. The only arcade is in the movie theater, and they say it's too expensive. Other entertainment options in the city have disappeared; the Redwood Roller Rink, Malibu Grand Prix, Mel's Bowl and a downtown pool hall have all closed.
Martinez thinks most of the 200-plus bicyclists, who range from middle-school age to their early twenties, live in Redwood City and North Fair Oaks. They are not gang members, he says. Some who arrive via Caltrain from as far as Mountain View and San Jose lived locally pre-pandemic, and want to hang out with their old friends.
"It's all about a sense of belonging," Martinez says. "They want to be kids. They want to have fun. They want to ride bikes." Being able to execute difficult maneuvers on Courthouse Square gives them visibility. Martinez adds, "They want people to see them. … A lot of these kids are so skilled. It's amazing to see what they do with their bikes."
Wheeling Wonders
That fancy technique is on display in a video posted on social media of young cyclists cruising San Mateo County streets in groups — riding only on the rear tire, balancing one foot on the handlebars or switching feet between the pedals and the rear-gear hardware. But other scenes in the video are alarming.  They show riders crossing the double yellow line into oncoming traffic, seemingly oblivious to the danger to themselves — or to the terror of drivers seeing a kid on a bike coming head-on.
Martinez has been meeting with some of the young people and has identified a few leaders. If they are willing to "help us take care of our community," he says, perhaps a bike event or festival could be organized. "We want to let them know that we're here and we're treating this as a partnership," Martinez says. Little by little, youths acting as mentors can get out the word that "this is not how we treat our home."
Pastor David Shearin of Street Life Ministries agrees that a lack of youth programs is a factor. But, he adds, so is a lack of consequences. "I think the majority of them are just followers," he says, "but there is a core group of bad kids, and there's no penalty." He also supports filling all nine police vacancies.
Two summer months lie ahead, and bringing on new officers will take time. However, Mulholland says four currently budgeted vacancies are already in the process of being filled. How quickly new cops can be on the street depends on who they are, whether a veteran from another department versus someone fresh out of the police academy.
Not Heavy-Handed
In the meantime, the department has added resources, including plainclothes officers observing the scene downtown. The cops and nonprofit teams are trying to help kids understand why some of their behavior on bikes is disruptive. Though some community members want more arrests, Mulholland says officers have to be mindful that a few kids want to bait them into an aggressive response and create a flashpoint.
"We're trying to have a balanced approach," he says.
Other city staff, meanwhile, are working with local organizations to come up with programs and activities, in collaboration with the kids, according to Khojikian. At the same time, if the fireworks, fights and other disruptive activities continue, he says the city will have to reassess.
The situation took a while to develop, Khojikian notes, "and it's going to take a while to be able to fix the issue, as well, right? That's what we're working on, and I know we're actively in that process right now."