By Dan Brown
One of the perks of being an age-group warrior, as Dr. Robert Plant has been described, is that the calendar resets every few years. Next year, Plant will turn 80. As a triathlete, he can hardly wait to feel young again.
"I'm going to be the baby in the group," he says with a laugh. It will be an advantage. At Plant's age, it's the younger athletes who typically gain the edge, particularly in a sport that requires a combined 139 miles of swimming, cycling and running.
For now, he's having a heck of a time fending off a few of the plucky youngsters at the low end of his 75-79 age group. Sheesh — kids these days.
Still, Plant remains tough to catch for just about anyone. The longtime Redwood City dentist is constantly on the move, whether swimming, cycling and running, or brushing, flossing and drilling. In both cases, his endurance is staggering (this is his 51st year as a dentist).
In all, he's wound up with a career for the ages, especially in his sport. Plant, who got a late start as a triathlete, will be enshrined in the USA Triathlon Hall of Fame during a gala in Milwaukee on Aug. 4.
Plant's career age-group résumé includes seven national triathlon championships. He also won a pair of titles in 2018: The famed Ironman Triathlon in Kona, Hawaii, and the Triathlon World Championship in Australia.
Finding it Hard to Believe
"I was not quite accepting of it at first," the unassuming Plant says of his Hall of Fame selection. "But then all my buddies were saying, 'You deserve it, blah, blah, blah.'
"So, I finally accepted it. And I finally have kind of embraced it. I'm just happy that it's not a posthumous award."
This year's four-member induction class includes two multi-time Olympians (Gwen Jorgensen and Laura Bennett) and two athletes who did their best work after getting their AARP cards (Plant and 76-year-old Lesley Cens-McDowelllof Pennsylvania). But the coronation should not be mistaken for a finish line. Plant is probably out training at this moment. Maybe he's pounding out hilly miles at Sawyer Camp, cycling along Cañada Road or swimming at one of the three fitness clubs to which he belongs. Triathletes in the 80-84 category should consider themselves warned.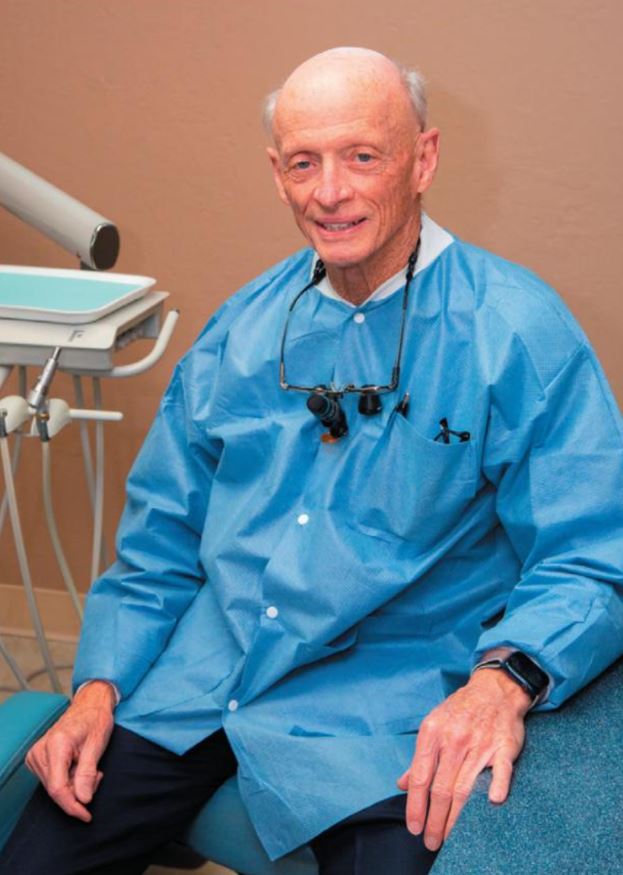 Earning Respect from Other Athletes
On a flight back from an Ironman championship in Kona one year, Plant sat next to another competitor with longtime Peninsula ties, someone also known for his day job. But Plant didn't know that when he saw his hyperkinetic fellow passenger jiggling his foot up and down, stretching from his seat and propping his foot up on the armrest.
Plant finally introduced himself and learned it was Redwood City native Eric Byrnes, the former Oakland A's outfielder turned endurance athlete. And just like that, a mutual admiration society was born.
"Bob is a GREAT guy and an incredible triathlete," Byrnes replied via email when asked to confirm the story. "He's the fastest dentist alive."
Born in 1943, Plant grew up in Redwood City and went to grammar school at Our Lady of Mount Carmel and high school at Serra in San Mateo. Back then, his hometown endured the derisive nickname, "Deadwood City." Plant says there was little for bored teens to do besides "cruise up and down El Camino in your hot rod, when gas was 25 cents a gallon."
Over time, Plant discovered he didn't need a sports car to go fast. He competed in track and field at San Jose State during the so-called "Speed City" era under coach Bud Winters.
—
—
Plant ran alongside future Olympians Tommie Smith and John Carlos, best known for their Black Power salute on the medal stand at the 1968 Games in Mexico City. Plant recalls a fun bit of trivia; he says the reason Smith and Carlos raised one gloved fist apiece is that they'd forgotten the second pair of gloves back at the hotel and had to share.
Plant started at SJSU as a long-jumper (the event was called the broad jump in those days) before shin splints forced him to convert to the quarter-mile (now the 400 meters).
"And I wasn't that very high-ranked on the team," he says. Even so, Plant once got to replace Smith at the anchor position for the mile relay.
"It shocked me," he says. "I was so hyped up, man, because Tommie had an ingrown toenail, and he couldn't run. So, the coach came to me and said, 'Hey, Bob!' Are you kidding me? I had not practiced passing the baton, ever.
"And when the third guy came around, I just blasted out. I almost went over the boundary line, the passing zone. And it was the fastest I ran in my life, and we won."
Discovering a New Sport
Plant just kept going. After college, he competed in recreational 10Ks and ran marathons. In his early forties, he clocked a personal-best 2 hours, 41 minutes at the Boston Marathon. That's an impressive 6-minute, 9-second pace for every mile.
His true introduction to triathlon competition came in 1989, when Plant volunteered as a timekeeper at the 1989 Ironman World Championships in Kona. It turned out to be the ultimate gateway race — an epic duel between two of the sport's all-time greats.
The battle between longtime rivals Dave Scott and Mark Allen became known as the "Iron War." For more than eight hours, the pair raced side-by-side at a record pace. After 2.4 miles of swimming, 112 miles of cycling and 26.2 miles of running (a full marathon), Allen snapped the tape just 58 seconds ahead of Scott.
"I was at the finish line, and I was so excited," Plant says. "I thought, 'Wow, I gotta' do this race.'"
Getting the hang of it took work. Yes, he could run. Yes, that cardiovascular training and leg strength carried over into cycling.
But Plant did not take like a fish to water.
"Basically, with swimming," he says, "I was like a rock with arms."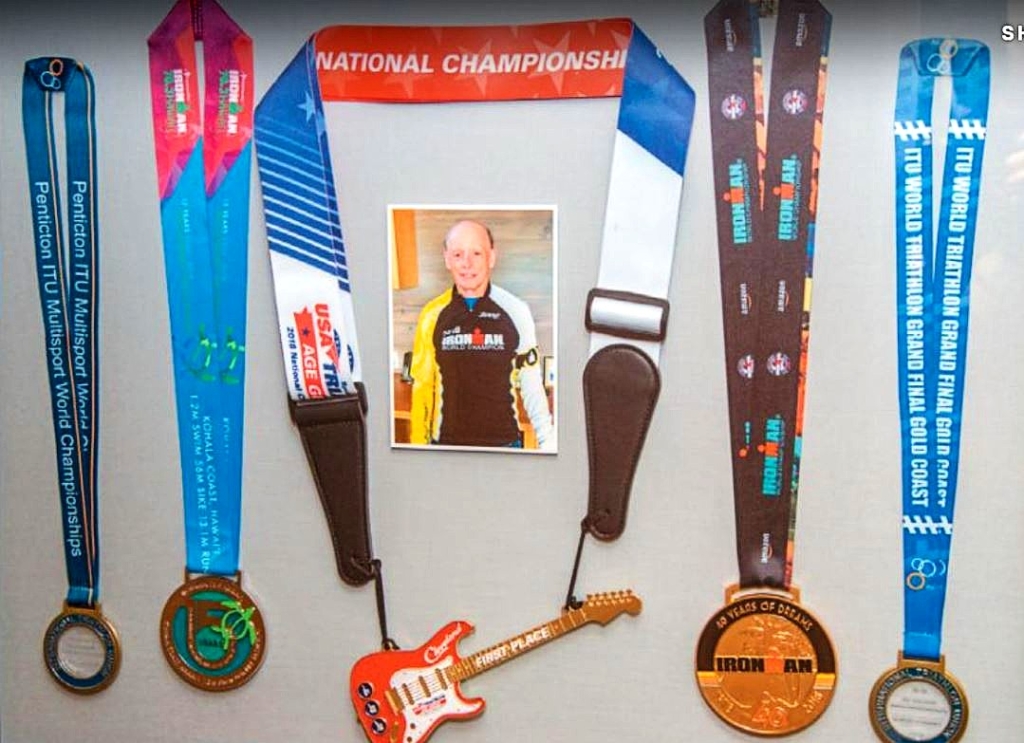 In that discipline, he had to learn that technical precision with each stroke was at least as important as fitness. It became clear as Plant watched much older, much larger, swimmers glide past him during his training laps.
"I was looking at these ladies and thinking, 'Man, they're just kicking my butt,'" Plant says with a laugh. "It was all technique, right? If you have lousy technique, you're not going anywhere!"
Eventually he figured it out, although swimming still ranks last on his list of triathlon skills. Nonetheless, he says he generally finishes near the top of his age group in all three stages.
When he won the Ironman World Championship for his age group in 2018, he set a record for the 75-79 category by finishing in 13 hours, 6 minutes and 3 seconds. How dominant was that? Fidel Rotondaro of Venezuela, his closest competitor, finished 30 minutes and 52 seconds behind.
"It comes down to just hanging in there mentally, just breaking through the barriers and trying to just persevere," he says. "It's just having that 'don't-quit' attitude, even when the body says, 'Oh, sorry, I know you don't want to quit, but we're not going anyplace.'"
Going, Going and Going
It should be known to competitors everywhere that Plant has no plans to stop running — ever. His best triathlon advice —his "tri" tip — is simply to love it as much as he does.
"I think what really drives the sport is your inner passion," he says. "It's not the hype. I think it's your inner drive."
He's running in Abu Dhabi later this year before heading to Egypt for another race.
"I get around a little bit,'' Plant says, chuckling. "That's part of the fun, too. I go, 'Oh, where's the World Championship?' Well, I'm going to see if I qualify for that. And I want to go to such-and-such place.'"
About the only place he will not travel is on an ego trip. At his dentistry office on Arch Street in Redwood City, his staff had to trick him into bringing in his medals and jerseys, which they framed without asking his permission.
In planning his acceptance speech for the Hall of Fame, he notes that he wanted to thank the volunteers and race directors. "Because triathlon is like a family," he says.
But his modesty won't help him escape the highest honor his sport can bestow. The fastest dentist alive is about to get his brush with greatness.