How's this for irony?  The song that launched Chris Duffley's career was called "Open the Eyes of My Heart."
Then again, maybe it's not so strange after all.  The tune, a Christian pop standard from 2001, is about trying to see God. Literally speaking, that's not possible, at least in this life. But there are many ways to perceive.  And Duffley has mastered quite a few.
Start with hearing.  It helps that he has perfect pitch, which a music teacher and therapist discovered when Duffley was seven. Then there's touch and dexterity.  Duffley's father, Steve, says Chris can tap on his iPhone's Braille keypad faster than most sighted people can wiggle their thumbs. He also possesses a keen understanding of technology, which has led to a side job that may become Duffley's ultimate calling — testing websites to help make them accessible to people with vision loss.
If anything, the tech explosion of the past 40 years made May 19, 2001, a pretty good day to be born. It's safe to say Duffley's life and career would be far different without computers and especially the Internet.  A video of Duffley singing "Open the Eyes of My Heart" at age 10 in his native New Hampshire has attracted more than 3.6 million views over the last 11 years. That clip and others, including films of three performances of the Star-Spangled Banner at Boston's Fenway Park, led to singing and speaking engagements nationwide; the Covid pandemic forced the cancellation of a planned tour to South America and Asia in 2020.
The continuing gigs included a performance at Redwood City's Fox Theatre on Sunday afternoon, September 11.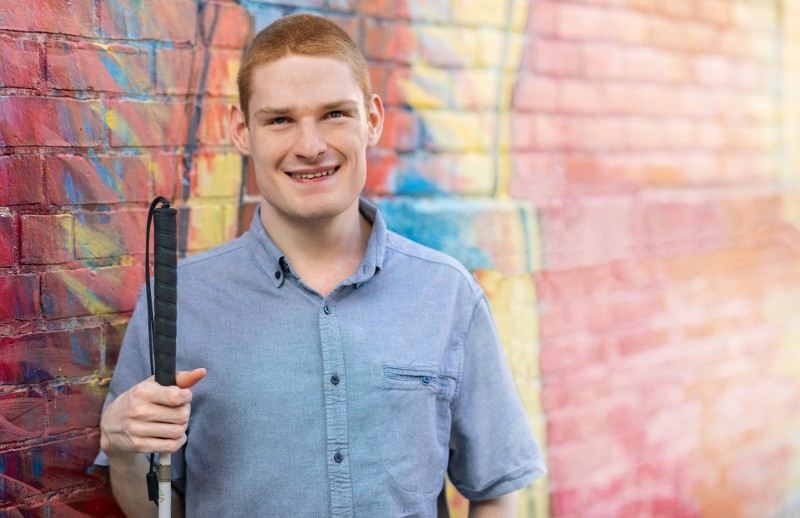 Duffley's birth date may have shown good timing, but the circumstances were something else.  His birth parents both had drug problems. Duffley arrived more than two months prematurely. He weighed just 1 pound, 12 ounces. His blindness also resulted from his far-too-early birth. According to Steve, Chris spent 100 days in the neonatal unit at a Florida hospital. It seemed a miracle that he lived long enough even to be adopted by Steve and his wife, Christine, who brought him to their home in Manchester, N.H., in August 2002.
Calling Steve and Christine devout Catholics is like saying Beethoven was a pretty good composer. Both say their faith gave them the courage to take Chris in. Christine, especially, says she was wary of having a "savior complex." When she first saw Chris, he was just short of a year old and was back in the hospital with double pneumonia. The enormity of what she and Steve were considering filled her with understandable anxiety.
She turned where she always did — to prayer.
"I believe God spoke to my heart," she says. "He told me, 'Do not be afraid.  I will take care of everything.'  And I received that as a sign of trust that everything was going to be okay if I stepped out in faith to bring Chris into the family."The decision was difficult for another reason, as well.  The Duffleys already had four other kids under the age of 10.  Before adopting Chris, Steve and Christine asked how they felt about having a new baby brother who was blind and would need extra love and attention. The response: A unanimous thumbs-up.
When Chris was seven years old and starting first grade, there came additional news:  He had autism.  The diagnosis wasn't completely unexpected; among other things, it explained why Chris had banged his head on the floor as a toddler, and was currently poking his eyes, living in his own world and conversing only by repeating what people said to him.
One thing Cristine and Steve didn't believe was that Chris lacked intelligence.  He had been labeled developmentally delayed, but Steve says that by age three or four Chris could already recite the capitals of all 50 states.  He was especially attracted to sounds — both ones he could hear and ones he could amplify through the microphone of his kiddie karaoke machine.
—
—
In fact, he was falling in love with electronic gadgets, and microphones in particular.  Christine's mother, Ann Matchekosky, whom Steve describes as the family's "respite and help," was a church music leader.  While driving Chris to physical therapy and other appointments, she sang in the car and taught him to harmonize.
With that, it might have been serendipity — or maybe not — that the family was seated in the audience when a police detective named Joe Hoadley started singing Chris's favorite song at a gathering of Eight Days of Hope, a Christian relief organization that was helping to rebuild the small Mississippi town of Bay St. Louis four months after Hurricane Katrina blew much of it into the Gulf of Mexico.
On that night in December 2005, the now-retired Hoadley — Steve says the bad guys in Meridian, Miss., called him "Scarface," after the Al Pacino movie character — began the soft, contemplative lyrics to "Open the Eyes of My Heart."  Chris gazed at Steve, who scooped him out of his chair and carried him to the makeshift stage.  Chris sang next to Hoadley, who shortly handed him the mic. Steve says, "There wasn't a dry eye in the house." (Hoadley is not the same Joseph Hoadley, a fired police officer in Caldwell, Id., who currently faces charges of roughing up suspects and tampering with documents.)
The invitations started flowing in to sing at churches, conventions, sporting events and disability-related occasions.  Teamsters Union Local 25 in Boston had adopted autism as a charitable cause, and flew Chris and Steve to the organization's international convention in Las Vegas in July 2011. Chris sang the National Anthem, and the cheers began as he approached the climactic high note in the song's next-to-last line. A week later, he sang the Star-Spangled Banner again, when the Boston Red Sox asked him to perform for the team's Disability Awareness Night.
We know we inspire others in their faith journey, with people that have families with children with special needs. We inspire them to raise the bar.
In 2017, he was invited by the Canucks Autism Network, founded by the co-owners of the Vancouver Canucks National Hockey League team, to sing Andrea Bocelli's arrangement of the Italian folk tune, "Con Te Partirò."  With one rehearsal, he sang harmony with the world-renowned Canadian vocal group, the Tenors, and then joined them with another of Chris's favorite tunes, "Lean on Me," by Bill Withers.
The Duffleys and Chris's teachers and therapists all say Chris was well-accepted by his siblings and schoolmates.  Once the other kids got over the inevitable awkwardness, Chris, who graduated from high school two years ago, was just another student who happened to carry a cane and sometimes slept in class (especially history).  Steve and Christine say the two of them are naturally positive, "yes, we can" kinds of people.
But it hasn't been universal.  Chris was recently taken aback by an encounter with a grocery clerk in Manchester.  He understands she was trying to be nice.  Nonetheless, he was a bit miffed when she told him, "It's good you're able to get out and go places."
"That statement, in particular — I felt really awkward," Chris says. "Because I was, like, I can go out," he says, emphasizing "can."
Another frequent misconception about disability — especially autism — is that it equates with low intelligence.  (A T-shirt for the hearing-impaired succinctly expresses the resulting frustration. "I'm deaf," it reads, "not stupid.") Christine and Steve credit Chris's teachers and therapists for consistently challenging their son, who attended regular classes with the help of a paraprofessional starting in kindergarten. Christine says much of what the Duffleys consider their ministry focuses on encouraging other parents to create high expectations.
"We know we inspire others in their faith journey, with people that have families with children with special needs," Christine says. "We inspire them to raise the bar."
Chris, too, sees his work as a religious calling.  Not long ago, he founded an Internet-based Christian radio station where he spreads his message and spins his favorite songs. Of his career and his unanticipated celebrity, he says, "It wasn't really to make me known.  It was to make God known."
The current phase may not last forever, at least not exclusively.  Chris still loves the road, but a new cause beckons — making the digital world more accessible to people with disabilities, especially those with visual impairments. This year, he earned a certification to test websites' compatibility with "screen readers," which transform Internet content into audio and Braille.
One thing is certain: It's not for nothing that the Canucks Autism Network is usually shortened to "CAN." For Chris, it's no big deal — just the way life should be. His continuing ambition is to build independence for the visually impaired. "I feel inspired," he says. "I want to make a change in certain things."