To a pounding beat and jump-cut visuals, fitness celebrity Jillian Michaels promised a physical transformation through her "Killer Body" workout series. Behind her, a team of ripped trainers in midriff-baring sports bras and leggings executed the arm and leg lifts, planks and other moves capable of producing a Muscle Beach-worthy appearance.
"We're talking about a sick, insane, incredible, amazing upper body," Michaels' video trailer touted. "Biceps of steel. A shredded upper back. You are going to look and feel amazing in that tank top, that bikini, that spaghetti-strap dress."
The promo for "Killer Arms & Back" closed on some actual killer arms and back with a local angle, belonging to a former Miss Redwood City who went from something of an understudy in the fitness industry to a credentialed instructor with her own following. Today, after years as a master fitness trainer and health coach, Jaime McFaden defines herself as a "self-care specialist." Hers is a mellow message about the small steps even a couch potato can take on the road to a healthier and more satisfying life.
—
—
"I am very passionate about raising awareness of self-care in everything I do," says McFaden, who launched her "W.A.V.E. by J" system and website a little more than a year ago. "My goal is to inspire at least one person per day to take one step towards changing their life for the better. I am on a mission to share my story and help show others that if I can do it, so can you."
It began at home, which is where her biggest cheerleader can be found.
"I don't know how this girl does it," says her mother, Sue Anagnostou, who used to go on location to babysit McFaden's infant daughter during filming for corporate fitness videos. "She was just non-stop. I hope my daughter gets a break because it's not an easy job and I always tell her that. It's not a traditional job. She really cares and wants to make a difference in people's lives."
Redwood City Roots
Born in Redwood City into a family steeped in Greek culture, McFaden, 36, was baptized at the Greek Orthodox Church of the Holy Cross in Belmont. As a preteen, she says, she struggled with depression, insomnia, nightmares and suicidal thoughts. Still, she managed to break through, and won the Junior Miss California and Miss Redwood City titles. She attended Woodside and two other high schools so she could graduate a year early.
A family crisis—and a turning point in her life—came crashing down when her father, real-estate developer James McFaden, died of a massive stroke when Jaime was just 18. The dad she loved had had problems with addiction and mental-health struggles, she says, describing him as outwardly charming but difficult to live with. After he died, McFaden decided "very consciously for the rest of my life, I am going to dedicate myself to learn about health and wellness, to face my own demons, to help support others on their journey and kind of retrain not just my brain but also rewire my own family dynamic and the family traumas that had been passed down from generation to generation."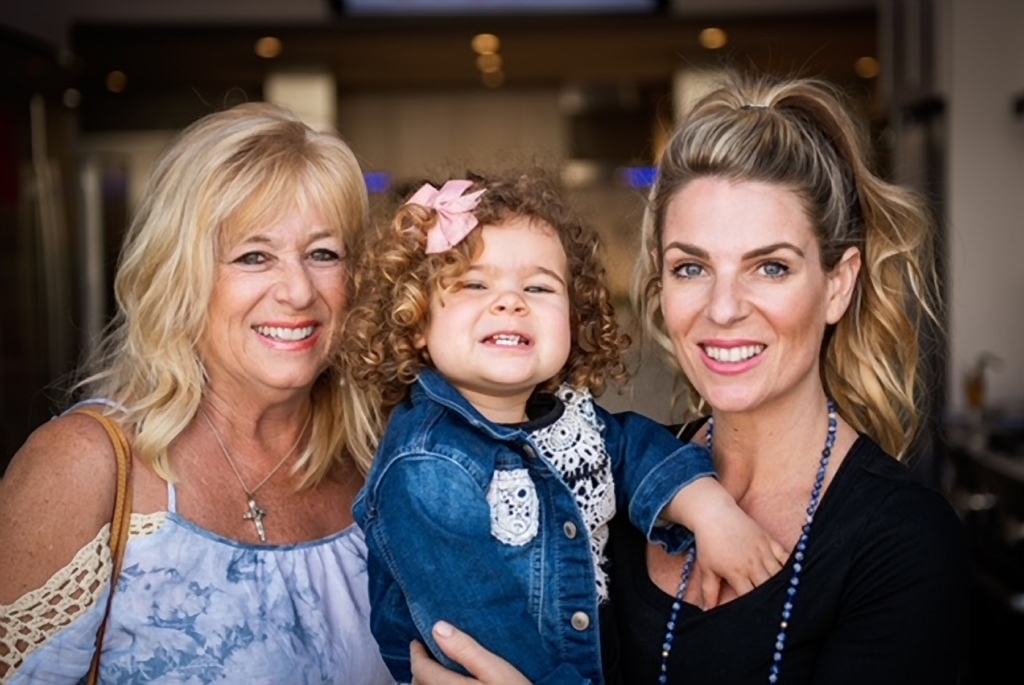 But the pathway from that epiphany to her calling in health and wellness meandered. A San Jose State University graduate in theater and film, she moved to Los Angeles to try the entertainment business. She received a full ration of rejection, but had enough confidence to chalk it up to not being where she should have been. McFaden came home, studied and became an exercise trainer, working at Mobius Fitness and the Bay Club in Redwood City.
She and her brother, George McFaden, worked out together at the family's home gym. A former trainer at Powerhouse Gym in Redwood City, George says his kid sister would bring a friend and take classes.  "We've had a healthy bond with fitness for many years now," he adds.
At the same time, Virgin Atlantic had started airline service to San Francisco. McFaden got a position as a flight attendant, a job she could do and teach fitness classes when she wasn't flying. She also got to know Virgin founder Richard Branson and worked alongside him for promotional events throughout the U.S.
Persistence Pays Off
Still in her early 20s, McFaden decided if she were going to be in the fitness industry, she needed to work with Michaels, whom she terms "the best of the best." McFaden flew to a Los Angeles event where Michaels was launching a high-intensity, interval-style workout called "Bodyshred." McFaden schmoozed her way backstage to meet her, and was blown away when she was invited on stage to participate in the grueling workout.
"Oh, I was dying," McFaden recalls, "and also I had never felt more alive." Shortly after an audition, she was offered a job with Michaels' company—and received Branson's blessing to go for it. Since then, the Capitola resident has appeared in countless exercise and wellness videos and events with her mentor and friend. She continued to conduct training sessions at Redwood City clubs and was voted "best trainer" in this magazine's 2018 "Climate Best Awards."
McFaden also worked under contract with other companies to produce fitness content, including Grokker and Aaptiv's health-and-well-being platforms. Her Aaptiv classes always started with a "word of the workout," an idea she got from teaching children how to dance. (McFaden's daughter, Sofia, is now 5 years old.  McFaden says she has "peacefully" put behind her the relationship with her former fiancé.)
Pre-Covid, she'd had a job for five years working for New York-based Aaptiv. She says it was dream employment with benefits—and she could work remotely. She had had to give up all her former contracts to work for the company exclusively. Then, just before Christmas in 2020, she says the entire content team learned they were going to be out of work.
Making It on Her Own
Until then, McFaden had always had a steady job with benefits as a safety net while she also did fitness training. She decided it was time to stop working for others and create fitness content as a solo entrepreneur. She began teaching a daily 30-minute class via social media, and later added a podcast and speaking gigs. She reconnected with former contractors and clients, and says thankfully that many were "waiting for me." She averages twice-weekly trips to Redwood City to work with clients.
At the urging of a longtime friend, McFaden also wrote a book about her personal story and philosophy about true health and wellness, which she considers more than being buff. "WAVES of Self-Care: It Takes a Village" was released in May and launched the author on a book tour, which has included talks, podcasts and interviews along the California coast. Michaels wrote the book's foreword.
McFaden says most people who know her or have seen her videos thought of her as a "fit girl" with healthy habits but "nobody knew the struggles because I didn't ever really share them." Under the vivacious surface was a woman who had freed herself from "a life of unworthiness and people-pleasing" by learning about and practicing self-care techniques.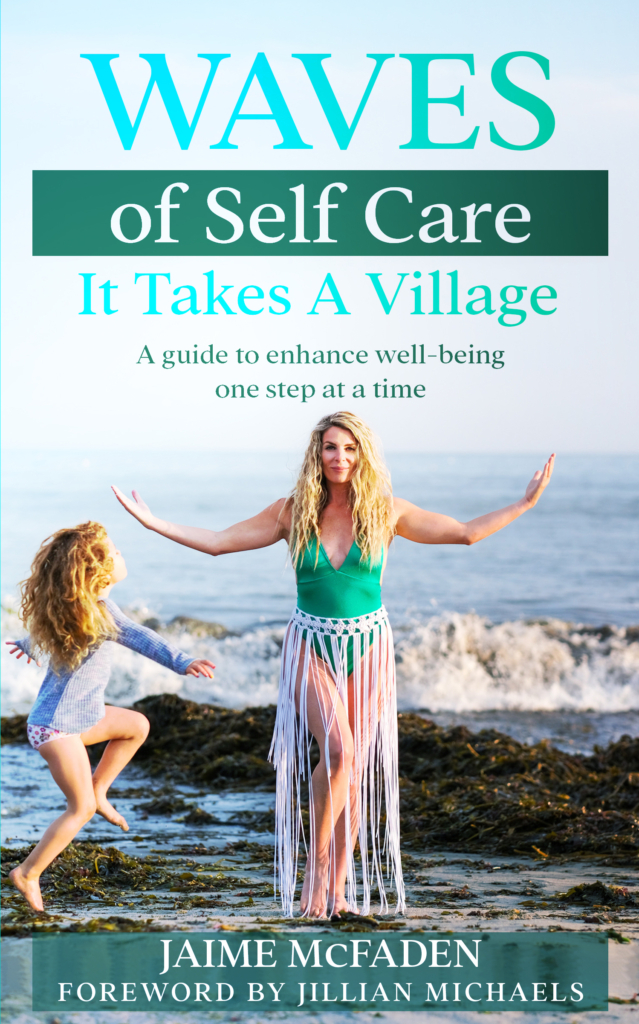 Reaction, via messages and emails from readers impressed by her honesty, has been gratifying. Though she'd never had a weight problem, McFaden says she used to devour bacon and ice cream and loathed sweat and exercise. "I had no strength or stability," she confides. "I was the person that maybe looked good in my clothes but I definitely did not feel good."
She asserts that taking time for self-care is not selfish. "Self-care is a buzzword everybody throws around about bubble baths and massages, and all that stuff is wonderful and great," says McFaden, warming to her favorite subject. "The reality is it's about taking responsibility for your life, about accepting and embracing the waves that crash around you and also knowing that you can ride the waves and really enjoy the journey and not just the end goal." Mothers, who have been conditioned to think of everyone else first, are an especial focus.
Six Pillars
"WAVE" stands for well-being, awareness, vision and energy, and McFaden encourages clients to focus on "six pillars" of wellness—physical, mental, emotional, social, spiritual and financial. Among the methods in her self-care regimen are journal-writing, physical and social activity, practicing gratitude and taking breaks to focus on breathing. She's also a big believer in something she learned from her mother: Creating "vision boards" with pictures to help people manifest their goals.
Through her work, McFaden wants to create what she calls a "tool belt" of tips and methods, as well as a referral network of experts for topics beyond her expertise, such as mental health and finance. She showers thanks on those in her "village" who helped her along the way, including her family.
So back to that number-one fan.
"She recently had me doing a breathing class and I said, 'What the heck is this?'" her mother says. "And we laid on the ground at the beach and I'm telling you, it was the most fabulous thing. I thought it was the stupidest thing I was going to do at first. And then I said, 'When are we doing another one?'" Next came "sunset yoga," with 100 people on the beach.
Anagnostou concedes that her daughter's admonitions didn't always resonate, until her own father died five years ago. At nearly 69, the real-estate property manager recognizes that she, too, is getting older and warns that "the consequences are coming if we don't change."
Growing up in a traditional Greek family, her daughter "watched where everything's been around food," Anagnostou continues. "Everybody's overweight and everybody starts to get diabetes and starts to get ailments. She wants younger people to learn that "if it's in your genetics, you're going to get it unless you do something."
As for her own self-care, McFaden says she's gone from someone who was in the gym two hours a day doing her own workout plus teaching to "a much more relaxed way of exercise." Beyond that, she says there's currently too much confusion about fads and diets. She adds that drinking water and eating colorful, non-processed foods are excellent building blocks in a healthy diet.
Anagnostou repeats her daughter's advice: "Veg it up. Veg it up. If you have enough vegetables and water, you'll be fine."