"The vibe in San Carlos is amazing," said Sema Tosun, co-owner of Stamp Bar and Grill at 773 Laurel St. in San Carlos, during a recent Q&A with the City of San Carlos.
Tosun said that in 2019 when she came across an available San Carlos location for a restaurant with her husband she "didn't hesitate." Together, they opened the Stamp Bar and Grill in the summer of 2019.
As fate would have it, seventh months later COVID-19 hit. "The way the community came together during COVID-19 is a testament to the compassion and support of the community," said Tosun. "We owe it all to them. They really stepped up when it was really needed. Given the challenges that COVID-19 brought, I don't think we could have made it in any other city."
She also said that overcoming COVID-19 was her greatest business accomplishment. "Luckily the City of San Carlos was able to roll out outdoor dining relatively quickly which allowed us to continue operations."
Tosun said the best part about her work as a San Carlos restaurateur is "Bringing people together." She continued, "In simple terms, we serve food and alcohol, but I love that we can bring people together. I love that connections are made here. I love that business referrals are made here as well as friendships. It's nice to know that we can have a platform to bring people together. Even if you're at Stamp Bar and Grill by yourself, you're going to make a friend or at least meet one friendly face."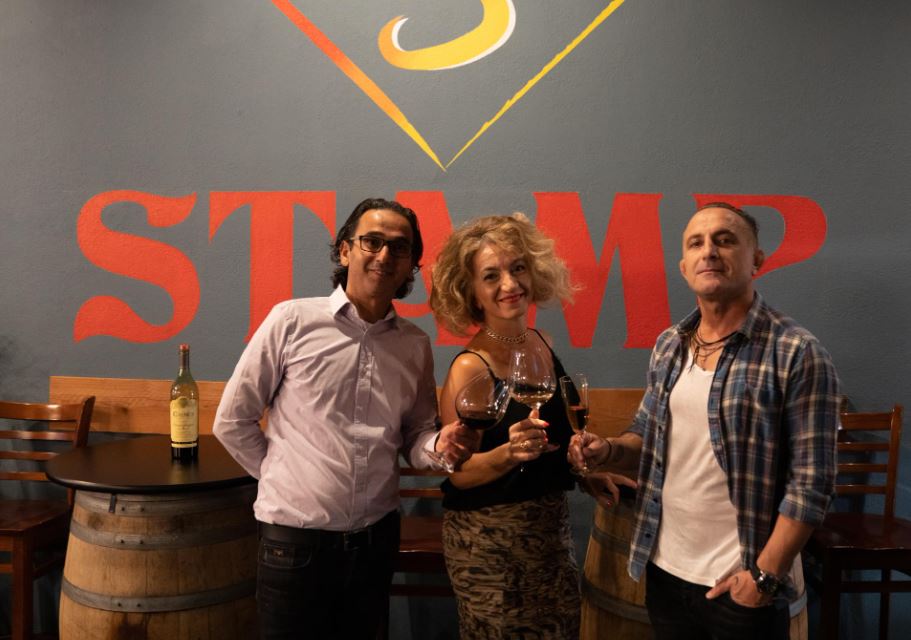 The restauranteur said that what makes the Stamp Bar and Grill unique is that "whether it's your first-time dining here or your 10th, there's a sentiment that we're leaving a mark or stamp on you. In my opinion it's just a feel good place that's an extension of your home and network."
Aside from her business, Tosun also does charitable work via her nonprofit, Fund A Need, which helps low income and homeless seniors in San Mateo County. She said that Stamp Bar and Grill "does a lot of events with Fund A Need" and other locally-owned businesses and schools as well. "One of the reasons why I love having a restaurant is because it gives me the platform to be able to do charitable work."
Tosun, who is an immigrant, also weighed in on her advice for someone aspiring to get into the restaurant business: "Do it because you love it. You must love this industry because it's tough; Have your network of people that will support you, it's very important; Don't be afraid to ask questions and get involved in your community—I'm always asking questions to the people that I admire and respect; Contact your local officials, your mayor—they can provide a huge support network; and be proactive and a long-term thinker..
Find out more about the Stamp Bar and Grill here.
Photos courtesy of Stamp Bar and Grill