By Joanne Engelhardt
For many people, the holidays would be nothing without a Christmas tree. Reaching high to place an angel or a star atop a traditional evergreen isn't limited to those who celebrate the season in a religious manner; non-Christians also enjoy the invigorating scent and spirit that rise from the graceful boughs of a brightly trimmed tree.
Since the 1980s, the Coccos of Redwood City have been selling Christmas trees and wreaths on the Peninsula. And the business has always been a family affair. Mike and Judi Cocco's five children, now grown, started helping as soon as they were old enough. And most are still part of the long-running enterprise.
Mike grew up in Redwood City and Sunnyvale, attending Stanford on a baseball scholarship and graduating with a geology degree in 1972. He met Judi in Arizona while traveling the west as a young geoscientist. They married in the mid-1970s, and in 1980 settled in Pescadero, where Mike took up farming and Judi entered the nursing profession, eventually working at Kaiser Permanente in Redwood City.
Mike grew pumpkins on 100 acres, and soon split his property equally between future jack o' lanterns and a new venture—Christmas trees. But in 1985, before the first tree crop had matured, he and Judi sold the farm and moved back to Redwood City. The Bay Area's housing market taking off, and Mike became a building contractor, constructing and remodeling houses. Says daughter Shelly Cocco, who was 8 years old at the time, "If you could drive a nail in it, my dad was building it."But Christmas trees still appealed to Mike and Judi. They leased various lots along the Peninsula, and in 1990 established a cut-it-yourself Christmas tree business in Cupertino. Then, in the mid-1990s, they bought 40 acres near Portland, Oregon, and finally started growing trees in earnest.
Honey and Christmas Trees
Along the way, the Coccos became friends with Hans and Dieter Else, brothers who operated a Christmas tree lot on Woodside Road in Redwood City. Hans doubled as a beekeeper. Their business, Honey Bear Trees, offered a free jar of honey with every purchase. In 2006, the Elses were ready to retire. Mike and Judi bought their company and continued both the name and the tradition.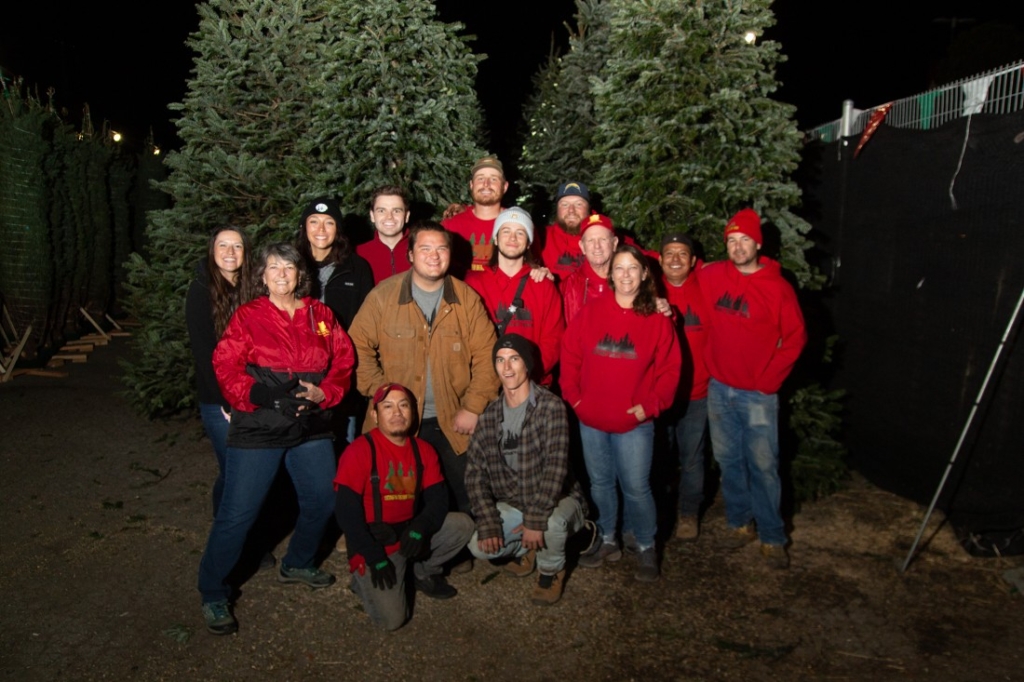 Gradually, they expanded to another lot in San Carlos and two in San Mateo near the county event center. They left the latter sites after four or five years; Shelly says their location away from heavily traveled streets made it difficult to develop a clientele.
But business remained brisk at the Redwood City lot on Woodside Road and the San Carlos location on El Camino Real. Last year, however, the family learned the Woodside Road spot would be developed. So this year, the Coccos are operating on one lot in San Carlos, across from Trader Joe's on El Camino.
Size Matters
Selling to the public always brings a few good stories. Shelly says one year, a recently divorced man wanted Honey Bear's biggest evergreen because his ex-wife never let him buy tall trees. He selected one 15 feet high. Shelly recalls that it hung halfway off the man's truck when he pulled away.
This holiday season, Honey Bear is offering 6-to-7-foot conifers for the same $108 it charged last year. As for once-popular flocking sprayed to imitate snow-covered branches, Shelly says demand has waned because the necessary equipment increases the cost significantly. For those who keep their trees up for a month or more, she recommends Nordmann fir or noble fir. Douglas-fir, she says, tends to dry out more quickly.
Customers looking for big trees should be able to find what they need. Shelly notes Honey Bear can provide taller trees, between 10 and 20 feet in height, which she says can be hard to find. The company also offers special orders and deliveries for larger clients, one of whom requested 20 trees this season.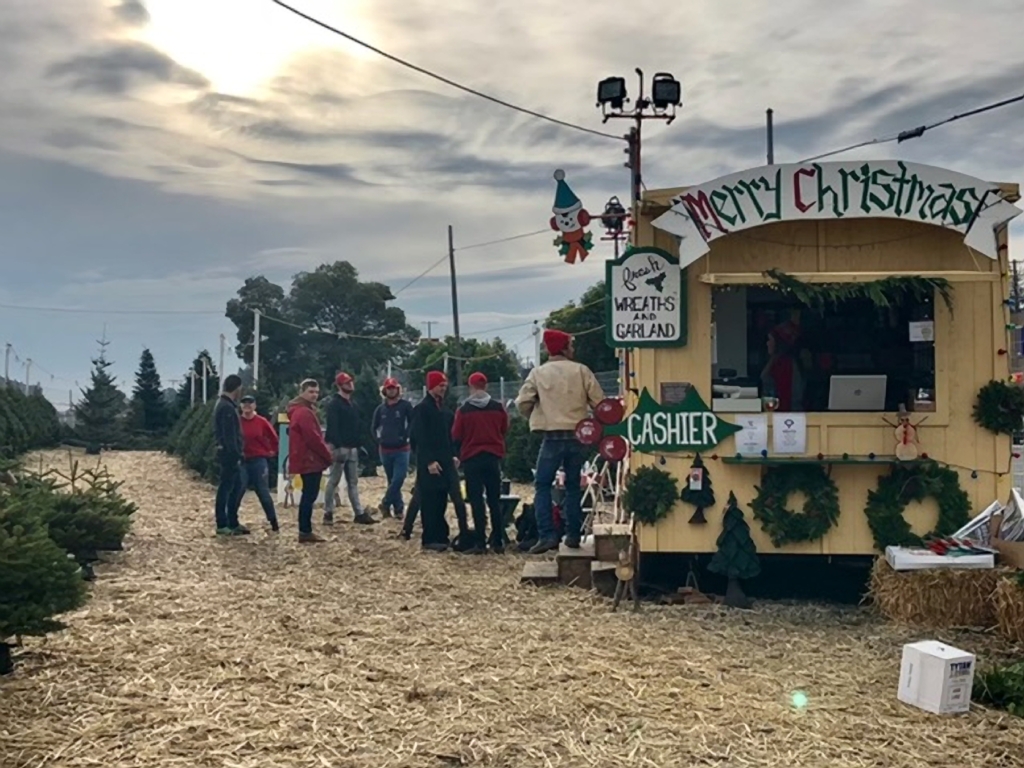 Shelly says few people realize the family's sales begin in mid-fall; this year, the San Carlos lot opened on November 12. "I know it sounds crazy," she says. "But a lot of people want to buy their trees that early."
The Coccos hope to sell between 3,500 and 4,000 trees this year. Shelly says if the inventory gets low early, "we'll scramble to harvest more" from the family's tree farms in Oregon. (Mike leases another 10 acres beyond his own operation, and son Mikey tends 30 acres nearby.)
A Commuter Business
Much of the family shuttles between the Bay Area and the town of Oregon City, population 37,572, in suburban Clackamas County, southeast of Portland. Mikey, the youngest sibling, spends considerable time there. (Shelly, the next-to-youngest, calls him "the baby of the family" despite his having been one of the original partners in Honey Bear Trees.) Even Mike and Judi, who own a home in Redwood City, also live part-time in Oregon City, with a broad view of their rows of Christmas trees, which extend to the wooded hills beyond.
Indeed, many in the Cocco brood are still part of the business in one way or another. Shelly's brother, Jeff, helps at the main farm in Oregon City, tagging trees, harvesting and "doing just about anything else we need him to do," Shelly says. Another brother, Chris Cocco, now lives in Texas but has worked on the tree lots and, like Shelly, managed one of them. Chris now has four sons, three of whom have worked for the company over the years. So have Jeff's son, known to the family as "Little Jeff," and Shelly's boys, Conor and Joey.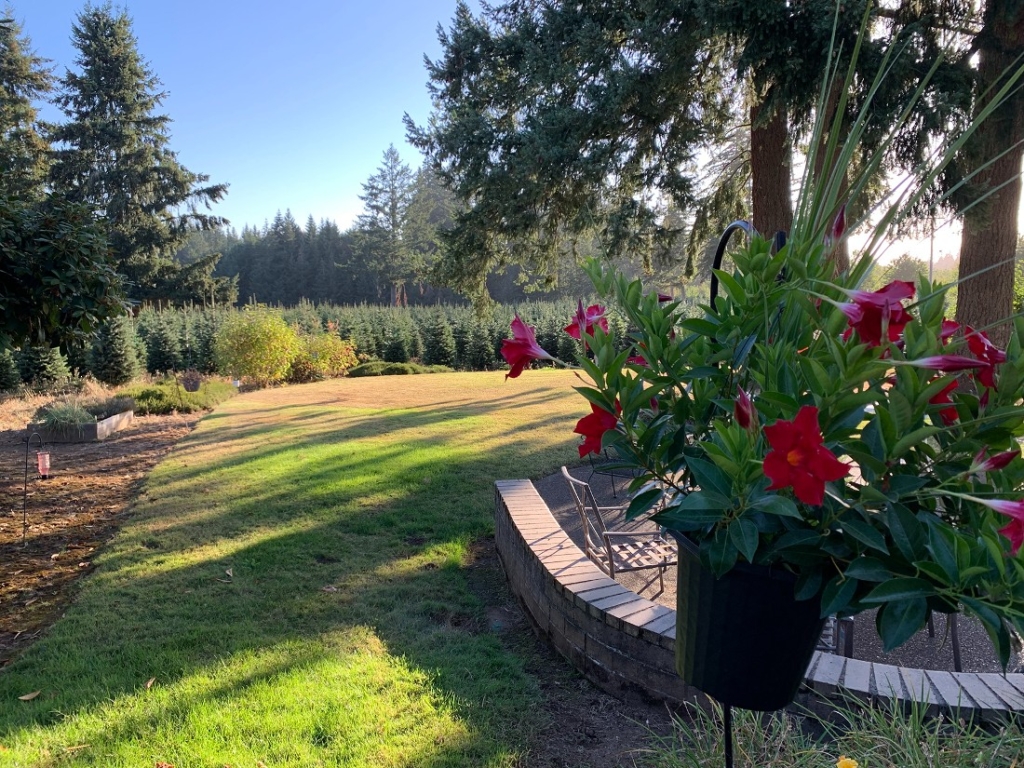 Another Cocco sibling, Nikki Boyle, lives in Redwood City with her husband Aaron and their two children. Nikki is a realtor; Aaron was also one of the original partners in Honey Bear Trees, but left to work in the restaurant business. (He sold his share to Shelly.) These days, their daughter, Hudson, and their son, Bowie, also help at the tree lots, and Bowie sometimes makes deliveries with his Uncle Mikey.
Supporting the Community
The Coccos' business has traditionally provided seasonal employment for dozens of local young people. High school and college students have cleared the tree lots before opening day and pitched in over the long Thanksgiving weekend, when things get especially busy.
Shelly estimates that, over the years, the business has donated more than $80,000 to support local schools, clubs, churches and other nonprofits in both San Mateo and Santa Clara counties. She says Honey Bear donates 15 percent of the price of a tree or holiday wreath to local institutions such as Sequoia and Woodside high schools, Sacred Heart Schools in Atherton, Woodside Elementary School and the San Carlos Education Foundation, which distributes the money among public schools in San Carlos.
By December 20—whether or not they're sold out—Shelly says, "we're all dead on our feet." At that point, the family closes the business in order to enjoy the holidays with family and friends.
Their takeaway after all the frenzied months of work?
"I've always loved seeing the joy we can bring a family during the holidays," Shelly says. "Even now, that's my favorite part. It never grows old."