By Dan Brown
Back in the early 1980s, when the 49ers still trained in Redwood City, a distress call went out at team headquarters in search of Dwight Clark.
The receiver had finished practice and apparently forgotten about a phone interview he had scheduled with a big-time sportswriter from the East Coast. So public-relations man Jerry Walker scrambled to play catch-up.
After a cursory check of the locker room turned up empty, Walker tried the second-most obvious place.
"I called the Canyon Inn," Walker recalls.
Bingo. That's where Clark was. Of course, it was. He was there, accompanied by a teammate or two, with beers foaming in pint glasses and burgers sizzling on the grill.
—
—
The Redwood City hamburger joint was a popular hangout for anyone in the 49ers organization those days, from rookies to veterans, from coaches to executives, from obscure players to the guy who wore No. 87 and made the most famous catch in National Football League history.
"They said Dwight was there," Walker says, picking up the story. "I said, 'Tell him I'll be right up.' So, I went up there, and those guys had already ordered their beers, and the burgers were cooking. Dwight and I went in and did the interview right there from (Canyon Inn owner) Tim Harrison's office."
Sightings
What was true then can sometimes feel just as true now: If you're on the lookout for someone from the 49ers' glory years, there's a decent chance that person is about to settle into a booth at the Canyon Inn.
In the least, a photo is probably on the wall someplace. Clark (who died in 2018 of ALS, commonly called Lou Gehrig's disease), retired quarterback Joe Montana and defensive back Ronnie Lott are well represented in the decor. At best, someone might actually be here in the flesh. Former running back Roger Craig, kicker Ray Wersching and defensive lineman Dwaine Board are among those who continued to stop by for a bite long after their playing days.
That's in large part because of the players' enduring loyalty to Harrison, who bought what was an abandoned 7-Eleven on this spot and reconfigured it as a family-friendly restaurant in 1973. On his original menu, a pitcher of Budweiser cost $1.75. An upgrade to Michelob came to $2.25.
It took nearly another decade before Harrison had a wacky idea that transformed the quaint eatery into the 49ers' second home, the one less than a mile-and-a-half from Red Morton Community Park, which served as the 49ers' practice facility from 1956 until the team moved its headquarters to Santa Clara in 1988.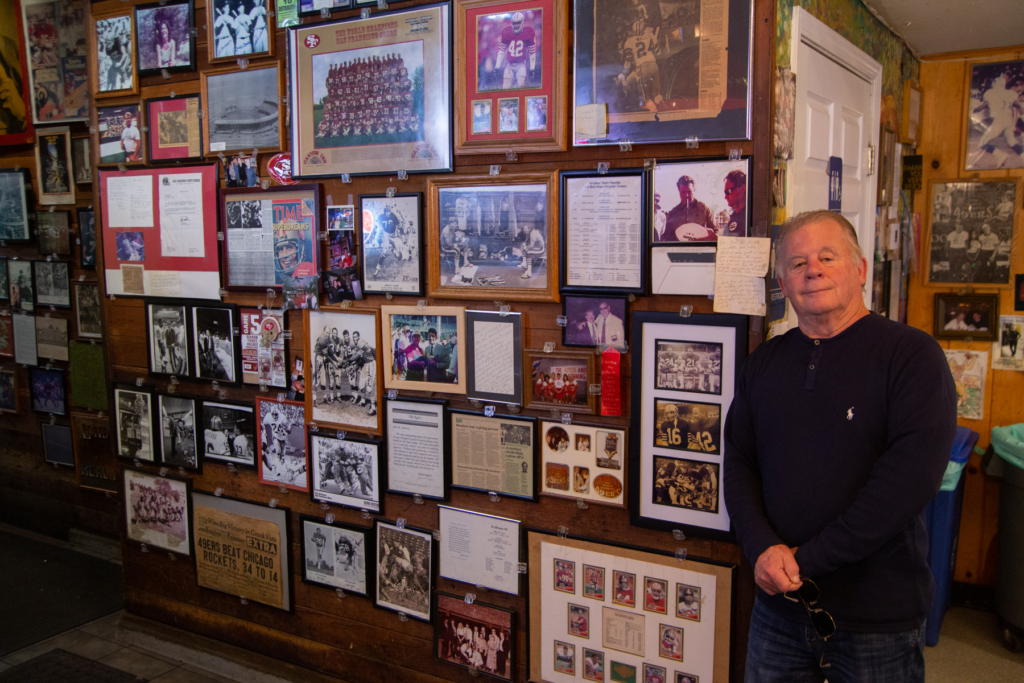 It came when the Niners were, in a word, woeful. Harrison figured the team needed a boost after finishing 2-14, 2-14 and 6-10 the previous three seasons, inspiring general indifference among the fans. He offered a deal: Free burgers for anyone in the organization after every 49ers victory.
The plan called for any card-carrying member of the franchise to get one (1) burger within a week of the win. (Harrison naively thought the players might pony up for a side order or two. Good one, Tim.)
The letter of agreement, which hangs on the wall near the restaurant's entrance, is dated September 9, 1981, and is signed by R.C. Owens, the 49ers receiving great who became a front-office ambassador.
Anyone remember what happened that '81 season? The upstart 49ers promptly went 13-3, knocked off the Dallas Cowboys in the playoffs behind "The Catch" and went on to win the first Super Bowl in their history.
Paydirt
The cockamamie and potentially ruinous promotion brought huge rewards. The Canyon Inn, which turns 50 this year, is so ingrained into the 49ers' dynasty that one of the players' golden-hued "Eat Free" membership cards is entombed in the 49ers Hall of Fame and Museum at Levi's Stadium in Santa Clara.
Randy Cross, a 49ers lineman from 1976 to 1988, says the gesture simply embodies Harrison's approach to others.
"Tim Harrison has been all about everybody else for the entire time I've known him," Cross says. "He's pretty special the way he's taken care of people and never made a big deal about it."
In fact, Harrison is still here, holding court on this Sunday morning early in December, just as the NFL action flickers to life on the TV screens behind him.
Harrison is scrolling through new text messages from old linebacker Jack "Hacksaw" Reynolds, who earned his nickname by sawing an abandoned 1953 Chevy Bel Air in half during a prolonged fit of frustration after his University of Tennessee team suffered a brutal defeat. Reynolds, in a recent clarifying text to Harrison, noted that he went through 13 blades in getting that car properly bisected. Such attention to detail makes him Harrison's kind of guy; it's why there's a Hacksaw Burger on the menu.
These are the tales Harrison tells while reflecting on a restaurant career that has somehow survived a half-century of highs and lows. He grew up in Long Beach before his family moved to the Pleasant Hill area when he was eight years old. He was raised, of all things, an Oakland Raiders fan.
Harrison was a gifted cook and trained with the likes of Bill McCormick, half of the namesake for the upscale McCormick & Schmick's restaurant chain.
But his quest to run his own restaurant led him here, to 587 Canyon Road, having discovered the building was for rent—for $650 a month—when he pulled over at the gas station across the street to use a payphone (Google it, kids) to get directions to a girlfriend's place.
Harrison hardly takes the Canyon Inn's survival for granted, even now, especially not after a pandemic and a recession and whatever the heck is coming 'round the bend.
On the night he bought the restaurant on a lark, he lay in bed staring at the ceiling and wondering what in the world he'd done. That part hasn't changed much, not least because he has a family now: His wife, Stephanie, and their children Alicia, 18, and Timmy, 16.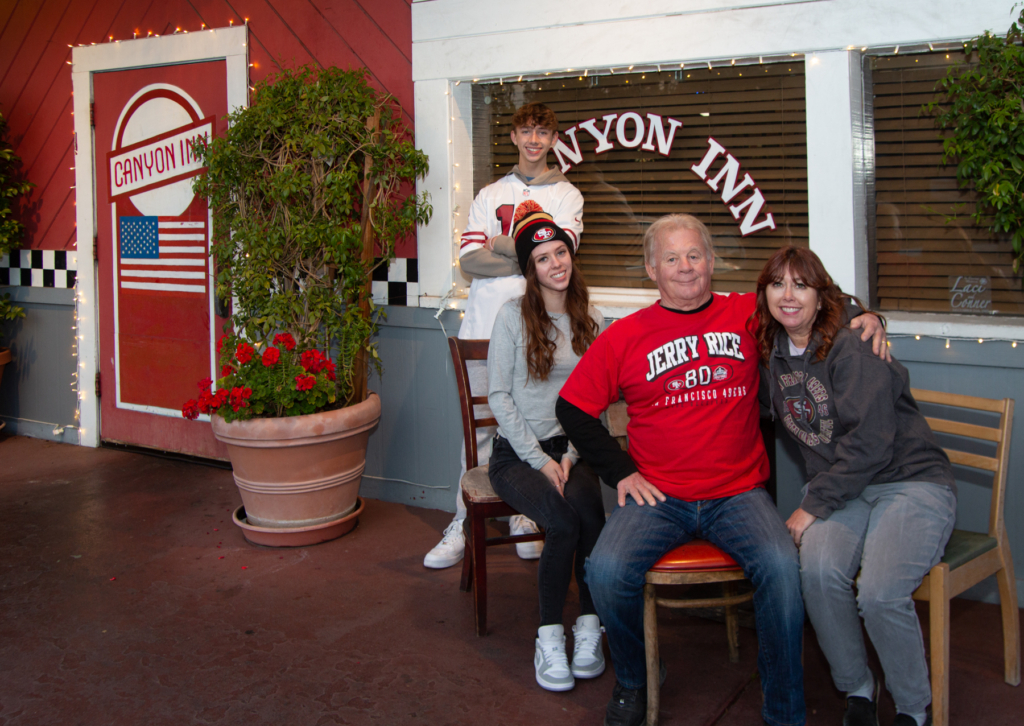 "I'm still so involved with keeping it going, I've never been able to step back and relax," Harrison says. "You unlock the door, and you hope that people are going to come in, you know? That's always been my thing."
Superstition
Then again, he owes his entire restaurant career to that preposterous leap of faith.
In all, the 49ers during their regular seasons went 84-35-1 and won three Super Bowl titles from 1981 to 1988, the years Harrison's offer was in effect.
Was it the genius of Montana and Head Coach Bill Walsh? The bruising defense led by the young Lott?
Or was it the irresistible lure of cheeseburgers and fries, provided gratis by Harrison?
"If nothing else, athletes are incredibly superstitious," says Cross, drawing out the "cred" in "incredibly." Cross now lives in Georgia, but still visits the Canyon Inn whenever he's nearby. "So, you start winning, and you'd be hard-pressed to convince the guys on that team that part of the reason we were doing it wasn't Tim and those hamburgers."
Whatever the motivation, all that winning suddenly meant that the Canyon Inn was firing up orders by the truckload for relentlessly hungry patrons weighing 250-ish pounds.
There were also a few not-so-beefy types. Running back Bill Ring was listed at 5-feet-10 and 189 pounds. But the first time the bookish-looking undrafted rookie from Brigham Young tried placing his order in '81, the cashier mistakenly scolded the little scamp by telling him the cards were for 49ers players only.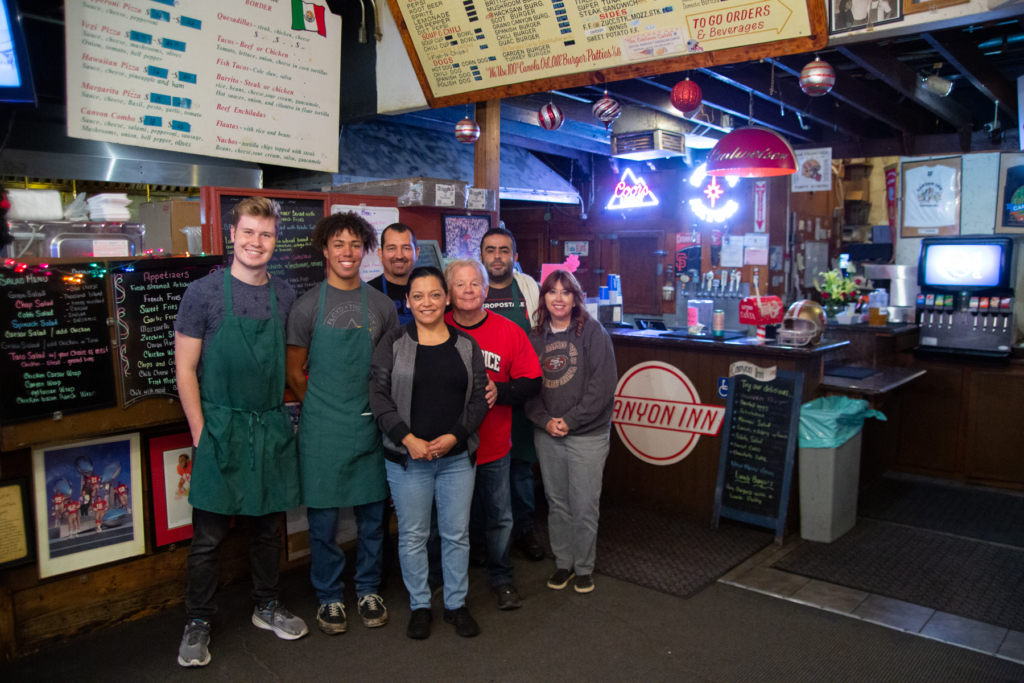 Oh, and that stipulation about one burger? It somehow morphed into a free meal—fries, onion rings or maybe even a salad (ha!)—several days a week. There might even have been an assistant coach or two who pushed their luck by loading containers with mountains of grub to take back to their families. In all, Harrison figures he gave away $10,000 to $15,000 worth of food that first season, no small sum now and positively princely in 1981.
"I guess there were some moments where I questioned it," Harrison says, looking back, "but once you make a commitment like that, you're gonna' look really bad if you nitpick. I'd tell the employees, 'Just let it go.'"
Smart move. Because the long-term returns on that initial layout are now incalculable. As a result of Harrison's generosity, the decor here now doubles as a time machine, with the walls adorned like tattered pages of a scrapbook. Photos and other assorted memorabilia, much of it autographed, burst from every square inch.
Outside, visitors can sit in a pair of old seats from Candlestick Park—Row 6, Seats 22-23. Scan the dining area and there's a note from that unlikely fullback who apparently no longer needs to prove he played in the NFL. "Dear Tim, Sorry I missed you today, 10-24-22. Connie and I came for a late lunch before going to a movie in Redwood City. All my best—Bill Ring."
But if the Canyon Inn is the lowbrow Louvre, its Mona Lisa would be the sports page that hangs in one corner not far from the soda fountain. It's the San Francisco Chronicle's next-day coverage of "The Catch"—Clark's skyscraping grab to beat the Cowboys in the NFC title game on January 10, 1982.
Look closely, and it's signed with an inscription: "Thanks for all the burgers. Best wishes, Dwight Clark." The receiver put his pen to that page the day after his epic touchdown. After all, the win meant another round of free burgers.
That autographed newssheet now stands as a founding document for a pair of Bay Area dynasties: The 49ers and their five Super Bowl titles, and a plucky neighborhood restaurant with a legacy of its own.