Thousands of visitors and residents are expected to attend Fourth of July festivities in Redwood City this year, which include the annual parade downtown, a festival, a pancake breakfast, a 5k run, Chalk Full of Fun, concerts, and, of course, a fireworks show.
The fun begins early on July 4, with a pancake breakfast with the Redwood City Fire Department from 7:30 a.m. to 10:30 a.m. at 755 Marshall St.
At 8 a.m., the Parade Run 5K, with check-in from 6:30 a.m. to 7:59 a.m., will start at the corner of Arguello and Marshall streets.
Between 8 a.m. and 4 p.m. on both Tuesday, July 3 and Wednesday, July 4, chalk art will occur on Courthouse Square.
At 9 a.m., there will be a car show at Broadway and El Camino.
The 80th Annual July 4 Parade begins at 10 a.m. The parade route follows: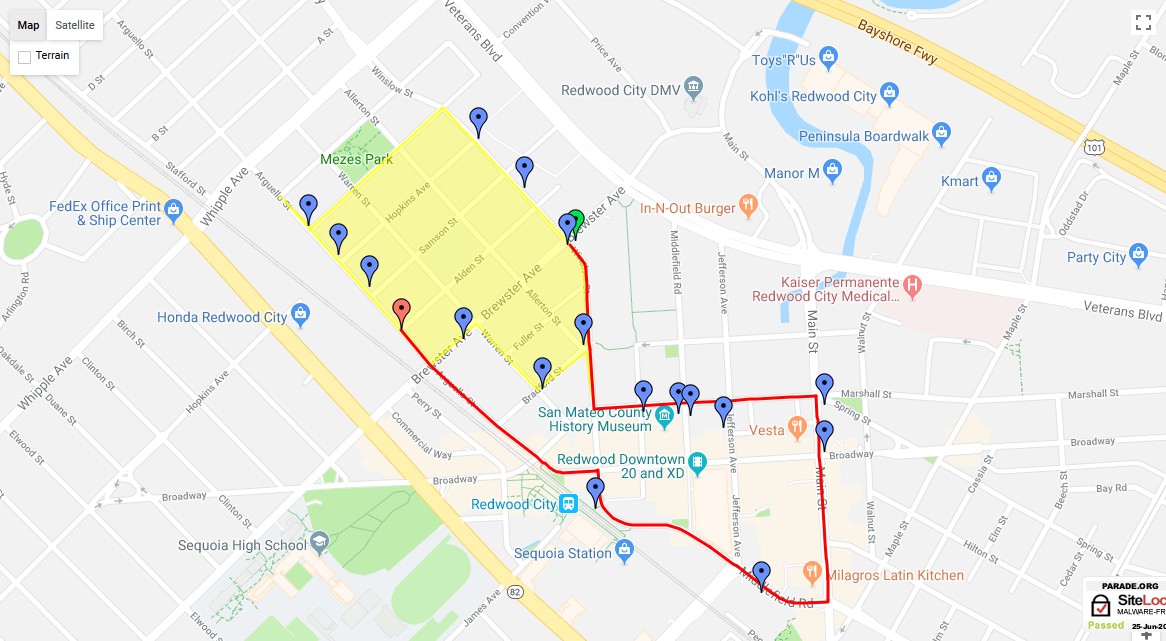 And the 32nd Annual Festival will run from 9 a.m. to 5 p.m.  on several city blocks (see map below). The festival will feature arts and crafts, food, beverages, a battle of the bands, and kids' activities.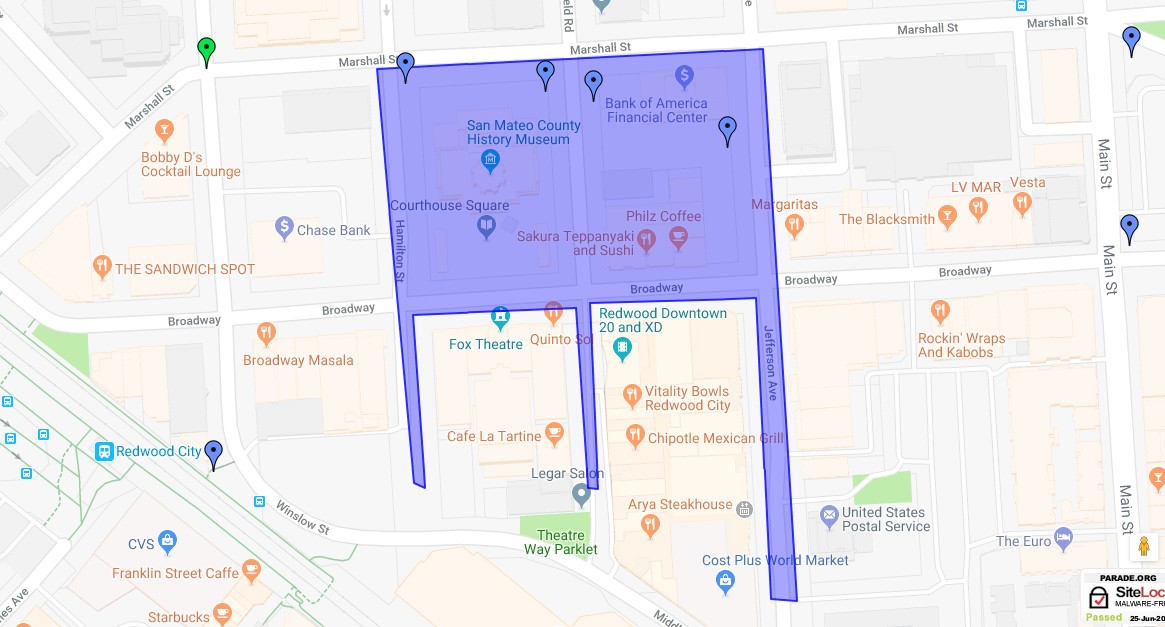 A concert at the Port of Redwood City, featuring Fog City Swampers, will occur from 5 p.m. to 7 p.m.
And finally at 9:30 p.m., the fireworks celebration will occur at the Port of Redwood City.  Food trucks will be available from 7 p.m. – 9 p.m. The Port is providing a public viewing area along the waterfront off Seaport Court. Portable restrooms and sinks will be available. Attendees are not allowed to BBQ or bring alcohol to the show.
Meanwhile, the San Mateo County History Museum will present "An Old Fashioned Fourth of July" within the museum between 10 a.m. and 4 p.m. where "children  can hand-crank homemade vanilla ice cream and then take a taste. They will also make traditional Independence Day crafts to take home with them." Also starting at 1 p.m., adults can view vintage films of the San Francisco Peninsula from the Museum's archives. Museum admission will be half-price that day: $3 for adults, $2 for seniors and students and, as always, free for kids five and under.
No Fireworks in Redwood City
As we reported in April, the city of Redwood City is serious about prohibiting any fireworks within city limits aside from the Port of Redwood City's show, with City Council approving fines of up to $1,000 for violators.
"The City is encouraging the community to educate neighbors about the risks of using fireworks, offering lawn signs to educate neighbors," the city said. "Lawn signs are available for residents to pick up at Red Morton, the Community Activities Building, Redwood Shores Library, and the Fair Oaks Community Center. Keep our community safe and do not take the risk. Keep our community safe and do not take the risk. For more information about this initiative, go here."
Fourth of July Parade Chair Policy
"Placement of any chairs, barricades, coolers, tape, or other options upon the sidewalk or street for the parade is prohibited prior to 12 a.m. on July 4, 2018. Any chairs, barricades, coolers, tape or other options placed upon the sidewalk or street prior to July 4, 2018 will be removed and stored at the Redwood City Corporation Yard at 1400 Broadway. Confiscated items may be picked up at the City Corporation Yard between 7:30 a.m. and 3 p.m. during normal business hours. The Corporation Yard is closed on July 4."
For more information on Redwood City's Fourth of July celebration events, visit here.