A 34-year-old man was arrested on suspicion of burglarizing Sigona's Market at 2345 Middlefield Road on July 11, Redwood City police reported on Saturday.
At about 12:29 a.m., officers responded to an alarm call at the market, and while en route learned from the alarm company that surveillance video showed the suspect inside.
Officers arrived on the scene and saw a man inside the fenced area of the business collecting numerous items and placing them in a pile outside the fence, police said.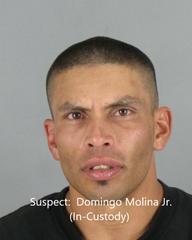 After seeing the officers, he tried to flee, jumping a fence and running across lanes of traffic, police said. Officers were able to apprehend the suspect after a brief foot pursuit.
He was identified as Domingo Molina Jr., "who has a history of theft and fleeing from police officers after committing crimes."
Molina was booked into the San Mateo County Jail on charges of commercial burglary and resisting arrest.
All of the stolen property was recovered at the scene, police said.